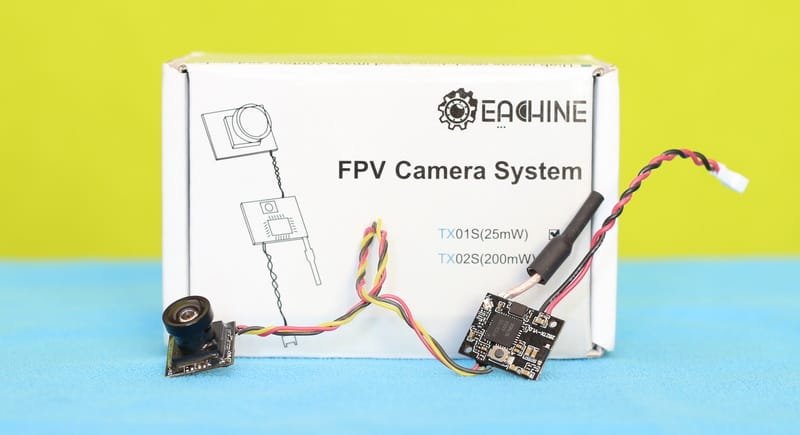 The Eachine TX01S camera is specially designed for mini FPV drones like the TinyWhoop where space and weight is critical. Due to its modular design, the TX01S VTX camera can be also successfully used on low profile aircraft.
At first look, excepting the nice price tag, the biggest advantage of this combo camera over purchasing separately a camera and 5.8G VTX is that they are already interconnected. No special cables or soldering are required.
Eachine TX01S specifications
Pre-soldered modular design (Lens and VTX modules);
Suitable for 1s Li-Po batteries (3.3 ~ 5V input voltage);
600TVL camera module with 1/3 CMOS image sensor;
25mW broadcast power;
40th transmission channels;
IPEX antenna;
One button configuration;
Status LED rows;
Total weight of ~

4g

.
Eachine TX01S camera review
Disclosure: I received this Eachine TX01S combo VTX camera as part of a product review collaboration with Banggood. Thanks again for their continuous support with free samples.
The camera was dispatched on June 22nd and arrived on July 6th, not bad for regular shipping.
A piece of foam protects very well the lens module, as well as the VTX, from damages during shipping. The manufacturer doesn't included too much accessories, actuality nothing more than a lens cap.
Eachine TX01S review: Design and controls
Lens module measures about 14 x 14 mm and the VTX module about 14 x 18 mm. The 31 mm IPEX antenna is directly soldered to the 5.8G VTX board.
The two modules are interlinked with 3 pieces of 10 cm long wires. Red – power, Yellow – video signal and black – GND. If your flight controller provides OSD, you will need to cut the yellow wire and inject the OSD signal.
On front of the VTX module is located the only control button. While short pressing can change the channel number (CH1-CH8), long pressing allows you to toggle between 5 bands (A, b ,E , F, r). Changes are stored in non-volatile memory.
14 SMD status LEDs are present on the back of the 5.8G video transmitter. They permanently show the selected transmission channel (red LEDs) and band (blue LEDs).
Eachine TX01S camera: Image quality and range
Firstly I tested the TX01S off-drone using a 3.7V Li-Po battery. The "final destination" of the camera will be on the DIY TinyWhoop that I'm planning to build.
Image quality is not bad, but I would have expected higher quality since it uses 1/3″ image sensor. Sensitivity to light is mediocre. It does not excel in poor light conditions. Field of view is nice for FPV flights.
Range of the TX01S is quite good even if it has only 25mW broadcast power. In my opinion you don't need to higher output power for indoor or park flying.
Note: the power source for the the camera must be between 3.3 ~ 5V, this TX01S FPV is not suitable to be powered directly from 2s or higher voltage batteries.
BTW, due to the camera weight and the extra power usage, you should expect less flight time. In case of small drones (60~80 mm powered by 200~400 mAh Li-Po), the final play time can be reduced to half.
Price/value ratio

Design and build quality

Image quality

Range
Eachine TX01S review: Summary
The Eachine TX01S camera does exactly what it promises: provides flexibility in mounting while it's very lightweight. Range is just enough for indoor and proximity park flying. After few minutes it gets pretty hot, but this is normal for such devices.
For those who are interested to build their own micro drone, this combo VTX-Camera can be ordered from here for $ 16.99 including free shipping. If you need longer range you should look for the TX02S witch has 200mW.
Pros
Very lightweight;
Easy to configure;
Flexibility in mounting;
Acceptable transmission range.
Cons
Needs modding to be used with OSD;
Works only with 1s batteries.
Eachine TX01S review: Photo gallery