Last week I reviewed two FrSky receivers and now it's time to review the Taranis Q X7 transmitter – which is the latest and cheapest TX from FrSky.
When it comes about remote controlled gadgets, FrSky is a very popular radio system among RC fanatics. They are future packed, reliable and now also affordable. When I saw the price of the Horus X12S I was totally discouraged, my wife would never let me spend $500 for a transmitter (: . Luckily the FrSky ACCST Taranis Q X7 comes with a much friendly price tag.
Sold for about 120 bucks, the Taranis QX7 is not just the cheapest FrSky transmitter but also the most colorful TX on the market. You can find it in 6 different colors (black, blue, green, orange, purple and white).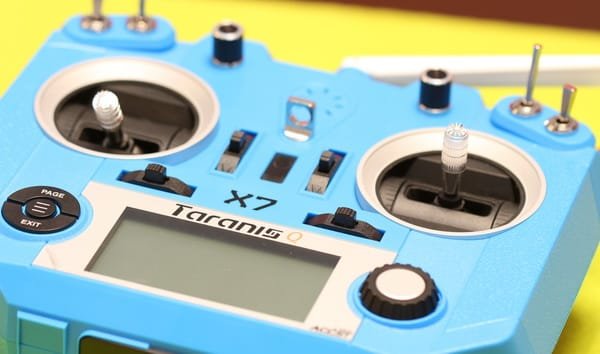 FrSky ACCST Taranis Q X7 Highlights
Quad Ball Bearing Gimbals;
Upgradable with Frsky M7 Hall Sensor Gimbals;
Convertible into Mode 1, 2, 3 and 4 TX easily;
Audio Speech Outputs (values, alarms, settings, etc.);
Vibration Alerts;
Antenna status detection and adjustment;
Real-time Flight Data Logging;
Receiver Signal Strength Indicator (RSSI) Alerts;
Super Low Latency;
Smart Port Supported;
Model configuration files compatible with TARANIS X9D Plus;
Open source firmware, OpenTx installed;
Removable AA battery cartridge.
FrSky Taranis Q X7 review with pros and cons
Before I'm getting into details I should thank Banggood for offering this nice transmitter. Although few of my readers consider that sponsored drone reviews are biased, BG or any other of my partners never requested me to write my reviews in a favorable way for them. To be honest, even if some of my reviews were negative, they didn't stopped sending me more samples.
The transmitter was sent with Express EMS shipping, which finally proved to be not too fast…I received the transmitter after about 3 weeks.
Although we agreed on a green one with mode 2, I received a blue one with mode 1 (right throttle stick). Because I'm used only with mode 2 transmitters, I had to take apart the Taranis Q X7 in order to convert the sticks from mode 2 into mode 1.
Taranis Q X7 mode change (convert from mode 1 into mode 2)
Firstly I thought that I can simply reverse the two sticks, but after some research I found out that is even more easy to do the mode switch by adjusting the spring screws.
There are 4 screws to be removed in order tp open the FrSky QX7 and you also need to unplug the battery connector. The back panel can be detached completely allowing easy accesses to all the internal components. Note: When you put it back take care not to bend the external TX pins.
When I firstly looked inside of the Taranis Q X7 I said WOW, inside there is everything clean and well organized. Wires are tied.
On the image above, I marked the screws that you need to adjust. Two screws release/strength the springs and the other two set the friction of the stick.
After you are done don't forget to make the change also on the TX's menu (page1).
FrSky Taranis Q X7 main specs
Up to 16 channels;
Up to 60 model memories (upgradable through micro SD card);
Compatible with FrSky X series, D series and V8-II series receivers;
6 switches (4 of which are three-positioned) and 2 pots;
Wide range of input voltage (6~15V);
Up to 210mA current consumption when both RF module and LCD backlight are ON;
128*64 screen;
Weights about 620 grams without battery.
FrSky Taranis Q X7 review – Design and Controls
The Tarans Q X7 RC has a minimalistic but somehow futuristic design. It looks a lot different compared to other FrSky remote controllers.
Build quality is excellent. Rubber grips on the back feel nice and comfortable.
On front panel, besides the usual control sticks and trimming switches, you can find the status LCD, control buttons (Exit, Menu and Enter), Dial knob, 4 switches (two on each side) and two pots. The power switch is located right in the middle of the QX7 TX. You can find detailed description of all the parts in the Taranis QX 7 user manual.
Additionally you have two more shoulder switches, one on each side (right one is momentary). BTW, all switches are assignable.
Audio speaker is located on top of the FrSky QX7 transmitter, right above the neck strap hook.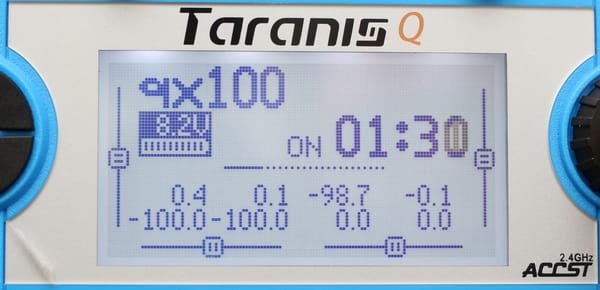 Maybe the status screen does not have the greatest resolution but it does the job well. Thanks to the blue backlight it is visible during sunny days as well during low light conditions.
On the bottom of the TX, behind of a rubber flap, you can find the micro SD Card slot, mini USB socket and TF port (for the future development).
FrSky Taranis Q X7 review – Battery Options
By default, the QX7 is powered by 6 pieces of AA batteries and no built-in charging circuit, which is actually pretty lame in my opinion.
Luckily the batteries are loaded into a removable tray and the connector inside the battery bay is a standard 2S balancing socket.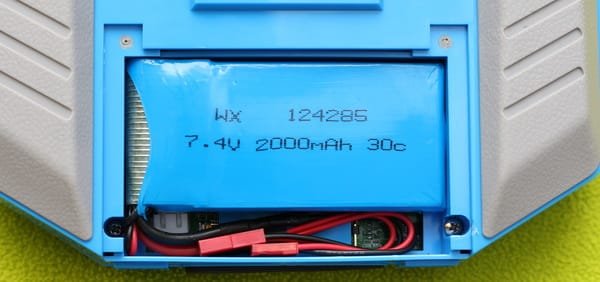 Checking my spare Li-Po's I  found a 2s 2000mW, one that fits perfectly in place of the tray and allows about 4 hours of constant use.
FrSky Q X7 VS FlySky FS-i6
As you can see on the image bellow, the Taranis Q X7 has a more professional design than FlySky FS-i6 has.
While the Q X7 features up to 16 channels, the FS-i6 has only 6 channels. The Q X7 comes with Open TX firmware and the F6-i6 with a less versatile and closed-source firmware.
I liked that the FrSky QX7 comes with configurable timer for each model, which will let you know the remaining time until safe landing. Audio and vibration alerts are also very helpful.
Even if both transmitters are designed for AA batteries, the QX7 can be easily adapted for Li-Po batteries.
With all the above, I find the FS-I6 a nice entry level RC but with its own limitations.
Price/value ratio

Design and build quality

Ergonomy

Features

Range
FrSky ACCST Taranis Q X7 review - Verdict
Low cost does not necessary mean low quality. The FrSky Taranis Q X7 is a nice and versatile radio transmitter. By default it allows to store up to 60 machines. Voice and vibration alerts are pretty high-end.
Range is identical with the one of its more expensive brother, the X9D.
Whether you own a micro FPV drone or a lager cruising quadcopter, the FrSky Q X7 is a great option for each. Right now you can find it with 23% off here (including free shipping). Don't ask me why but the white one costs 5 bucks less than other color options.
What I liked
Decent price;
Many color options;
Excellent range;
Built-in speaker with voice feature;
Removable AA battery cartridge (Li-Po upgrade possibility);
You can flash external receivers via Smartport;
You can use external transmitter modules (even FlySky compatible ones);
Easy mode conversion (mode 1,2,3 and 4).
What I didn't licked
Low resolution LCD screen;
No built-in charging circuit.