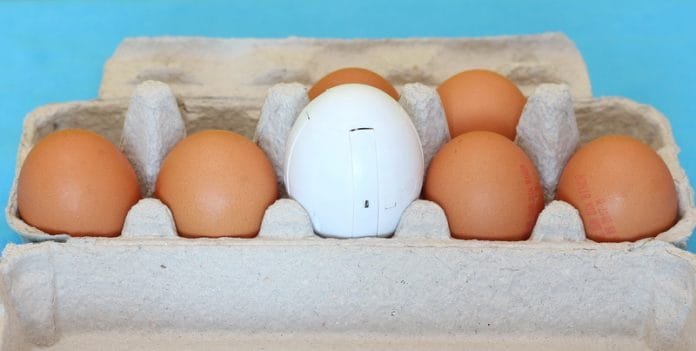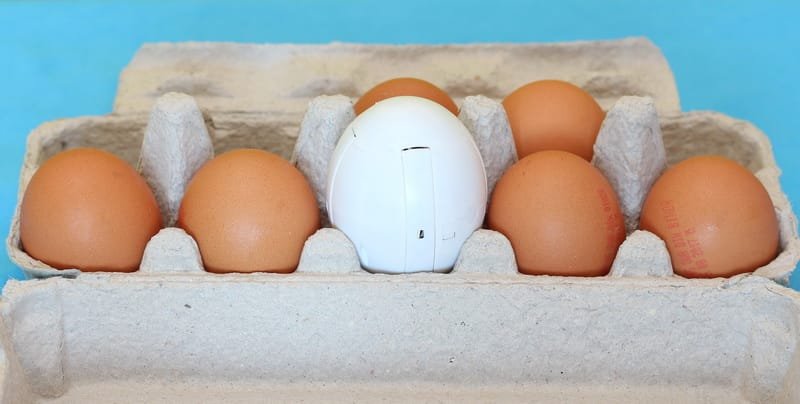 Few weeks ago I already introduced the KaiDeng K130 Alpha drone in the news section  and now it is time for an in-depth review with pros and cons.
Frankly, at first look I do not understand the meaning of the EGG design, because definitely it is not aerodynamically shaped.
This EGG drone was announced by Kai Deng in two variants. While visually they are almost identical, they have different features. The K130-TX comes with remote controller and no camera, the K130-BNF features WiFi FPV camera and APP control.
KaiDeng K130 Alpha drone highlights
Unique EGG design with fold-able arms;
Easy maintenance (motors can be conveniently replaced);
Altitude hold;
Headless flight mode and One key return to home;
Multiple flight speed rates;
Built-in 200mAh Li-Po battery;
About 6 minutes play time;
Up to 40 meters control range.
KaiDeng K130 review with pros and cons
Disclosure: I received this K130 Egg Drone as part of a product review collaboration with GeekBuying. Although the product was offered as a gift, all opinions in this review remain my own and I was in no way influenced by them.
Like usual, thanks to SF Express, the package arrived fast and smooth. Besides the aircraft and its rectangular remote controller I found inside the box: USB charging cable, one set of spare propellers and user manual.
Folded, the KaiDeng K130 Alpha has about the size and shape of a huge chicken egg and weights exactly 32 g. A piece of rubber band prevents accidental release of the arms during shipping.
On the bottom of the egg is located the Power button, which also triggers the arms. By short pressing it few times you can release the arms. By long pressing it you can power ON/OFF the drone. Note: seems to be a "soft" switch, so I would recommend to charge it every two weeks in order to prevent excessive discharge that would lead to permanent battery fail.
When you fold it back, be careful not to accidentally bend the propellers.
During night flights you will be guided by four internal LED lights. One blue in front, two red ones (on each side) and one red on rear.
KaiDeng K130 review – remote controller
The manufacturer certainly did not wanted to offer something conventional. The included remote controller has square shape. I know, it doesn't seems to be the most comfortable option. Also it is very bulky…
Besides the usual control sticks and power switch, there are 6 buttons on the front panel. Through the right shoulder button you can start your flight (arm the motors) as well as initiate Auto-landing. Practically the left shoulder button (Photo/Video) is useless in case of RTF package with no camera.
The transmitter has about 40 meters control range and it is powered by 2 pieces of AA batteries.
Kai Deng K130 review – Test flight aka "Tasting the Egg"
First off all, KaiDeng proved that eggs can fly but, unfortunately, they have problems during take-off and landing. The plastic ring that serves as landing gear is too small to provide enough stability when the aircraft touches the ground. Most of my landings ended with overturn. At least the motors stop quickly if the propellers are locked.
When it's in the air it performs nicely, not too fast and too agile. Just like a fragile egg :). The altitude-hold seems that starts to work only after few seconds of flight, not instantly like in the case of similar toys. BTW, the "Take-off" button just arms the motors and doesn't initiate the take-off itself.
Because everything is white (aircraft and all four propellers), it is very hard to determinate the orientation of the aircraft. I would recommend to draw a smiley on the "face" of the egg and also to paint the front propellers in red.
If you fly out the transmitter's range, the KD K130 drone will automatically land.
Price–performance ratio

Build quality

Flight performance

Remote controller
KaiDeng K130 review - Verdict
Definitely the K130 Alpha is not the best flying machine. The concept itself is cute but has some drawback. At take-off can be easily overturn and it offers poor wind resistance. I would recommend it only for fun but not as learn-to-fly drone.
Both versions (BNF-Camera and RTF-TX) are available for $29.99 here with free shipping. Unfortunately, being a new model there are no spare parts available yet.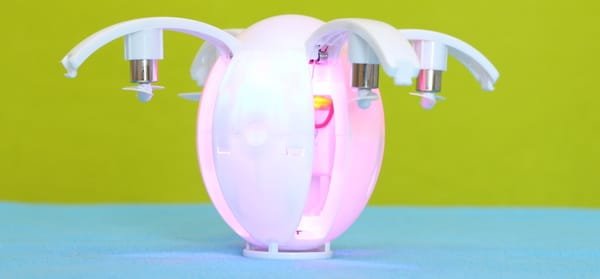 Pros
Cute design;
Very compact, easy to carry foldable mini drone;
Altitude hold (auto-hover).
Cons
Propellers may break when you fold back the arms;
It can easily overturn at Take-off and Land;
No visible marks for front and rear.