When I show my 3D-printed objects to friends, the most common question is, "How much does the filament cost?" SUNLU is known for its affordable 3D printing materials. In this review, we tested their PLA and PLA+ filaments. To check the quality and usability, I printed various things that I needed in the house.
PLA (Polylactic Acid) and PLA+ (also known as enhanced PLA, PLA Pro, or PLA Plus) are two popular 3D printing filaments used in Fused Deposition Modeling (FDM) 3D printing processes. While both are produced from biodegradable renewable resources (like cornstarch or sugarcane) and have similar base characteristics, there are some differences between them:
[Strength and Durability] PLA+ is often marketed as a stronger, more durable version of standard PLA. It typically has enhanced mechanical properties, including increased tensile strength and impact resistance. This makes it less brittle and more suitable for functional parts.
[Flexibility] PLA+ can be slightly more flexible compared to standard PLA. It may have a higher tolerance for bending and deformation before breaking.
[Surface Finish] PLA+ may provide a smoother and shinier surface finish compared to standard PLA. This can make it more aesthetically pleasing for some applications.
[Printing temperatures] While PLA has a low printing temperature, usually around 190-220°C, PLA+ requires slightly higher temperatures, typically around 200-230°C. A lower temperature means less energy consumed.
[Pricing] PLA+ filaments are slightly more expensive than standard PLA due to their improved properties.
SUNLU PLA vs SUNLU PLA+ comparison table
| | | |
| --- | --- | --- |
| Features | PLA | PLA+ |
| Dimensional accuracy | +0.05 mm | +0.03 mm |
| Mechanical performance | Low | High |
| High temp resistant | No | Yes |
| High-resolution | No | Yes |
| Environmentally friendly | Yes | No |
| Cost | $15 to 20 per kg | $17 to 21 per kg |
SUNLU PLA and PLA+ hands-on review
Disclosure: I received these PLA and PLA+ filaments as part of a product review collaboration with SUNLU. Product specs and quality may vary according to the manufacturer's reliability, so I cannot guarantee that you will get the material that performs the same as seen in my article.
Together with the S2 FilaDryer, SUNLU also sent me two spools of 3D filaments, a white PLA and a grey PLA+. Both filaments were packed in the same type of recycled cardboard box. Elegoo still uses plastic spools instead of environment-friendly cardboard. As it should be, the filaments were in airtight vacuum bags with small silica gel sachets inside. PLA and PLA Plus tend to absorb water, meaning they can become brittle over time if stored in a humid environment. To avoid this, you should keep the spool in the original package for the long term.
A label on the bobbin shows the production serial number, material color, type, diameter, and printing nozzle temperature. An unopened spool weighs 1164 grams. The diameter tolerance of the PLA is +/- 0.05 mm, and the PLA Plus is +/- 0.03 mm. During my tests, I had no issues with spool tangling or unwinding. The accuracy of the filament thickness is crucial for good printing results. The extrusion width will also change if the filament's thickness changes within a spool, resulting in an unsightly 3D print.
Pricing, availability, and color options
When I published my review, the SUNLU PLA Plus 3D filament was available starting from $13.99/kg with sixty color options. The standard PLA is 1$ ($12.99/kg) cheaper per kg and is available in 26 colors. There are also available 6KG bundles for a more friendly price.
Sunlu PLA Plus and standard PLA: Printability
In terms of printing, PLA and PLA+ are known for being easy to use. They have a low melting point, so it doesn't necessarily require a heated build plate. They also don't produce toxic fumes when heated, making it a safer option for indoor use.
Firstly, I tested the grey PLA+ filament by printing various things that I needed in the house. I recently purchased some Ikea shelving systems that needed to be painted. The 3D-printed pyramids helped to stack the freshly painted shelves. Homogenization of the paint with a mixer before use is recommended to obtain a nice uniform color. My wife lost the narrow hose of the vacuum cleaner, and she was happy when I printed a new, even longer one. The drill dust collector that works with home vacuum cleaners is also a great accessory for DIY-ers.
With stock settings, I had no printing issues with none of the test objects. Using the SUNLU PLA+ with my Neptune 3 Pro machine was easy. I also printed a temperature tower (5 °C  steps) to test the ideal print temperature for the Sunlu PLA+ filament. The best results were obtained in the range 210-215 °C.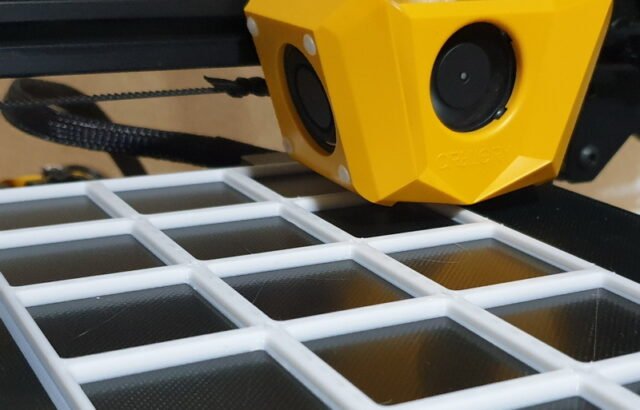 With the standard white PLA, I had some stringing and over-extrusion problems. It also stuck to the platform more weakly than the Plus one.
For all of the above, I used only a third of the filament roll, so I 3D printed a lot of useful stuff without leaving the house at the cost of a few dollars.
SUNLU PLA Plus: Technical specifications
Mechanical proprieties
Dimensional Accuracy
+/- 0.03mm
Density
1.23 (g/cm3 at 23˚C)
Elongation at Break
3.6 (%) at 50mm
Young's Modulus
3570 (MPa)
Tensile Strength
58 (MPa)
Impact Strength
41 (J/m)
3D printing parameters
Extruder Temperature
205-215℃
Plate material
Flexible Magnetic Plate
Surface Treatment of Plate
No required
Plate temperature
50-60℃
Printing speed
50~100 mm/s
Bottom Valve Separation Distance
0.4-0.6
Retraction Distance
5mm
SUNLU Standard PLA: Technical specifications
Mechanical proprieties
Dimensional Accuracy
+/- 0.05mm
Density
1.23 (g/cm3 at 23˚C)
Elongation at Break
3.1 (%) at 50mm
Young's Modulus
3500 (MPa)
Tensile Strength
61 (MPa)
Impact Strength
31 (J/m)
3D printing parameters
Extruder Temperature
200-210℃
Plate material
Flexible Magnetic Plate
Surface Treatment of Plate
No required
Plate temperature
50-60℃
Printing speed
50~100 mm/s
Bottom Valve Separation Distance
0.4-0.6
Retraction Distance
5mm