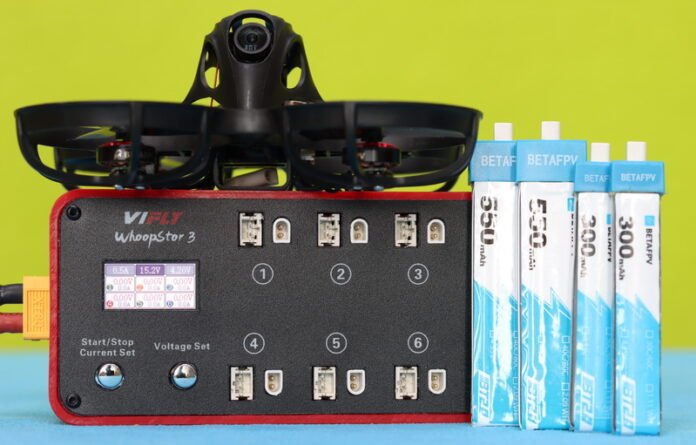 Micro CineWhoop style FPV drones drain the battery very fast and have only 2-4 minutes of flight time. This means that you will need about 20 batteries for one hour of fun. The VIFLY WhoopStor 3 allows you to charge up to six batteries at once, so you can fly while the empty batteries are recharged. The unit is compatible with 1S LIPO and LiHV batteries with PH2.0 or BT2.0 connectors.
Storing a lithium polymer (LiPo) battery at the correct voltage range helps prevent damage and extend lifespan. The standard storage voltage for LiPo batteries is approximately 3.80 V per cell and 3.85 V for high-voltage lithium polymer (LiHV) batteries. As its name says, the VIFLY WhoopStor 3 also has a storage charge program to keep your Whoop batteries in the best shape.
PH2.0 universal connectors are commonly used in electronics for things like battery connections and are known for their reliability. The BT2.0 has been released on the market for four years now since 2019. BetaFPV developed this battery connection to ensure the best power transfer between the battery and the drone. BT2.0 provides low internal resistance of the connector and can handle 9A continuous current and 15A burst, while PH2.0 supports only 4.5A continuous current. Both PH2.0 and BT2.0 connectors are intended for 1S batteries by design (only two pins).
VIFLY WhoopStor 3 review
Disclosure: I received this 6CH 1S charger as part of a product review collaboration with VIFLY. Product specs and quality may vary according to the manufacturer's reliability, so I cannot guarantee that you will get a product that performs exactly the same as seen in my article.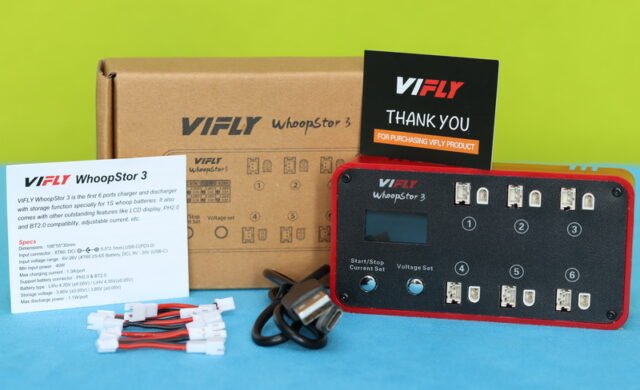 The WhoopStor V3 comes in a recycled cardboard box with a USB-C power cable, six PH2.0 extension leads, and a user manual. Visually, the most significant difference between the original and 3rd generation WhoopStore charger is the new professional-looking housing available in three colors (white, red, and black). The previous models (v1 and v2) had an open case with just a front and back panel. Now, the V3 has a higher charging current and a built-in fan for better heat management.
On the front panel are two control buttons (Start/Stop program and Settings), a color OLED display, and 2×6 battery sockets (PH2.0 and BT2.0). The tiny, vivid screen has nine sections. The top three show charging current, input voltage, and end voltage. The other six sections are dedicated to each charging channel/display battery voltage and stored current.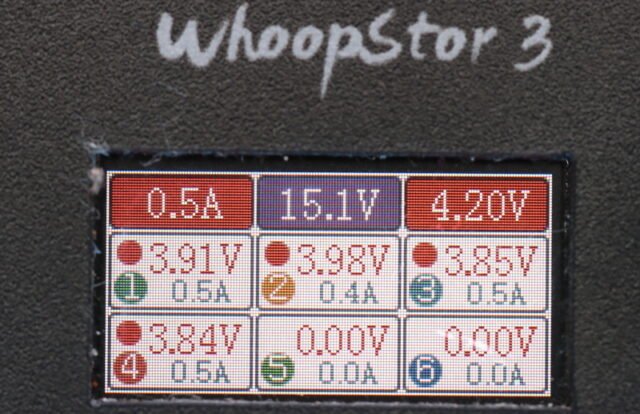 VIFLY WhoopStor 3 features three power input options:
Standard 5521 DC In – 6V~26V
XT60 (2-6S) – 6V~26V
USB Type-C – 9~20V
The configuration and operation of this 1S charging unit are straightforward. You only need to select the voltage: 3.80v for LIPO storage, 3.85 for LiHV storage, 4.2v for LIPO charger, or 4.35 for LiHV charge. You can also change the charging current from 0.3A to 1.3A by pressing the left control button, with 0.1A steps per press. Thanks to the built-in memory function, the last setting is automatically stored and loaded on the next use. Despite the fact that the channels are "individual", you can't program them independently. You can plug/unplug batteries while a program runs.
Pricing, availability, and options
The WhoopStor 3 charger can be purchased from the ViFly online store for $32.99. You can choose from black, white, or red colors. ViFly accessories can also be ordered from platforms like Amazon, AliExpress, eBay, or many popular RC retailers.
VIFLY WhoopStor 3: Key features
[Storage Charger and Discharger] VIFLY WhoopStor 3 is the first 1S LiPo charger with a storage function. It includes both charging and discharging functions. Select your target voltage, and it will do it automatically.
[Colorful LCD Screen, Intuitive Interface] VIFLY WhoopStor 3 installs a high-quality LCD screen, the charging status is displayed clearly, and the intuitive interface makes the operation very simple.
[Fast Charge Speed] The charge current range is from 0.3A to 1.3A. You can choose different charge currents for different-sized batteries. Charging the battery with a 2C rate is better.
[6 Independent Ports] Six independent charging channels -no need to ensure the batteries have the same voltage and size. You also can unplug one that's done and plug in another while the others are still charging.
[Multiple Power Input] It supports Type-C, XT60, and DC power input. Type-C uses PD and QC protocol that supports fast charge at 9V and 12V but does not support regular 5V USB charge.
[Memory Function] VIFLY WhoopStor 3 added the memory feature of remembering last-time settings; no need to set the charge current every time you turn it on.
[Buzzer Indication] Onboard buzzer beeps when one charging circle is finished. If you don't like the beeping, you can turn the buzzer off manually.
Dimensions
108*55*30mm
Weight
140 grams
Color options
White, Black, and Red
Power input ports
XT60, DC(5.5*2.1mm), USB-C(PD3.0)
Input voltage range
6V-26V (XT60 2S-6S Battery, DC), 9V-20V (USB-C)
Minimum input power
40watt
Number of battery channels
Six
Max charging current
1.3A/Channel
Battery connector
PH2.0 or BT2.0
Battery type
LiPO 4.20V(±0.05V)
LiHV 4.35V (±0.05V)
Storage
LIPO: 3.80V (±0.05V)
LiHV: 3.85V (±0.05V)
Max discharge power
1.1W/Channel (Port)
How to make your Whoopstor V3 Charger even better?
Software upgrading any "smart" device, including the Whoopstor V3, not only fixes known bugs but can also improve performance or add new features. Find below the steps on how to upgrade the Whoopstor charger's firmware:
Download the firmware update program from

here

. If you get a warning message from Windows when you try to run the APP, click on "More info" then on"Run anyway".
Next, hold down the "Star/Stop" button while connecting the charger to your computer using a USB-C cable plugged into the voltage input port. A new communication COM port labeled "STC USB Writer (HID1)" should appear in the ViFly APP.
Lastly, click the "Download" button in the app, and the rest is made on autopilot. Once the firmware update is complete, disconnect the charger from the computer. The firmware version is displayed on the home screen if you want to check if the process was successful.
Be on the safe side!
Remember that LiPo\LiHV batteries can be hazardous if mistreated or stored improperly. Always follow safety guidelines and manufacturer recommendations when handling, charging, and storing these batteries to reduce the risk of accidents. Also, never leave the batteries unsupervised while you are charge\discharge them. A fireproof box is also welcome for the process.