Large quadcopters are beautiful in the high-sky but become complicated when it comes to their transportation. Without a nice and comfortable quadcopter backpack like this Realacc, it is very difficult to carry the drone to the flight zone in the original box. Especially when you are on foot.
When I received the Yuneec Typhoon Q500 4K for review I was pretty impressed by the large box it came in. I found it very useful that had a handle but shortly I observed that the original box can be used only to store the drone and it is not practical for carrying.
As an alternative to the original box, there are quadcopter hard cases and backpacks. In my opinion, while hard cases are more suitable for longer trips (by car or airplane), backpacks are more appropriate for walking tours. Usually, quadcopter suitcases can be locked by a key which offers some kind of extra protection against "curious eyes".
Yuneec Typhoon backpack review
Founding very uncomfortable to carry my Yuneec 4K drone in its original box, I started to search for a cheap backpack. I asked James from Banggood if he can recommend me one and he suggested this Realacc backpack. Not having any other alternative in this price range I decided to order it.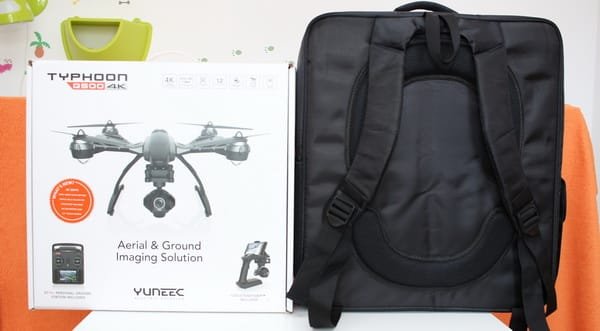 My first impression of the backpack was that is damn huge. It measures about 53cm x 56cm x 27cm (wide x high x deep). Wearing it made me feel like a radioman from the Russian army :D
Realacc quadcopter backpack highlights
Adjustable shoulder straps;
Air-channels to prevent sweating;
Left side pocket for storing and holding mobile phones, memory cards, or other accessories;
Right side pocket that fit a water bottle or a small tripod;
Internal mesh pocket for small accessories (like propellers, screwdriver, and cables);
Large external pocket for flat stuff (like user manual or tablet).
The design of the backpack is very simple. Certainly, the full black color was not a good idea – in sunny days will heat up a bit.
On the outside, it has two smaller side pockets, a large front pocket, and two handles.
Although the adjustable shoulder straps allow very comfortable usage I would have preferred if it had a waist belt too.
In order to prevent sweating, the rear part of the backpack features air-channels.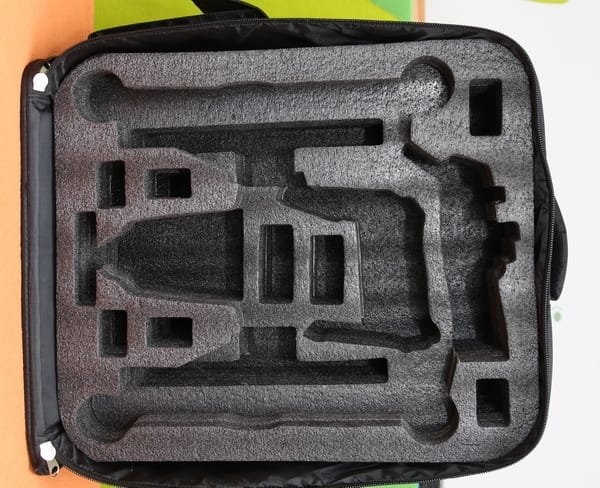 Inside the backpack, there is a mesh pocket and a large main compartment that fits the CNC cut foam where everything is loaded. In addition to the "standard" Yuneec Typhoon Q500 package, the backpack can accommodate 5 more batteries, few more small accessories, and a tablet. The foam can be completely removed, this way you can use the backpack to transport other things.
Can accommodate the followings:
Yuneec Typhoon Q500 or Q500 4K quadcopters;
Yuneec ST10+ ground station (transmitter);
Yuneec CGO Steady Grip (handheld gimbal);
Yuneec 3.5 A DC Balancing Smart charger;
AC Adapter for Yuneec charger;
LCD Screen Sun Shade for ST10 transmitter;
Up to 7 flight batteries (one loaded into the quadcopter);
2 sets of propellers;
Smaller accessories (memory cards, card reader, USB cable).
The Realacc backpack also fits the Yuneec Typhoon G if the gimbal is removed.
Hands-on video with Realacc's Yuneec Typhoon backpack
Price/value ratio

Design and build quality

Confort

Adjustablity
Yuneec Typhoon backpack review - Summary
For sure, if you are traveling a lot on foot you will need a comfortable backpack for your Yuneec Typhoon Q500 quadcopter. In my opinion, if you don't want to invest a fortune in such accessories, this Realacc backpack will do the job just well.
Excepting the lack of internal straps that can secure the quad inside of the backpack and a waist belt which would make it even more comfortable to carry, I do not have any other complain regarding this Yuneec backpack.
Currently, you can find this Yuneec backpack with 48% discount, including free shipping for only $39.31. If you are from Europe you can opt to order it directly from EU warehouse for $22.99 plus shipping costs.
What I liked
Extremely cheap;
Comfortable way to carry your quad;
Lightweight;
Room for a lot of batteries.
What I did not like
Propellers must be removed to fit in;
No internal straps to secure the quad;
No waist belt/strap.