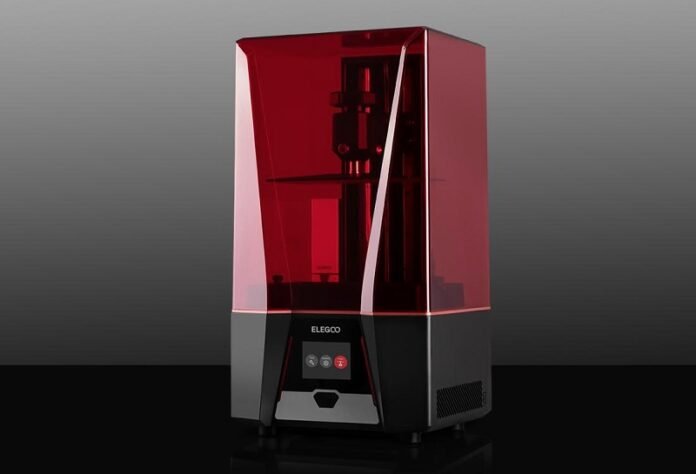 Elegoo just shared a few teaser photos with their upcoming Saturn 2 8K 3D resin printer. The third-generation Saturn features a 10″ 8K mono LCD with a resolution of 7680*4320 and a 28.5 μm pixel size. By comparison, its predecessor, the recently reviewed Saturn S 4K 3D printer has a 9.1″ LCD with 4098 x 2560 pixels (48µm).
The upcoming Elegoo Saturn 2 has a size of 306*273*567mm and a build volume of 219*123*250mm. On the front panel, there is a 3.5-inch touch screen and USB port for the models.
According to the first rumors, the ELEGOO Saturn 2 8k printer is divided into two variants: Basic and Advanced. In terms of printing performance, the two versions are identical, but the Advanced edition is equipped with an in-body camera and supports a cloud APP for remote monitoring/operation.
The 8K mono LCD is protected by a high-quality tempered film for extended life-spam. ELEGOO's patented mirror optical design allows the light to be accurately controlled within 5°.
Elegoo printers are well known to be user-friendly. The new Saturn 8K features material break detection, one-key leveling, and integrated air purification.
Core features:
Featured with the 8K screen, Saturn 2 allows for maximum reproduction of highly
accurate model details;
The ELEGOO Saturn 2 comes equipped with a super high-resolution 8K LCD panel with a
resolution of 7680*4320(28.5 μm). The 10″ 8K screen also allows you to print larger models, or multiple models, while maintaining the superb print detail and accuracy usually found only in smaller printers;
Under the 8K screen, Saturn 2 8K comes with the Fresnel Lens. A Fresnel lens, also known as the threaded lens, is made of optical grade PMMA material, has a high light transmission, and can distribute the UV light very evenly. It is simple, with easy maintenance;
ELEGOO Saturn 2 8K also features a powerful shield over the 8K LCD screen:
9H tempered glass. The 9H hardness tempered glass, hard and durable, sits over the
LCD screen to prevent it from being scratched or damaged.