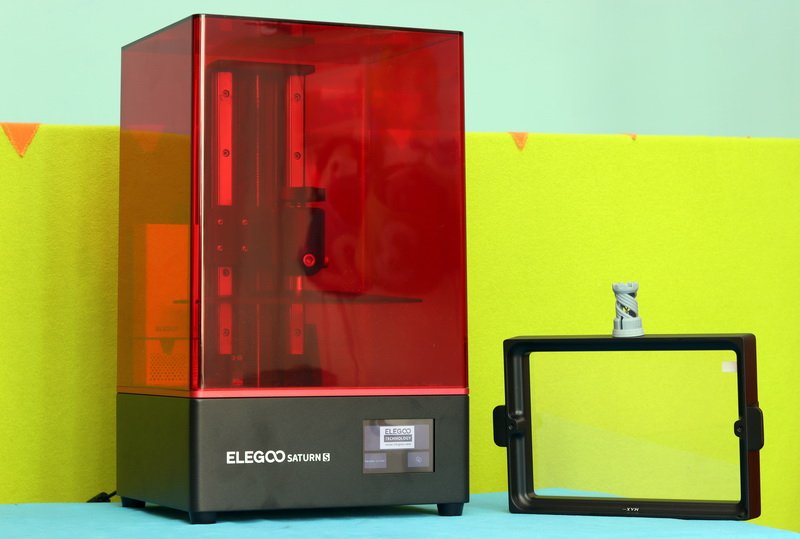 The Saturn S is the newest member of the 4K resin 3D printer series released by Elegoo and it is an improved version of the original Saturn. The screen is now increased from 8.9″ to 9.1″ and the print height from 200mm to 210mm. Furthermore, now you get an active carbon air purifier included with the S-edition. Our Elegoo Saturn S review contains all the important details that you should know before placing your order.
First of all, a higher display resolution does not necessarily mean higher quality prints. Pixel size determines the XY quality and Z-Axis Accuracy + Layer Thickness the layer quality. For example, the Saturn S has a 9.1″ 4K LCD with 48µm pixel size, and the Mars 2 Pro has a 6″ 2K LCD with 50µm pixel size. So you can expect the same results from the 2K and 4K MSLA printers. Anyway, even a relatively low-resolution resin 3D printer is still capable of making extremely fine details that wouldn't be possible on a consumer filament (FDM) printer.
Elegoo Saturn S 4K 3D printer review
Disclosure: I received this MSLA printer as part of a product review collaboration with Elegoo. Although the product was offered for free, all the opinions in this article remain my own!
The printer comes in a compact cardboard box with a red 'Fragile' sticker on it. Inside there is plenty of foam to protect the breakable plastic housing. All sensitive surfaces are covered with a protective film, in order to avoid scratching during handling.
Elegoo includes all of the accessories required to get the Saturn S 3D printer up and running, as well as a few accessories that you'll need to remove, process, and clean printed models. You get a 4GB USB drive with ChituBox slicing software, a PDF user manual, and the well-known Rook demo model. The printed user manual covers the entire calibration, setup process, and maintenance instructions, as well as the basic settings for the ChituBox APP.
Toolbox content
AC/DC power adapter;
Hex wrenches and a bag of spare screws;
Ten disposable resin funnels;
Two face masks and two pairs of nitrile gloves;
Metal and a plastic scraper;
Clipper to cut the printing supports;
USB powered active carbon filter with a cartridge.
Upon my request Eleggo also included an ABS-like resin for the review process. This new generation resin is VOC-free, less brittle, and has higher tenacity. Of the available 11 colors, I received mint green.
At a glance
If you are moving from a filament (FDM) 3D printer you will be surprised by how compact and clean with no exposed moving parts, cables, or connectors is the Elegoo Saturn S. At just 28 x 24 x 44.6cm (11.02 x 9.44 x 17.55 inches), it won't occupy half of your desk. Anyway, don't get too excited because, during working, the remaining space left on your table will be needed for cleaning and curing accessories. The base unit is made from metal and feels very solid. During printing, everything is protected by the semi-transparent red housing.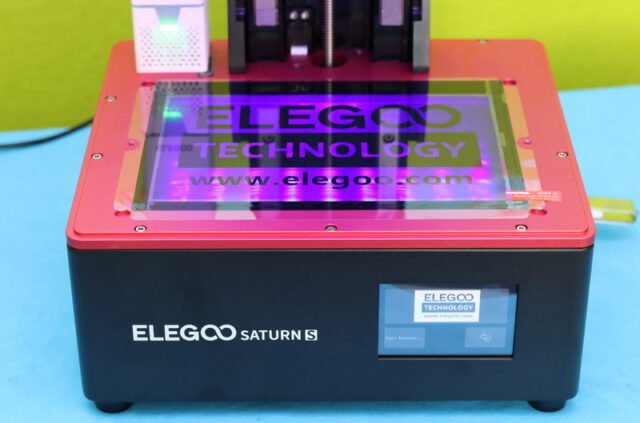 The Saturn-S uses a monochrome 4K LCD with 4098 x 2560 resolution and backlighting from a UV LED matrix with a wavelength of 405 nm. It has a printing speed of 30-70 mm/h and a layer thickness of 0.01–0.15mm. According to Elegoo, the low energy consumption and heat emission extend the lifespan of the display by 3 times.
Designed for large prints, it adopts a dual-linear guide rails system. It has an impressive built volume that measures 196 x 120 x 210mm (7.71 x 4.80 x 8.26″). By comparison, my Elegoo Mars 2 Pro has 130 x 82 x 160mm, which is about 3.5 times smaller. The metal printing platform's surface is sandblasted for enhanced adhesion.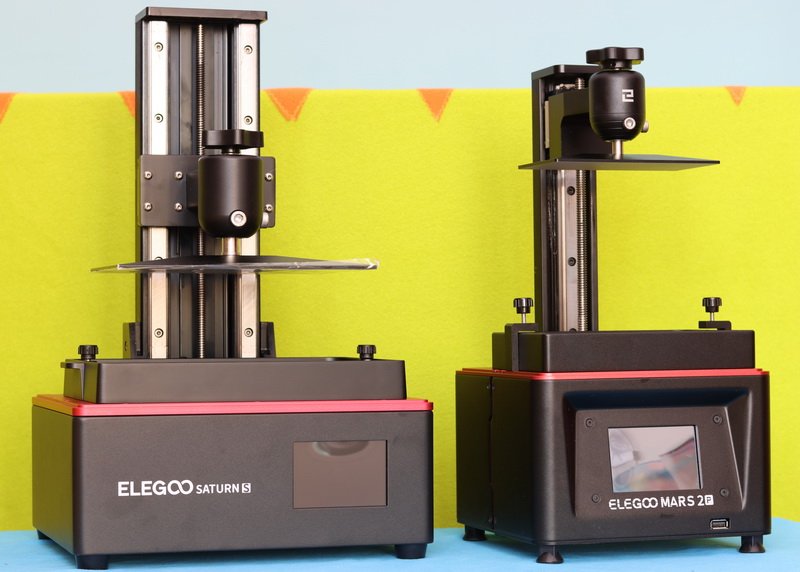 The front panel is very clean, there is only the 3.5″ status/configuration touchscreen. The menu system is intuitive and easy to use. When you browse for printing models, a preview is generated on the LCD. The USB stick can be inserted from the right side. Personally, I would prefer a front loading. On the side of the printer, you usually keep the washing and curing machines.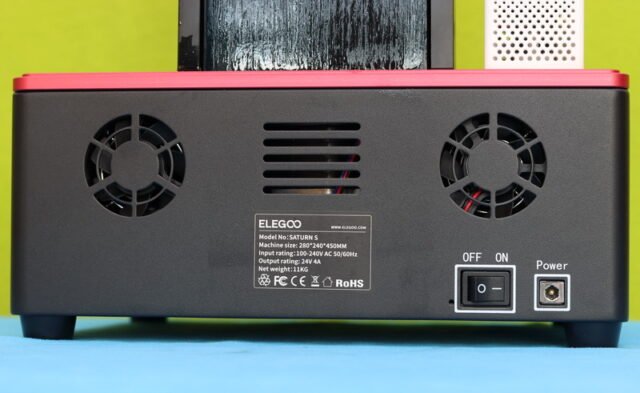 On the back of the Saturn S, there are two cooling fans, a power switch, and a DC input plug. The printer is powered by a 24V/4A AC adapter.
Resin container (VAT)
The 24×16.5cm size anodized aluminum resin tray comes with high-quality FEP 2.0 film that provides a better curring effect and higher printing accuracy. It has a 'max' level mark and a dedicated corner to drip the remaining resin back into the bottle. To eliminate any residue, always use a funnel with a filter.
The resin tank has screws in each of the corners that act as alignment pins to help you place the van inside so that it won't move till you secure it from the top with the thumbscrews.
Air purifier
Elegoo includes with their Saturn-S 3D printer a USB-powered active air purifier. The carbon cartridge can absorb and filter the irritant resin odor before you remove the UV shield, giving you a fresh and safe user experience. The replaceable carbon filter block can be used from 3 to 6 months depending on how much you print.
In case you don't want to use the purifier, it is recommended to cover the USB port with the rubber cap in order to avoid any accidental resin penetration inside the port.
Price and availability
Both original Saturn and S-edition are available on the Elegoo website. At the time I publish my review, the older model is on clearance sale for $480 (with $20 off) and the new Saturn-S has a regular price of $520 for the US or €493.82 for Europe. Taking into consideration that for the extra $40 you get a slightly bigger screen, larger build volume, and an air purifier, I think the Saturn S is a good deal!
Assembly, Initial setup, and calibration
MSLA 3D printers, including the Elegoo Saturn series, are already pretty much fully assembled and everything is underneath a case. Mostly, you just need to insert the power adapter and level the build platform.
Don't worry, the calibration process is painless compared to filament printers. It can be done in just 5 minutes by following the leveling instruction card included in the box.

First thing is to remove the tank and the protective films from the screen and build the platform. Next, you can loosen the two screws shown in the picture below and insert a piece of paper between the 4K LCD and the build platform. By pressing the 'home' icon under the 'Tool\Manual' menu, the build platform will go down to 'zero'. Press gently the platform with your hand and tighten the screes one by one, first should be the front one.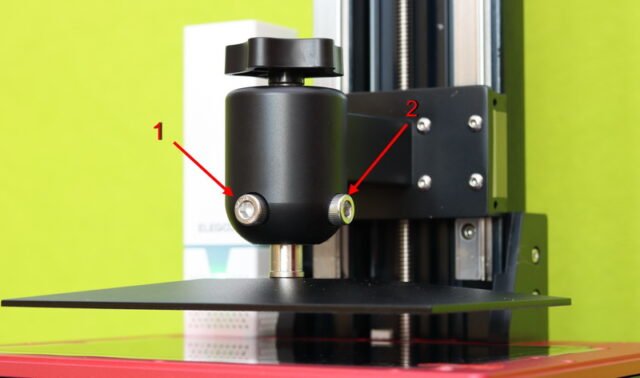 Now you can reinstall the vat and fill it with resin. To check if everything is good, a test model is included on the USB stick. I started my first print job, less than 30 minutes after unboxing. In the end, the biggest challenge proved to be removing the model from the plate. It adheres so well, that it is difficult to remove even with the sharp metal spatula.
To make something useful, my second test print was a 45degree Elegoo Saturn build plate hanger. It allows dripping back the resin remains from the platform and the model.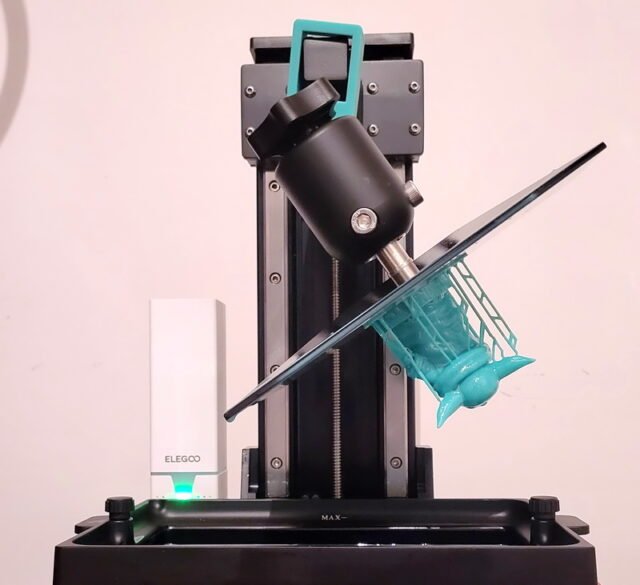 The third print was for my son, he is a big Star Wars fan. Initially, I wanted to print a star trooper helmet, but the mint green resin was more suitable for Grogu, the Baby Yoda. The original STL model had a height of 9cm and required almost 6 hours to print and 125ml of resin. I decided to shrink it to 70% in order to make the operation faster. This time, I added some structure supports for Grogu's ears and little but powerful hands. Here I should mention, that only the height of the model (number of layers) determines the print speed. So, regardless that you print a model of 1x1x10cm or a 19x12x10cm one the process will take the same amount of time.
After printing a couple of test models, I noticed that the aluminum build platform has developed a few scratches from the scrapper. If this becomes a problem (poor first layer adherence) you can try to sand it with an abrasive paper. Anyway, keep in mind that it is considered consumable and may need replacing after a large number of prints. Unfortunately, also the LCD screen itself is also worn out with every hour of use!
From websites such as Thingiverse, Cults, and MyMiniFactory you can download for free millions of 3D print models. Using the CHITUBOX you can convert the universal STL files into CTB files compatible with Saturn S. Remember to configure the APP with your printer profile. The slicing software can automatically generate printing support structures if needed.
Technical specifications
| | |
| --- | --- |
| Printing technology | UV Photocuring |
| LCD | 9.1″ 4K (4098 x 2560) monochrome |
| Light source | Matrix light source with 54pices of 405nm UV LEDs |
| Consumable | Liquid resin |
| System software | EL3D-3.0.1 |
| Slicing software | CHITUBOX |
| XY resolution | 0.0048mm |
| Z-Axis accuracy | 0.00125mm |
| Layer thickness | 0.01-0.15mm |
| Printing speed | 30-70mm/h |
| Build volume | 7.71 x 4.80 x 8.26″ / 196 x 122 x 210mm |
| Control panel | 3.5″ color touchscreen display |
| Connectivity | USB |
| Weight | 24 Lbs / 11 Kg |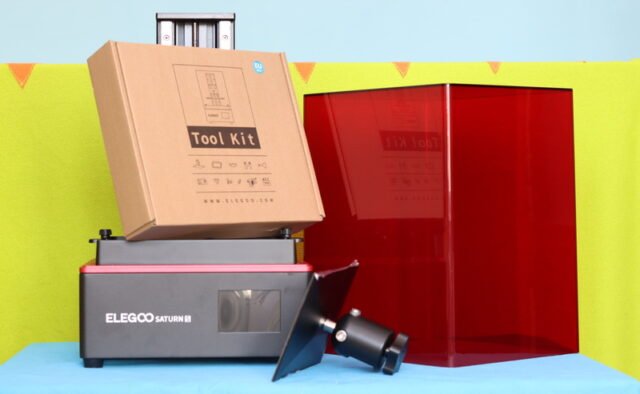 Price/performance ratio

Printing quality

Build volume

Easy to use
Summary
Elegoo's Saturn S has all the advantages of an MSLA 3D printer. It is compact, easy to set up and the results have outstanding quality. If you need big resin prints at an affordable price, it is a great choice for $500.
Features
Plug-in active carbon filter;
Easy levelling system and dual z-axis linear railway;
4K 9.1″ mono panel (4098×2560 / 48µm);
Matrix light source of 54 UV LEDs.
Pros
Large print volume;
Brilliant print quality;
Air purifier;
Easy to set up and silent operation;
Lots of included accessories.
Cons
Does not include demo resin;
The USB port is not in the best place (side instead of the front).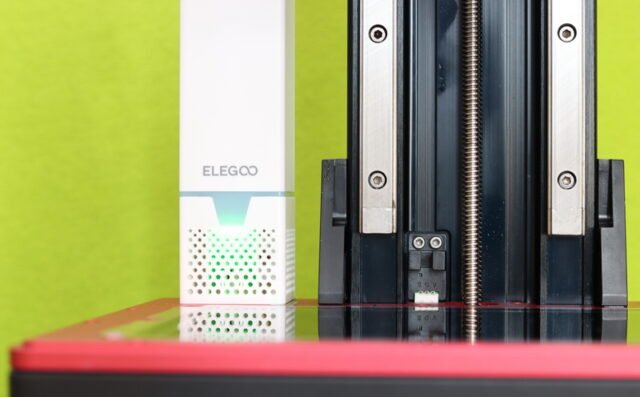 Things you should consider when you operate a resing printer
Before doing anything, you need to understand that uncured resin is toxic and hazardous, so for your own safety pay close attention when handling it. Also, exposing your eyes to UV rays can harm your vision!
Install your resin printer in ventilated space, due to the toxicity of the gases that can emit;
Wear appropriate chemical-resistant gloves and face masks when you manipulate resin;
Protective glasses are also recommended due to the fact that the UV might harm your eyes.
Do not use the printer directly in front of windows. The sun's UV light can degrade the resing in the vat;
Keep the resin bottles in a cool, dark area to prolong it. Try to use the resin within one year after manufacturing;
Wash the models before post-cure using >98% isopropyl alcohol.