Whether you are looking to build your own FPV drone for the very first time or looking for a complete solution for the maintenance and repair tasks after a hard crash, having a single tool kit that can handle it all, proves not only cost-efficient but can also save you a significant amount of time. Additionally, you will need only a soldering iron with the required accessories (solder mat and a multifunctional welding stand).
For those who like to upgrade their drones, a budget pick like the Makerfire 18-Piece general repair toolset will be more than enough for their needs. This kit is incredibly wallet-friendly and includes all the must-have basic tools in a compact storage bag.
Makerfire 18 in 1 drone tool kit review
Disclosure: I received this tool kit from MakerFire in order to test it and do an in-depth review. Although the product was offered for free, all opinions in this article remain my own, with no influence from my sponsor.
Recently I crashed two of my FPV drones so bad that I had to replace most of the frame parts. I have a couple of screwdrivers and hex wrenches, but they are never enough. There is always a nut of screw that doesn't match with your tools. When I saw Crystal Young's share about their new arrival drone tool kit, I thought that's what I need in my FPV backpack. Two weeks later, I have it in my hands :)
18 in 1 RC Tools Kit content
1.5mm, 2.0mm, 2.5mm, and 3.0mm Hex screwdrivers;
4.0mm, 5.5mm, 7.0mm, and 8.0mm Box Spanners;
3.0mm and 4.0mm Philips screwdrivers;
3.0mm and 4.0mm Slot screwdrivers;
Hexagon sleeve wrench (4mm/5mm/5. 5mm/7mm);
Nipper and Diagonal pliers;
Hole puncher reamer;
Bearing removing tool;
Magnetic tray for small metal parts.
First impressions
At a glance, the kit looks nice and includes all the essential parts from standard screwdrivers (Philips and Slot), Hex screwdrivers, Box spanners to Nipper and Diagonal pliers. To be honest, I don't know how many brushless motor bearings I will replace, but a dedicated tool for this job is also included. My son's favorite instrument is the vampire slayer hole puncher reamer.
Firstly, I used this toolset to replace the flight controller in my HGLRC Petrel 120x. An article about the repair process will be published in the following days. I found inside the bag all the hex drivers I needed for the job. If some tasks require shorter drivers, you can adjust the length by losing the screw from the handle. Hex drivers are ok, but if you apply too much torque will wear out after a few usages. Pliers are decent, but the cutting edge requires some adjustment and sharpening.
When you're taking apart drones, you're going to end up with a lot of little metal pieces that can get knocked away or lost. This is where the included magnetic screw tray can come in handy.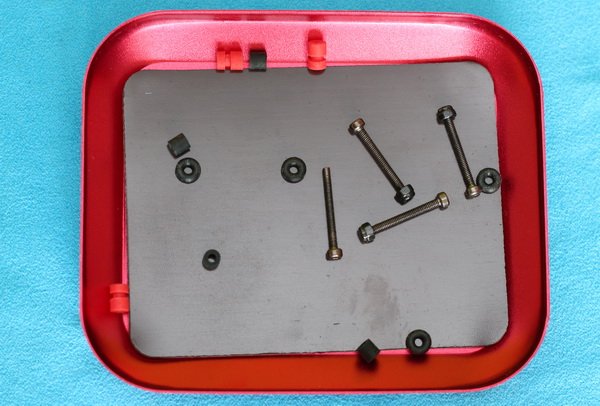 I like the polyester canvas case in which the kit is provided. All the tools and accessories have their own position. Measuring 26x24x4 cm, it fits inside most drone backpacks.
Price and availability
You can order this budget tool kit from here at the discounted price of just $42.99. There you can also find other mixes of repair tools in advantageous combo sets. MF also has a couple of cool soldering stands on sale.
Editor's rating
Price/value ratio

Build quality

Kit conent
Summary
This tool kit is just perfect for occasional drone repairing, but if you think to use it in a service center you should look for something more durable. The type of screwdrivers is too soft for daily usage. The bag includes pretty much all the tools you need in order to take apart and reassemble your drone.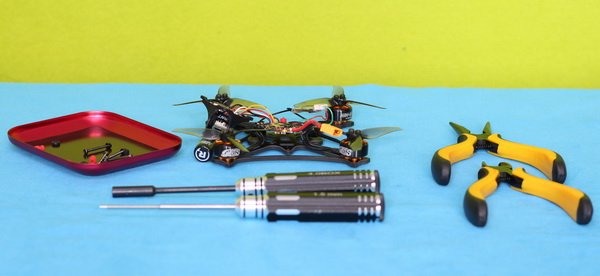 What I liked
Most of the tools I need in a convenient storage bag;
Bearing removing tool;
Magnetic palet for the tiny screws.
What I didn't like
Screwdriver tips are too soft, their wear out fast;
No 8mm prop hexagon sleeve wrench included;
The two cutting parts of the pliers are not perfectly parallel.