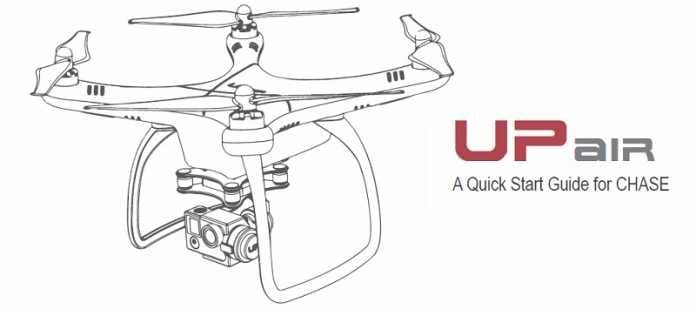 UPair Chase instruction guide download page
GPS quadcopters like this UPair Chase are chosen especially for aerial filming. This model is equipped with a 2-axis gimbal which allows smooth – vibration free – videos. The tilt angle of the gimbal can be easily adjusted through a dial knob.
The Up Air Chase can be purchased together with a FULL HD camera or, for more demanding aerial videos, with a 4K camera. These cameras seem to be manufactured by Hawkeye. The 12MP looks identical with the Firefly S5 and the UHD camera with the Firefly S6. For GoPro fans, the Upair Chase quadcopter can be ordered also without a camera, this way the buyer has the possibility to install later their favorite GoPro model.
An integrated 5.8GHz FPV system allows to display real time images from the camera on the included 7″ monitor.
The built-in OSD allows to display many flight parameters such as: total flight distance, flight speed, flying altitude, time, battery voltage and number of satellites.
If you are interested in more details about this fist GPS Quadcopter please download the UPair-Chase User Guide, it contains many interesting chapters like:
Preparation for the flight:
Propeller installation;
Battery installation;
Motor lock and unlock.
Up Air Chase fail safe functions:
Low voltage return to home. During a flight, when the battery voltage is dropped under 10.6V, the "Auto Return" function will be triggered and the quadcopter will automatically fly back to the take-off point.
Failsafe Auto Return. If the aircraft lost communication with the remote controller, will hover for 3 seconds. If the communication still can't be reestablished during this period, the quadcopter will return automatically to the take-off point.
Unfortunately I didn't found any section about how to calibrate the UpAir Chase. It is possible that all the calibrations are made automatically during the startup sequence.
UPair Chase user manual download
[wpdm_file id=47]
My recommendation is that it is not enough just to download the UPair Chase's user handbook, you must read it prior to your first flight!