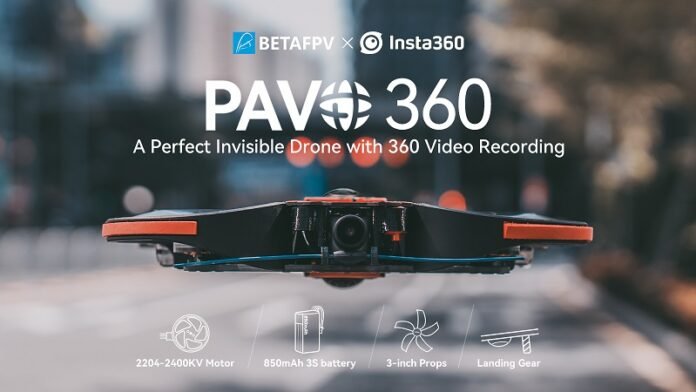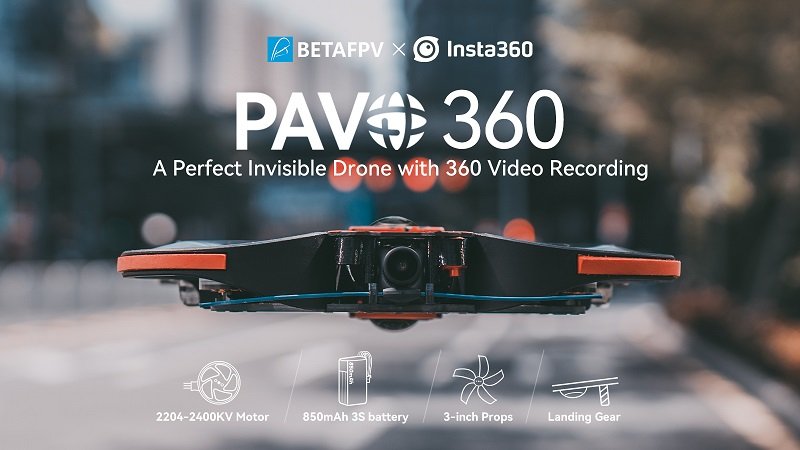 Pavo360, a totally new and unique CineWhoop style 3″ FPV drone designed by BETAFPV, aims to provide pilots with a perfect 360° video recording and stable flying. It can be equipped with the ultralight customized Insta360 SMO 360 camera, a balanced body design to guarantee stable flying, a retractable landing gear to protect the cam away from any damages when landing on the ground. It also has sufficient power because of powerful 2204-2400KV brushless motors and two tandem 850mAh 3S batteries.
The BetaFPV Pavo360 is available with an analog or HD digital FPV setup. In addition to the PNP version, you can opt to purchase it in a bundle with a TBS radio receiver. Caddx Vista version is natively compatible with the DJI FPV transmitter (gen1).
BetaFPV Pavo360 drone highlights
Panoramic view: The Pavo360 is intended to be used together with the Insta360 SMO 360 camera allow to capture of incredible aerial footage.
Multiple FPV options: If you are an old-fashioned pilot you can opt for a Caddx Ratel camera with 800mW VTX or if you prefer the crispy clear HD vision of the

DJI Goggles V2

you can go for the Caddx Polar Vista kit.
Landing Gear: Pilots can control the landing gear through the radio switchers. This strong landing gear perfectly protects the cam when pilots land pavo360 on the ground and the 3D printed anti-collision feet can be replaced.
Ultra-Thin and Flat Frame Design: Extremely thin body to make sure the drone is completely invisible when recording a 360° panoramic video.
Balanced layout Design: Pavo360 has a balanced layout with 2 batteries on the side, FC and VTX are in the front, and the centrally mounted camera, which makes the flying much more stable.
Sufficient Power Supply: Pavo360 uses 2204-2400KV(3S)motors, GF D76 5-Blade Props, and 2 tandem 850mAh 3S batteries to supply sufficient power for the drone.
Pavo360 Tehnical Specification
Wheelbase
168mm
Weight
326 grams
Flight controller
F7 6S AIO 35A Toothpick
Motors
2204-2400KV (6S)
Propellers
Transparent grey GF D76-5B (3″ – 5 blades)
FPV setup
HD Digital: Caddx Polar Vista Kit
5.8GHz Analog: Caddx Ratel + A02 800MW VTX
Camera tilt angle
0-60°
Radio receiver
Optional TBS
Battery (6s rated)
2x 3S 850mAh 75C
Flight time
About 5 minutes (smooth flight)
Compatible cameras
SMO 360 panoramic
BetaFPV Pavo360 x Insta360 SMO 360 assambly insturction video