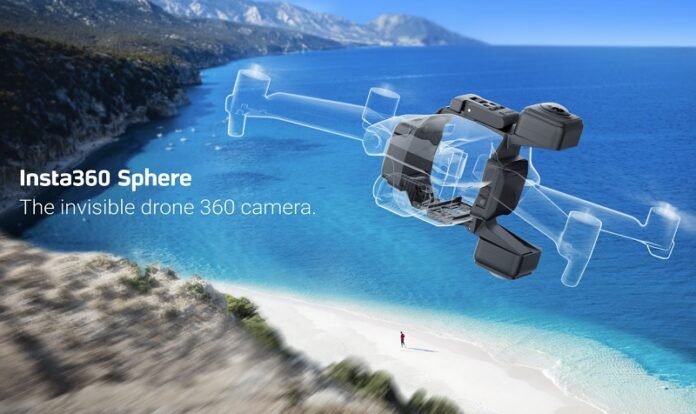 Insta360, GoPro's biggest rival in the action camera market, just announced a new 360° camera specially designed for the DJI Mavic Air 2 and Air 2S drones. Insta360 Sphere is a 'wearable' 360-degree drone camera that allows capturing incredible footage in which the quadcopter is totally invisible.
Insta360 Sphere offers immersive footage, without the need to have professional flying or editing skills. Powered by Insta360's industry-leading software, Sphere unlocks endless ways to create killer content from drone footage.
DJI's AIR 2 series are safe and powerful flying machines that can lift easily the weight (192g including battery) of the Insta360 Sphere. Equipped with 3 (Air 2) respectively 4 (Air 2S) direction obstacle avoidance sensors, you can focus on what you want to capture.
The Sphere camera system attaches to the drone with an ultra-secure locking mechanism that allows being installed/removed in less than 1 minute. Insta360 claims that there is zero impact on the drone's structural integrity, and it doesn't obstruct the GPS signal or the communication system. The camera has 5 main parts:
Mounting cage
Lens module 1
Lens module 2
Control unit (Power and Record button)
Power unit (Battery)
The Insta360 Sphere is powered by its own inbuilt battery that provides about 48 minutes of recording time.
Immersive 360 aerial footage without the learning curve
From awe-inspiring landscapes to urban vistas, drone pilots have been capturing stunning aerial footage for years now. But, the key limitation of wide-angle cameras is that they can only capture in one direction. A user's ability to get the best footage is dependent upon their flying abilities and the maneuvers they are capable of pulling off in real-time.
That's no longer the case with Insta360 Sphere. By filming in 5.7K@360, users can adjust the angle and camera direction in their video after the fact. Using the easy reframing tools in the Insta360 app and Studio desktop, anyone can add thrilling rolls and turns to their aerial footage in post, achieving FPV-like footage on an easy-to-handle drone.
Shooting with a 360 camera also opens up the option of getting multiple edits from the same flight, in addition to the wide-angle footage from the drone itself.
A truly invisible drone
Many drone users are accustomed to mounting a 360 camera above or below their drone to get 360-degree footage. But since 360 cameras film in all directions, this means that half of the video is often obstructed by the drone itself, requiring tedious post-processing or paid video editing software to remove it.
With Insta360 Sphere, the camera's lenses are precisely mounted on either side of the drone to ensure the drone is invisible in the resulting footage. Insta360's proprietary dynamic stitching algorithm makes the whole drone (including the propellers) disappear automatically, leaving the user with glorious, uninterrupted shots.
Smooth flight, smoother shots
Killer image stabilization is crucial to getting immersive aerial footage. Insta360's proprietary FlowState Stabilization technology has been fine-tuned for Insta360 Sphere to ensure super steady aerial footage, no matter the conditions.
Technical specifications
Aperture

F2.0

35mm Equivalent Focal Length

7.2mm

Photo Resolution

6080×3040 (2:1)

Video Resolution

5760×2880@30/25/24fps,
3840×1920@50/30fps,
3008×1504@100fps

Photo Format

· insp

· RAW (dng) (RAW files require software on PC/Mac to export.)

Video Format

insv (can be exported via App or Studio)

Photo Modes

Standard, HDR, Interval, Night Shot, Starlapse, Burst

Video Modes

Standard Video, HDR, Timelapse, TimeShift, Bullet Time, Loop Recording

Color Profiles

Standard, Vivid, LOG

Weight

192g (battery included)

Dimensions (W x H x D)

110x125x63mm

Run Time

48 minutes (

*Tested in lab environment under 5.7K@30fps)

Max Video Bitrate

100Mbps

Gyroscope

6-axis Gyroscope

Compatible Devices

iOS Devices:

Compatible with iOS mobile devices with chips A11 or above and iOS version 11.0 or above, including iPhone SE 2, iPhone 8, iPhone 8 Plus, iPhone XR, iPhone XS, iPhone XS Max, iPhone X, iPhone 11, iPhone 11 Pro, iPhone 11 Pro Max, iPhone 12, iPhone 12 Pro, iPhone 12 Pro Max, iPhone 12 mini, iPhone 13, iPhone 13 Pro, iPhone 13 Pro Max, iPhone 13 mini, iPad Air (2020), iPad Pro and newer iPad models.

Android Devices:

Compatible with Android mobile devices that meet the following capabilities, including:

• Android devices with Kirin 980 and above chips, including Huawei Mate 20, P30 or newer models.

• Android devices with Snapdragon 845 and above chips, including Samsung Galaxy S9, Xiaomi Mi 8 or newer models.

• Android devices with Exynos 9810 and above chips, including Samsung Galaxy S9, S9+, Note9 and newer models.

• Android devices with Tensor chips, including Google Pixel 6.

Note:

1. Devices that do not meet the above requirements may still be able to use the app to control the camera, however, the performance of some processor-intensive and AI-powered features may be sub-optimal.

2. After testing, phones equipped with Qualcomm SDM765 5G chips have poor hardware decoding capabilities and are not supported for use, such as OPPO Reno 3 5G.

3. App installation requires a mobile phone with a 64-bit system. A 32-bit system does not support app installation.

4. The Snap Wizard feature is only compatible with iPhone 8 or above models (A11 or above chips); iPads with M1 chips; and Android devices with Kirin 990 and above chips (e.g. Huawei Mate 30 and above), Snapdragon 855 and above chips (e.g. Google Pixel 4/Xiaomi Mi 9 and above), or Exynos 990 and above chips (e.g. Samsung Galaxy S20 and above).

Exposure Value

±4EV

ISO Range

Photo: 100-3200
Video: 100-3200

Shutter Speed

Photo: 1/8000 – 120s
Video: 1/8000 – to the limit of frames per second

White Balance

2700K-6500K

Bluetooth

BLE4.2

Wi-Fi

2.4GHz

USB

Type-C (charge only)

MicroSD Card

exFAT formatted microSD cards with the UHS-I bus interface and Video Speed Class V30 rating (exactly this class, neither higher or lower) with a max storage of 1TB are recommended.

Battery Capacity

1050mAh

Charging Method

Type-C USB

Charging Time

100 minutes (powered off)

Operating Temperature

23°F to 104°F (-5℃ to 40℃)
Price and availability
The Sphere360 drone camera is available from May 24, 2022, in the U.S. and Mainland China at store.insta360.com and retails for $429.99.
Safety recommendations
Insta360 Sphere is not water-resistant. Do not use the camera in or around the water, including in the rain;
This camera is only suitable for experienced and highly skilled drone pilots. Users are fully responsible for any issues caused by using this camera during drone operation (unless caused by a product defect);
Always take off in an open outdoor area, with the drone 5-10 meters (16-32ft) away from the pilot. Do not hand launch or land the drone;
To ensure flight safety, keep the drone within your visual line of sight. Stay away from obstacles, crowds, and bodies of water. For detailed flying guidance, please strictly follow official instructions/guidelines from the drone manufacturer.
Check that all parts are firmly connected before use;
Check the drone's blades before the take-off;
Do not fly at an altitude of more than 1000 meters above sea level. High altitude flights will reduce the power redundancy and safety of the aircraft;
Do not fly in harsh or unpredictable conditions, such as heavy winds or extremely cold conditions.