In my Mavic Air 2 review, firstly I will go through its most important features including camera performance, range, and battery life, so in the end, we should be able to conclude who's this kind of drone designed for.
Featuring 48MP camera with 4K@60fps recording, 8K Hyperlapse, and HDR video capabilities, the new Mavic Air 2 looks like it is currently the best option under $1000. As DJI wanted to offer something hard to compete, the not-notch camera is combined with a super long range OcuSync 2.0 transmission and a top battery life of 34 minutes.
The Mavic Air 2 features DJI's second-generation object tracking system and it works well as long as its limitations are understood. Just drag a box around the subject and the drone will follow its movements while keeping it centered in the camera's field of view. Integrated with the collision avoidance sensors, this gives the capabilities for Mavic Air 2 to autonomously track you even between obstacles like trees.
DJI Mavic Air 2 features
Compact size with foldable arms;
48MP Photo, HDR Panorama, 4K@60fps Video and 8K Hyperlapse;
3-axis cinematic stabilization;
ActiveTrack 3.0 and Spotlight 2.0 intelligent flight modes;
Creative QuickShots modes (Dronie, Circle, Helix, Rocket, Boomerang and Asteroid);
Advanced obstacle avoidance system (forward, backward and downward sensors);
Up to 10km 1080p OcuSync 2.0 video transmission;
34-Minutes max flight time.
DJI Mavic Air 2 in-depth review
Disclosure: I received this foldable drone as part of a product review collaboration with DJI. Product specs and quality may vary according to the manufacturer's reliability, so I cannot guarantee that you will get a product that performs exactly the same as seen in my article.
For June, DJI selected 9 lucky reviewers to get the Mavic Air 2 for one month of testing. Unfortunately, according to the loaning agreement we need to send it back after finishing the testing period.
I received a basic package with one battery, charger, remote controller, spare sticks, 3 pairs of propellers, and data cables (Lightning, Type-C, and Micro USB). A few weeks ago I did an in-depth comparison between Mavic Air 2 Combo and Standard were I detailed the list of all included accessories.
At a glance
The new Mavic Air 2 looks much more like the Mavic 2 Pro than the original Mavic Air (released in 2018). When it is folded up measures 180 x 97 x 84 mm. Weighting 760 grams (1.25 pounds) you will need to register it at FAA, if you fly under their umbrella. By comparison, DJI's most portable drone, the Mavic Mini weighs only 249 grams.
Similar to its predecessor, the second-generation Air has also obstacle sensors (two for each direction) on the front, bottom, and rear, in order to help it avoid collisions. Still no side and top object detection sensors, so it will not know if your take-off under a tree or power line.
It has bigger quick-release propellers and longer arms which should improve stability compared to the older Air. Also, the battery compartment has been moved from bottom to top. It has vent holes on side and tail. While on the left side, behind a tiny rubber flap, you have a micro SD slot, in the right side USB Type-C data port.
On the belly, near the tail, there are two infrared sensing sensors that look like tiny solar panels. These sensors are helpful to improve low-altitude hovering.
During night flights, in addition to the four motor lights, you have a super-bright white led on the belly. This one can be turned on/off remotely whenever needed.
While the original Air has been powered by a 2375 mAh LiPo pack, the Mavic Air II needs a 3500 mAh one. Unfortunately, higher capacity means a bigger size and extra weight. Recharging the battery takes about 90 minutes. Combo's charger allows you to load up to 3 batteries, but they are charged in a sequence not all at the same time!
Honesty, I was pretty impressed by packaging to aircraft and remote controller built quality. I had the feeling that I'm dealing with a pro-grade drone, not a toyish one like in case of reviewing the Mavic Mini.
Price and Availability
As I previously mentioned, like most consumer DJI drones, the Mavic Air 2 is also available in two package configurations: "Standard" which includes aircraft, one battery and transmitter and "Fly More combo" which includes in addition to standard package a nice shoulder bag, ND filters, extra spare props, charging hub and two more batteries. Starting with April 27, both editions can be ordered directly from DJI online store. While for the bare minimum you will need to pay $799, for the extended fun time you will spend $988.
Mavic Air 2 review: New, redesigned remote controller
The Air 2's transmitter has been completely redesigned compared to the all previous Mavic remotes. DJI claims that it has an upgraded battery life and a more ergonomic design for ultimate comfort when you are shooting. Sticks are still removable and stored in the bottom of the RC. It has rubber padding on back for a good grip. Furthermore, it comes with integrated antennas that offer the best possible flight experience without the need to change antenna position mid-flight.
Thanks to the new mount system, you can attach easily different size of smartphones. The top installation approach also allows you to use monitor-hoods more conveniently.
Remote pilots will welcome the 3-potion switch on front panel, now they can toggle between Tripod, Normal, and Sport flight modes without using the mobile APP. For them, it will be also helpful that during recording frontal lights are turned off. By default, "FN" button is set for short-tap to turn ON/OFF auxiliary light and long-tap to recenter gimbal. Dial-knob allows changing camera angles from straight ahead to ground view whenever is need it. The right top button allows toggling between photo/video mode.
Mavic Air 2 range
Featuring OcuSync 2.0 communication, the transmitter has an impressive of up to 10 KM control range. Here, I should mention that are two versions (FCC-10KM and CE-6KM) available, according to your region, the operation mode will be automatically selected. Of course, these values can be obtained in ideal testing environments with no obstacles and low RF noise. Personalty, with CE version I obtained a max range of 5329 meters (17483 ft). I need it to return due to low battery warning. By comparison, in the same test field, my MINI had the range of just 1854 meters.
As max flight distance, in optimal flight conditions with a fully charged battery is about 18.5 km. You should be prepared that an FCC range test could be only "one-way ticket" and you will need to land in the middle of the return flight.
Mavic Air 2 review: Camera
Air 2 features a 3-axis stabilized 48MP camera with 1/2 inch CMOS sensor and a 24mm f/2.8 lens. It is capable to take 4K (3840×2160) videos with 60 fps seconds and Full HD (1920×1080) videos with up to 240 fps (perfect for cool slow-mo videos). In HDR mode max frame rate is limited to 30 fps at all resolutions. You can opt for H.264/MPEG-4 AVC or H.265/HEVC video compression with max 120 Mbps. Here, I should mention that 4k@60 recording is available only with the much larger and more than twice expensive Phantom 4 drone.
While you're shooting in 48-megapixel mode, max ISO value which can be set is 3200. In standard 12-megapixel mode, you can go up to 6400. Image quality seems to be identical in both modes at the same ISO value.
I don't own a Mavic 2 Pro, but many YouTube review says that its only "20" megapixel sensor provides much better image quality than the Air 2's 48 mp one. Another proof that size doesn't always matter :).
Its internal 8 GB memory can be extended via micro SD slot with cards with a capacity of up to 256 GB. The built-in storage can be life-saving in case you forget your micro SD at home in the card reader. Four minutes of 4k@60fps video has a size of ~3.8 GB.
In addition to the photo (Standard, 48MP, Smart and AEB), video (Normal, HDR and Slow motion) camera modes, the Mavic Air features lots of QuickShoot modes and 8K Hyper-lapse videos (Free, Circle, Course-Lock and Way-points).
QuickShots modes – Autonomous cinema flights
Automated flight modes, known as "QuickShot" modes, allow you to capture professional-looking footage automatically. Pilots can choose from Dronie, Rocket, Circle, Helix, Boomerang and Asteroid camera moves in order to make creative aerials. Note: Before you are shooting quick-shoots, make sure that flight mode is set to "Normal". Also, in case of an emergency (like avoiding a collision), you can exit instantly from QuickShots by pressing RTH button.
The "Dronie" mode allows you to create the perfect selfie videos. In a nutshell, the drone flies up and away from you while keeping you in the shoot;
In "Rocket" mode, the Mavic Air 2 flies autonomously straight up while keeps the desired subject in the frame;
"Helix" mode is the enhanced version of the "Circle" mode. Instead of just orbiting around the subject, Mavic Air2 will rotate and raise its altitude at the same time;
"Boomerang" mode is also a variation if "Circle" mode, but instead of just changing altitude it also changes flight radius in order to simulate the "boomerang" effect;
"Asteroid" is probably the most complex and impressive QuickShoots mode. The aircraft flies backward and upward, takes several photos and then flies back to the starting point. The final video starts with a 360-degree panorama of the highest position and then shows the descent.
Mavic Air 2: Basic setup – Prepare for your first flight
The first thing you need to do is to fully charge the battery. Meanwhile, you can read its user manual and install the DJI Fly APP. In case you a are new DJI customer you will need to register an account in order to use the APP.
Now it is time to connect your phone with the remote controller. For this, you have 3 types of cables included in the box (Apple – Lightning and Android – Micro-USB or USB Type-C). If all OK you can turn on the drone by long-pressing the batteries button (don't forget to remove the gimbal protector!). After product activation, the APP prompted that a firmware upgrade is required. As the new software version (V01.00.0250) promises lots of improvements I did it right away. The process took about 10 minutes while the Air 2 restarted a couple of times. After the location change or firmware upgrade, it is important to perform a gyro calibration.
All good till now, then I got this message: 'Battery installation error. Aircraft unable to take off. Ensure battery is installed properly'. I ejected the battery and load it a few times till the error message disappeared. Every time I inserted the battery it was apparently in its right position, so I don't know what could cause this issue. Hope not to get this message while in the air and 3KM away from me.
Lastly, you can install the propellers. Remember there are two types, 'A' and "B', for an easy matching both arms and propeller bags are labeled accordingly. Also, 'A' motors and 'A' propellers have white marks that help to pair them.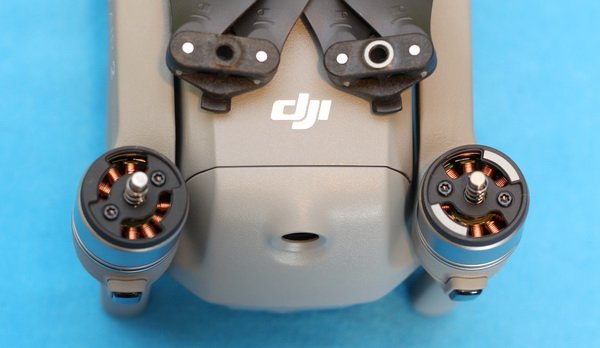 Prior to any flight, it is highly recommended to go through the 'pre-flight checklist' provided in the drone's user guide.
Mavic Air 2 review: DJI Fly APP
The DJI Fly APP is a must-have in case you want to explore all the capabilities of the Mavic Air 2. The APP was firstly introduced with the Mavic MINI and it is available for both popular mobile OS (Android and iOS). Besides camera live-view, the APP allows us to customize lots of settings and gives you access to features such as ActiveTrack and QuickShots modes.
By default, safety settings are set to 120m max altitude and auto return to home altitude to 30 meters. In case you fly between high buildings you should change RTH altitude accordingly.
During the journey of your flight, the APP also provides useful telemetry info like distance, altitude, battery level, GPS, and radio signal.
Mavic Air 2 review: Battery life – How long it can stay in the air?
The Mavic Air 2 pops-up its predecessor's flight time with almost 50%, from 21 minutes to 34 minutes. During my flight tests, I averaged around 27 minutes of flight time, flying gently in low wind. Battery life is highly affected by strong winds or aggressive flying in the Sport mode. For long-distance flights, you should count that, in the worst-case scenario, battery life can drop to 23-25 minutes.
In my hovering test (2 meters above the ground), the drone managed to stay in the air for 31 minutes until the battery level reached 4%.
The new transmitter has an excellent battery life as well. I managed to fly the drone more than a dozen times without the need to charge the controller. According to product specs, RC charging time is quite long, about 4 hours.
Flight experience
The 1080p FPV looks amazing, the signal is stable regardless of the direction or distance you fly. However, for long-range flights, it is important to point the transmitter to the aircraft and to avoid obstacles between you and the drone.
Occasionally, in sport mode and during aggressive direction changes, the gimbal flop downward. Hope that this issue will be fixed through the next firmware upgrade. BTW, enabling sport mode you should know that the obstacle avoidance system will be disabled!
Now, low-speed flight mode is called "Tripod" instead of "CineSmooth", like in the case of its little brother. Propellers are very quiet, making your flight experience more enjoyable.
The upgraded active tracking system can lock again on the subject in case you lose it for some reason. After several tests, I had to admit that still can't win a hide-and-seek game, it just waits for the subject to appear in its frame without searching for it. Anyway, this feature will be loved by bikers and other outdoor sports enthusiasts for sure.
Speaking about wind resistance, I was quite impressed. It takes wing gusts pretty well. No wind or max power-load reached warnings received during flights.
Editor's ratings
Price/performance ratio

Design and build quality

Transmitter

Obstacle avoidance system

Camera

Battery life

Range
Verdict
With a review score of 4.5, it's the best drone under $1000 I've ever tested! It has a good range and excellent battery life.
For sure, the Mavic Air 2 is a big upgrade from its predecessor. Many say that it even does some things better than the flagship Mavic 2 Pro. It's a great and easy to fly drone with lots of safety features for both casual and pro flyers.
It was really fun to play with QuickShot modes and ActiveTrack features. Panorama photos are stitched on the fly, no extra APP or post-processing required.
In case you decided to buy one for yourself, I strongly recommend the Fly More combo package over standard. For the extra $189 you will get extra stuff in value of $455.
Good stuff
Great video quality (4K@60fps and HD@240fps);
Panoramas are in-drone processed;
Lots of cool QuickShots modes;
Built-in 8GB storage;
Good wind resistance;
Excellent battery life (30+ minutes);
Superlative flight range (OcuSync 2.0);
Bright navigation light;
Filter mount (ND, CPL and UV);
Quick-release foldable propellers.
Bad stuff
That unexplained 'Battery installation error" message at the beginning;
No 360-degree obstacle avoidance;
Lacks LCD in the transmitter.
Worth to upgrade from Mavic Mini to Mavic Air 2?
The Mavic Mini is a great beginner drone, but it is limited to work on WiFi communication. Its camera has also only 2.7K recording. On the other hand, the Mavic Air 2 has OcuSync 2.0 transmission which provides a longer range than you probably will ever need and 4K camera with 60 fps.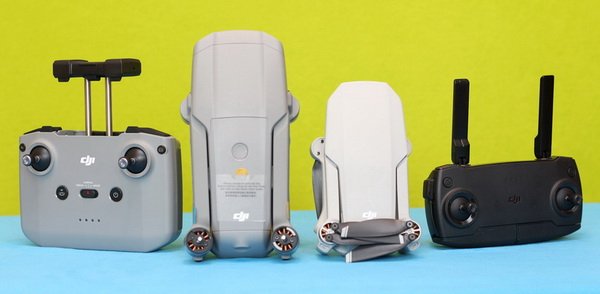 In case you are an occasional (one in a month) player without too much expectations from the quality of your footage, the Mini will be just fine for you. Those like me, who switched from Phantom 3 to Mavic Mini in hope of a portable drone, for sure will pull the trigger for a Mavic Air 2. These two Mavic drones are from different worlds, the Mini is just a toy compared to the versatility of the Air 2.
At the time I published my review, the price difference between Air 2 and Mini was $400 ($799 vs $399) for the standard box and $489 ($988 vs $499) for fly more combo version (3 batteries and lots other useful stuff). Taking into consideration that for a used drone you can get about half of its original price (if you have luck, maybe a bit more) the change will cost you 500-600 bucks.
Unfortunately, upgrading from Mini to Air 2 will force you to register your aircraft at FAA.
More sample videos