Only few days ago I introduced the SJRC Z5 brushed GPS quad and now I'm back to write you about the SJ R/C F11, a GPS enabled brushless drone. Adopting similar design, these two can be easily confused. Even their remote controllers are about the same.
Brush-less motors, compared to brushed ones, offer not just better flight performance, but they are also more reliable. This is why all professional grade multi-rotors are using this type of motors.
Frankly, the lack of an optical image stabilization makes me a bit skeptical regarding the image quality. From the many quadcopter reviews I made, I didn't obtained any smooth aerial footage without a gimbal. Anyway, at least the SJ RC F11 Pro has remote camera angle adjustment.
SJ R/C F11 drone features & specs
Compact size with foldable arms;
1806 type brushless motor;
Dual satellite positioning system (GPS & GLONASS);
On-board full HD camera (1920×1080) w/ 120° wide angle lens;
Remote camera angle adjustment;
5G WiFi real-time image transmission (FPV);
Precise one key return to home (RTH);
Intelligent flight modes (Follow me, Orbit and Gesture photo/video);
About 600 meters control distance (free interference and no occlusion);
Up to 25 minutes flying time.
According to the advertised specs, the 3s/2500mAh LiPo battery allows an impressive of up to 25 minutes flight autonomy.
SJRC F11 drone versions
The F11 will be released in 3 versions, the main difference between them will be the FPV range and camera type:
F11 Basic 1080P-500m: 1920 x 1080 video recording and 500meters FPV transmission distance;
F11 Pro-500M: 2592 x 1520 video recording and 500meters FPV transmission distance;
F11 Pro-800M: 2592 x 1520 video recording and 800meters FPV transmission distance.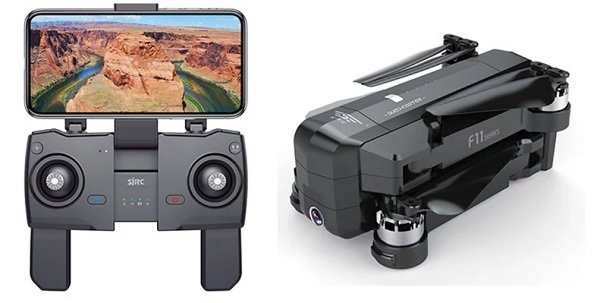 SJ RC F11: Remote controller
The included transmitter comes with dual-antenna system and foldable phone holder. It features built-in 300 mAh LiPo battery and up to 600 meters control range.
On front panel, besides the usual control sticks, there are only 4 buttons and few status LEDs (behind the phone holder). Auto return button can be found near the throttle stick (mode 2). Take-off/Landing button is positioned in the up-right corner of the remote controller.
SJRC F11 Price & Availability
While you can already place your order for the SJ R/C F11 quadcopter, first batch will be shipped out by TomTop only starting with October 20th. Pre-order price is US$159.99 and includes duty free shipping.
Included accessories with the SJRC F11 quadcopter
Remote Controller w/ foldable phone holder;
3s/2500mAh flight battery;
Battery charger;
1 set of spare propellers;
User Manual.
Last update on 11/29/2018