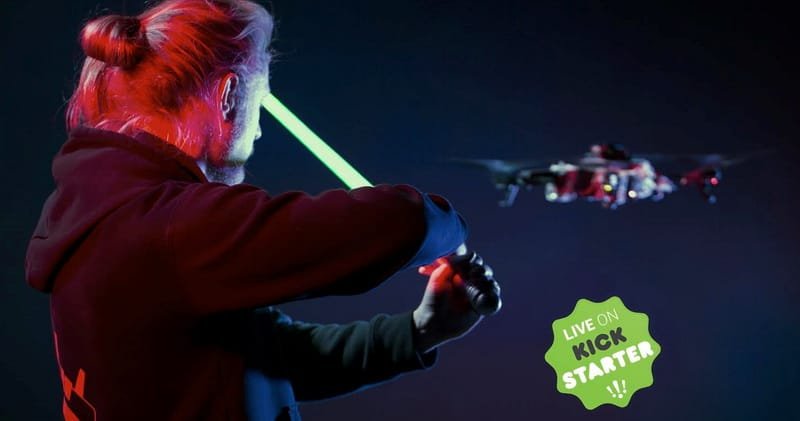 Mixed reality Star Wars Jedi training quadcopter
Michael Moon and Stephen Dodds at Juuk Inc., are making the first real-life Star Wars Jedi Training Drone. Their smart quadcopter uses computer vision and artificial intelligence to locate, track, and decide when to shoot the player. The drone even knows when you blocked the light beam with the light saber! They removed the remote control from the equation altogether. You just open their app, choose the game, press Start, put your phone in your pocket, and start playing!
The Jedi Training game will be a lot of fun, but that is only the beginning. I have been told that they are working on a second game that trains you how to box like Ali. Because the drone's API is simple and easy to use, developers can use their imagination to make any kind of games that they can dream up. The team just launched their developer kit on Kickstarter, and they are looking to attract enthusiasts, beta-testers, and developers to create an ecosystem before they launch the consumer product. There will be an app marketplace where developers can share and sell their games.
The developer kit's base is a readily available off-the-shelf drone like the Fayee FY560, or Syma X8SW (final choice is still TBD). Juuk removes the quadcopter's electronics. In its place they put the SP Racing F3 flight controller, a small Linux computer, an Arduino, a downwards camera for optical flow, sonar sensor for height tracking, a forwards facing camera for tracking the player, and a whole lot of smart software to make it all work together. This approach has some positives and some negatives. One downside of modifying an off-the-shelf drone is that they use a need to attach an extra sensor-box to the bottom of the drone in order to fit in all their tech. The positive side of using off-the-shelf components is that they do not run into the problem of delivering late due to manufacturing – as so many drone startups have done before them.
They do, however, still have plenty of work cut out for them before delivery. The API needs to be tested and refined so that both novice and seasoned developers can easily make new games. And, they want to make sure the games delivered with the drone are really fun out of the box, so that developers have good examples to go off of. Overall, I am really excited about this new take on quadcopters. And I hope plenty of people support the campaign to make the product come to life. I can't wait to play with it and have a go at making some games!!
Guest post