Syma X8SW drone with altitude hold and WiFi FPV
Through X8SW it seems that Syma ends a good year with a good quadcopter. Although, I was in the winter holiday rush, I was truly happy to be between the first ones to test and review the Syma X8SW.
Over the last years I reviewed many Syma quadcopters and I can say that their nice design is paired with a very good build quality. The spare-parts availability is another fact that helped Syma to become very popular among RC enthusiasts.
SymaToys has two main product line. The X5 series which is dedicated for first-time pilots and the X8 family for more skilled pilots. The X8 series has about the same size as the DJI Phantom models. Along with the larger size, the X8SW comes with an excellent lifting power. I saw some guys which replaced the stock WiFI camera with a much better GoPro alike camera.
If I count correctly, the X8SW is the 3th generation of the X8 series. Compared to its predecessor, the X8UW, this new model comes with a more elegant look and a completely redesigned remote controller.
Syma X8SW Highlights
Very powerful, can lift Mobius / RunCam / Foxeer Legend or even GoPro and alike cameras;
Wi-Fi real-time image transmission;
Headless flight mode;
Altitude hold (auto hover);
One key take-off and landing;
Multiple flight speed-rates;
LVC alarm;
Over current protection;
About 9 minutes of flight autonomy.
Syma X8SW quadcopter review with pros and cons
Although two weeks ago I decided that I will not accept any more quadcopters for review for the year 2016, I could not refuse Bannggood's offer to test the Syma X8SW drone. They opted for DHL in order to have a faster delivery. Anyway, due to winter holidays it took 12 days to receive it.
The package was well organized inside, everything was secured and the build quality was surprisingly good for a drone in this price range. The X8SW doesn't just look good but it's also very robust, holding it in my hand I don't have the feeling that it could fall into pieces like a cheap RC toy. My only disappointing is regarding those tiny propeller caps. They secure the props to the main shaft by friction instead of threading.
The boxes contains all the usual stuff plus some extras: transmitter, balance battery charger, flight battery, 2 sets of propellers, 1 set of prop nuts, blade protectors, landing skids, phone holder clip, screwdriver, USB card reader, 4Gb micro SD memory card and user manual.
Concerning dimensions, it is comparable with my Phantom 3 Advanced – but weights much less.
During night flights you will be guided by 4 LED lights. Red LEDs in the front and green ones on the rear, one under each arm. The lights are visible from almost any direction, even if you are looking at them from the top of the aircraft.
Instead of a standard 2s Li-Po Syma decided to use a proprietary 2000mAh battery pack. The advertised flight autonomy of the X8SW is about 9 minutes.
The included phone holder clip allows to easily install your smartphone on the top of the transmitter.
Syma X8SW review – Transmitter / Remote controller
Apparently the transmitter of the X8SW drone is exactly the same like its little brother has (the Syma X5UW). Honestly, this new redesigned remote controller looks much better.
In order to offer a more friendly design Syma gave up to the trimming buttons and the mainly useless LCD screen.
On the front panel, besides the two usual control sticks (throttle and elevator) there is only one button, the power switch.
The X8SW remote controller has in total four shoulder buttons, two on each side. Automatic take-off/landing can be engaged by short pressing the front-right shoulder button.
360 degree flip mode can be activated through the rear-right shoulder button.
Switching between flight speed rates (Low/High) can be done by short pressing the right control stick. By long pressing the same stick can be activated the headless flight mode.
By moving both sticks to the lowest right position will activate the self-level calibration sequence. Keep the sticks in this position till the LED's start to flash rapidly.
Although most of the actual drones offer smartphone/APP control, curiously SYMA didn't include this feature in the X8SW.
Syma X8SW review – Camera
In terms of shape, the X8SW's camera is very similar with the one its predecessor has (you can check it here: Syma X8W review). Unfortunately the angle of the camera can't be adjusted remotely or manually.
My first positive surprise was that the camera has a micro SD slot which was loaded with a 4GB memory card. This is nice because the recorded videos are stored directly on the camera, without requiring a smartphone/tablet in order to capture videos.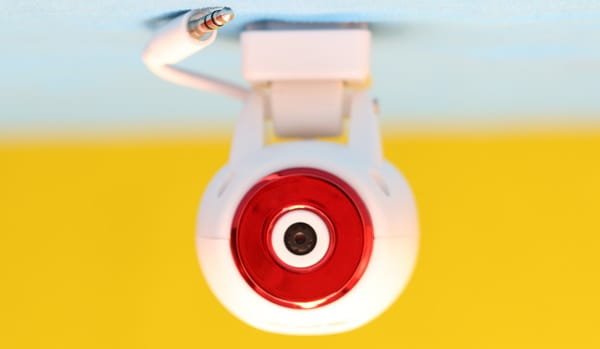 In order to display the Wi-Fi camera's live-video feed on your mobile device (smartphone/tablet), you must install the Syma FPV APP (available for both Android and iOS devices).
One minute of recorded video occupies about 35 MB. Both photos and videos have resolution of 1280 x 720 pixels.
The image quality is decent but not exceptional as you would expect from a HD camera. Anyway, the X8SW is powerful enough to attach a better camera, like the RunCam 2. This way you will be able to record some nice aerial videos.
Syma X8SW review – First usage / Test flight
Prior to your first flight you need to mount the: landing skids, camera, propellers and blade protectors. According the X8SW's user manual you need to use the included wrench in order to install the propellers. The catch is that the wrench is larger than it should be but don't worry, two of your fingers will do the job :)
The "Power" button is located on top of the drone, which is nice because it is easily accessible.
Being a very large bird, the Syma X8SW quadcopter is suitable only for outdoor flights. Anyway, it is damn noisy to fly it indoor.
As I expected, the X8SW was very stable and easy to control it. The altitude-hold performed very well, it makes it suitable for newbie pilots. The on key Take off / Land feature will be also appreciated by them.
The Wi-Fi FPV is gimmicky. Maybe kids will loves this feature but for me it proved to be almost useless. Everyone knows that WiFi FPV cameras are not suitable for first person view flights, they have to much latency. For FPV flights I'm planning to use my Eachine MC01 camera. The MC01 is very lightweight and suitable to be powered with 2s Li-Po batteries.
Syma X8SW test flight video
My first flight ended after about 8 minutes. This can be probably improved by removing the camera and blade protectors.
Price–performance ratio

Design and build quality

Camera / FPV

Transmitter
Syma X8SW review - Verdict
Is it the best quadcopter of 2016? Certainly for its price range has a nice design and excellent lifting power. The WIFI FPV camera seems to be have better quality than its predecessor but still not excels.
The altitude-hold feature works really great and will be definitely appreciated by those who are planning to use the X8HW for aerial filming by replacing the stock camera with a better camera.
For those who are looking for a new RC toy in 2017, this SYMA X8SW can be found right here at $109.99 plus $22 shipping cost. If you need longer fun time I recommend to purchase together with the quad at least one spare battery. To order one pair of spare motors (CW and CCW) is also a good idea.
Pros
Nice redesigned transmitter;
Lots of great features;
WiFi FPV camera;
Very stable and easy to control;
Great flight autonomy;
Good lifting power.
Cons
No APP control;
Proprietary battery;
Prop caps can pop off easily;
Noisy as HELL.