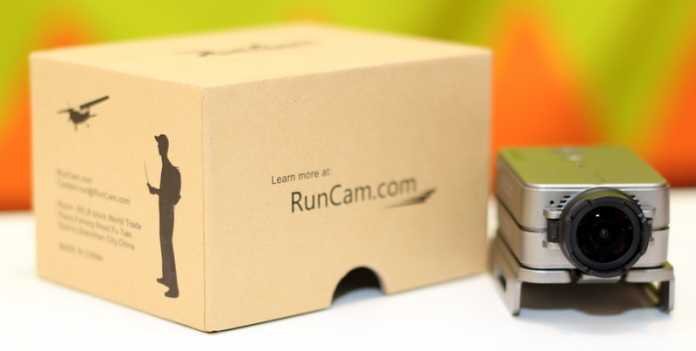 RunCam 2 lightweight FPV camera for RC fanatics
If I count correctly, this RunCam 2 will be the 7th quadcopter camera which I'm lately reviewing. Honestly, I didn't find yet the camera which offers brilliant quality at affordable price. Who knows, being the lucky 7th this RunCam 2 will be the best camera for me :)
It would be nice to make a side-by-side comparison between this RunCam 2 and the GoPro Hero 4 Black even though I know these two are from different league and are mainly designed for different applications. Meanwhile the RunCam cameras are designed for RC enthusiasts the GoPro products are for extreme sports fanatics.
Few month ago I received the RunCamHD for review, which proved to be a nice light weight FPV camera. I had only few complains regarding this older model which mostly seems to be remedied by the upgraded model.
I'm planning to test this RunCam 2 camera together with my new Runner 250 Advance racing quadcopter because I think they will make a perfect pair. I am very frustrated because of the bad weather that lasts for 3 weeks now so I didn't have the opportunity to flow it outside yet.
RunCam 2 review with test videos
First of all. I have to thank Min from RunCam who offered me this camera for review. The box was marked as "sample" and it is possible that the final version of the product will have some minor changes. BTW, the camera was listed for order only starting yesterday (Dec 09 2015).
I received the silver version of the camera but, unlike its predecessor, the RunCam 2 is also available in crispy orange color which is nice because it makes it more visible and easy to find when you accidentally lose it in the flight field.
RunCam 2 review – First impressions
The camera comes in the same simple but stylish carton box like the one we are accustomed with from RunCam. Fortunately, the package contains much more accessories than the previous model. Lack of a lens cap was the only negative thing for me, because that tiny inexpensive piece of plastic can protect the lens from scratches during transportation.
Included with the RunCam 2 camera
850 mAh battery;
2 pieces of velcro bands;
2 pieces of 3M tapes;
1/4″ tripod adapter;
GoPro adapter;
Camera base;
RCA AV-Out cable;
Micro USB to AV-out FPV cable;
At first sight, the RunCam 2 has a very good build quality and it looks extremely nice especially when is turned ON thanks to the bright status LEDs. Having the size of 66 mm x 38 mm it is slightly bigger and 8 grams heavier than its predecessor. Unfortunately, because it has a different footprint than the earlier model, the camera's base (mount) is not interchangeable.
The recorded videos and captured photos are stored on a micro SD memory card which can be up to 64 GB. I recommend to use class 10 type cards to handle the average 34 Mb/s video bit rate. The micro SD slot is behind the battery compartment door, this way the memory card is protected from sliding out in case of crash lands.
On the top of the camera there are two buttons and two status LEDs. The camera can be turned ON/OFF by long pressing for 3 seconds the power/shutter button. By long pressing the "WiFi" button the camera can be switched between video, photo and settings mode.
There is a cool circular LED around the "Power" button which is glowing in different colors according to the status of the camera:
Blue – always ON when the camera is in video mode and blinks when recording;
Green – always ON when the camera is in photo mode and blinks every shot;
Red – when the battery is charging.
RunCam 2 has a nice OSD menu which allows to fine tune the camera settings and also set the desired video formats.
This camera is designed mainly to be used on remote controlled aircrafts but, thanks to the loop recording and auto start recording features, the RunCam 2 can be used as well as dash cam in your car. BTW, it is also capable to take photos in JPEG format with 2304 x 1728 pixels (sample photo).
RunCam 2 camera features and specs
Small form factor;
RF shielding;
4 MP image sensor;
Video formats: 1440 p@30 fps (4/3), 1080 p@60 fps

(16/9)

, 1080 p@30 fps, 720 p@120 fps

,

720 p@60 fps and VGA@240 fps;
Photo resolution: 2304 x 1728;
Integrated lens hood for protection;
120 degree field of view (FOV);
Video-Out for first person view flights;
Excellent video out latency (60 ms at 1080 p and 40 ms at 720 p);
Removable 850 mAh battery;
Wide range of input voltage;
G-sensor for auto 180 degree rotation;
Loop recording and auto start recording when is powered ON;
WEBcam mode;
Digital image stabilization (IS);
WIFI connection;
iOS and Android APP;
Size: 66 mm(L) x 38 mm(W) x 21 mm(h);
Camera weight: 49 g with battery.
RunCam 2 review – Battery
Instead of a built-in battery the RunCam HD2 comes with a replaceable 850 mMa battery, so when needed you can have always a charged spare one ready to use. With a fully charged battery it has up to 90 minutes operation time (greatly depending on the selected video format). The battery can be recharged using the included micro USB cable via any USB charger or computer USB port.
The camera can be also powered from the aircraft's main battery through the included micro USB to AV-out cable. It accepts wide range of input voltage, can be feed from 5 V to 17 V (2-4 s LI-PO batteries).
Through the RunCam 2 APP, the camera can be remotely controlled and configured. Using this APP you can set the video format, enable the slow motion and time lapse mode. In order to secure the camera from unauthorized access, both WiFi name and password can be changed. In case you forget your password, it is displayed via AV-out in the time you enable the WiFi connection.
RunCam 2 review – Quick test
The RunCam 2 is capable for many video formats but the most interesting one is 1920 x 1080 with 60 fps (16:9 aspect ratio). The 1920 x 1440 @ 30 fps video format is for those who prefer the 4:3 aspect ratio.
Usually I go to work on foot and I decided to do a quick test of the camera this morning. Frankly, I was a bit disappointed. In low light condition both videos and images were almost unusable. Definitely, for night FPV races I will need a dedicated TVL camera like the PZ0420M. On the way back home in good light condition the camera behaved much better offering very sharp videos.
In order to test the advertised 60 ms video out latency (at 1080 p), I performed a quick test using a tablet with a stopwatch APP and a FPV screen. After 60 seconds I got about 65 milliseconds delay between the real time image and FPV out image. My testing "tools" are probably not the most accurate, so the 60 ms looks pretty plausible. Not bad, but probably I will keep the 800 TVL FPV camera on my Runner 250 and add this RunCam2 as additional camcorder.
The RC2 has an electronic (digital IS) image stabilization system which probably can't beat an optical image stabilization, anyway I will made some tests with and without it to see if there any noticeable differences.
RunCam 2 review – Final words
After few tests I noticed that RunCam 2 has a very good response on light condition changes, which is very important when is being used on racing quadcopters. The high frame rate is a must have for those who want to make some cool slow motion videos. The included adapters (tripod and GoPro) allow wide range of usability and can be easily installed on a remote controlled aircraft, helmet, bike or car. For those who need an ultralight camera with 1080p@60 fps video resolution, this RunCam 2 looks to be a great choice. Everyone interested in buying this cam should know that it can be ordered directly from the manufactures website here.
RunCam 2 Review – Unboxing, OSD menu, Android APP, Latency test video
Pros
Low-latency;
Weighing only 49g is suitable for small sized racing quadcopters;
Wide range of voltage input, can be powered with 2-4 s batteries;
High frame rate, up to 60 fps at 1080p and 120 fps at 720p;
Bright RGB status LED;
OSD menu over FPV out;
Cons
There is no suitable lens cap;
No status LED on the rear;
Narrow FOV;
The videos are a bit over-saturated for my taste (with default settings).
Images with the RunCam2 quadcopter camera
Updates on 06 June 2016
The manufacturer announced the RunCam Firmware V2.0, with the following updates:
File protection feature (Under loop recording, it can save the recorded file if the camera loses power/battery runs out);
Optimized image quality;
No more black bars on TV-OUT;
OSD menu modified into three-level;
REC blinking icon replaced with a red point;
G-sensor sensitivity optimized;
WiFi standby time modified into 3 minutes.