RunCam HD quadcopter camera – Born for RC fanatics
Having many quadcopters it's very hard to find a camera that fits all models especially in terms of weight. With only 41g the RunCam HD camera seems to be suitable for most of my Quads. Thanks to the low weight and aerodynamic form factor, that firstly was introduced by Mobius and after that adopted by other manufacturers like RunCam, you can use these cameras even with very lightweight multi-rotors like the Syma X5SC-1.
Of course, weight is not everything these days. Now we expect from a quadcotper camera at least full HD video resolution, good image quality, large field of view and long operation mode. For those who want to use their camera not just for aerial filming but also for first person view flights, the video out is a must have.
I already upgraded my Tarantula X6 Quad with a compatible camera holder and I'm very curious how will perform this cost effective aerial video platform.
Looking for components for FPV upgrade of my X380 Quadcopter, I contacted RunCam to see if they want to offer the RunCam SKY2 FPV camera for review. They told me that it is not their latest product and instead of that model they offered me the RunCam HD camera.
RunCam HD FPV camera review
I received the camera that was sent with Singapore Post in 15 days, the usual delivery time for my overseas orders. The presentation of the box is simple and elegant somehow, everything done carefully. It seems that the manufacturer of this camera cares about their products and customers.
I found inside the box, besides the camera with built-in battery and lens cap, an USB charging/data cable, USB to AV-OUT and 5V power cable, AV-Out to RCA cable, camera holder, lens cleaning wipe and RunCam HD's user manual.
RunCam HD review – first impressions
The camera's case has silver color not black like the other mentioned model, which makes it more visible and easier to recover it when is lost in the flying zone. On the front part of the camera is the "Eye" of the RunCam HD, a F2.8 120 degree lens and a tiny microphone.
On the top of the camera there is an oval shape heat sink well masked with the RunCam logo that serves to cool down the powerful Novatek NT96650 imaging unit (SoC). I recommend to avoid to cover this heat sink, because to much heat can burn out the camera's main CPU.
In order to extend the operation time, instead of a power hungry LCD screen, this camera has two status LEDs:
one on the top, which indicates the operation mode and working status of the camera (indicator A);
one in the rear beside the reset button, which indicates the working status (indicator B).
For easy and intuitive operation this camera has only 3 buttons: ON/OFF, Mode and Start/Stop (shutter). Through the "Mode" button the camera can be switched between four operation modes:
Video mode 1 – Full HD 1080P/30FPS (indicator A – Yellow light);
Video mode 2 – HD 720P/60FPS (indicator A – Blue light);
Photo mode – 3MP 2304 x 1536 (indicator A – Red light);
Playback mode, which is a nice feature that allows to preview the captured photos and videos right on the field via AV-out.
The recorded videos are saved in .MOV format and are automatically divided in 3, 5, 10, 15 or 25 min clips. A 5 minute clip of full HD video (1920×1080/30fps) occupies average 635MB on the memory card, which results an average 17.6Mb/s bitrate.
This RunCam HD camera also comes with a still photo feature that will snap a photo when the shutter button is pressed. The quality of the 3MP photo is nice, but frankly we can't expect to excel these kind of cameras in terms of photography.
Powered with an 850mAh battery, this camera has about 2hours working time, of course this may vary depending on the operating mode. Unfortunately the battery is built in and it cannot be replaced easily with a spare one. For extended operation time, the camera can be also powered from an external power source like the aircraft's main battery (be careful – feed the camera only with 5 volts!).
RunCam HD review – FPV setup
After few indoor test shots I decided to test the AV-out of the RunCam HD camera. In order to fulfill this action I connected the camera to my Eachine FPV screen via the AV in. All the required cables where included in the package. The real time video out worked just perfectly, without being visibly disturbed or slowed down if the camera records or not. The latency is acceptable for common FPV use but probably not fast enough when it comes to racing quadcopters. The picture/video playback via the AV-out worked perfectly as well.
I'm planning to use the RunCam HD with a 600mW 5.8GHz 32CH transmitter, this way I will reach about 5KM FPV range in open field.
RunCam HD review – Tools
This camera can be configured through the TDCTCONFIG.bin file located on the root of the micro SD card. The configuration file can be generated with the RunCam-HD Configuration Tool, with the RunCam HD App (Android) or online on the manufacture's website. This file allows to customize many parameters (like: timestamp, frame rate, WDR, TV mode and image flip) as well to fine tune the image quality.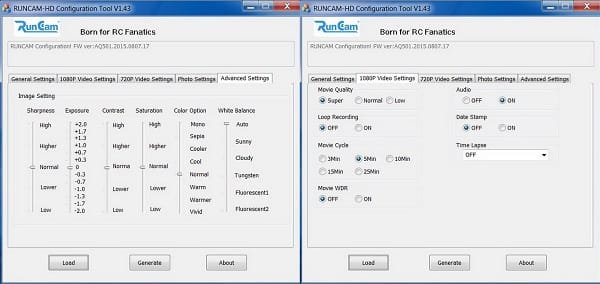 RunCam HD review – Final words
I think the RunCam HD camera can't be sold as an action/sports camera because of the lack of mounting accessories and waterproof case. As it is said on the manufacture's website this camera was designed and build for FPV hobbyists and does exactly what it promises. Since the RunCam HD cam is very small, it's perfect for attaching it on remote controlled airplanes and multi-rotors in order to build a low budget first person view aerial platforms. In my opinion, for $55 this camera is the best middle way between a TVL FPV camera and a digital HD camera.
Pros
Ultra lightweight Full HD camera;
About 120 minutes operation time (not tested);
Very good image quality;
Center positioned 120 degree FOV lens;
Playback mode;
Suitable for FPV flights, via included AV-out cable;
Excellent RF shielding to reduce the UHF noise.
Cons
only 30fps at 1080p;
no time-lapse photography (solved with the latest firmware!);
no tripod screw hole.
Updates:
Latest RunCam HD firmware (AQ 501.2015.1024.21) comes with:
Time-lapse photo, users can now shoot continuously photos;
The WDR (Wide Dynamic Range) is set ON by default;
Long press the power button 2 seconds to turn on/off the camera, reducing the misuse;
Optimize LED flashing under time-lapse recording mode, giving users a clearer indication.