PZ0420M aka SkyPlus lightweight FPV camera
Most of the TVL security cams can be also used as first person view cameras and few of them are even cheaper than the RunCam PZ0420M. Even so, I through that it would be more appropriate to use a dedicated camera to build my FPV system. When you are looking for a FPV camera you should decide firstly the following: budget, if you opt for a CMOS or a CCD camera and the TV system (PAL or NTSC). Another important fact is the operating voltage of the camera, for example a 5V camera cannot be used without additional devices on a quadcopter powered with a 3s Li-Po battery.
Last month RunCam offered me two quadcopter cameras for review, the RunCam HD and this PZ0420M FPV camera. Firstly, I was confused regarding the exact difference between the SkyPlus and the PZ0420M. After digging a bit on the internet I found that there is no difference. The Sky+ is a PZ0420M sold together with a lightweight magnesium alloy case. BTW, the case can be ordered also separately, it will protect the electronic parts and allows an easy installation. Don't need to worry about the extra weight, the case has just 6g.

The PZ0420M is an upgraded version of the popular PZ0420 camera. Few improvements of the "M" version:
Smaller form factor – the size was reduced from 38x38mm to just 25x25mm;
Even lighter – the new version has only 12g;
Wide voltage input – the PZ0420M can be powered from 5V to 17V;
Available with lightweight magnesium alloy case (Sky+).
RunCam PZ0420M review and test
Besides the tiny FPV cam with lens cap I found inside the box the following: a 5D OSD cable, 3 wire FPV cable, an AV-out & power cable and one page user manual. The camera has no buttons only two small connectors on the backside. Through the two-pin plug can be connected the 5D OSD cable which allows to configure the camera. The tiny 3-pin plug serves to power the camera and to connect it to a wireless image transmission module or directly to a display with RCA input.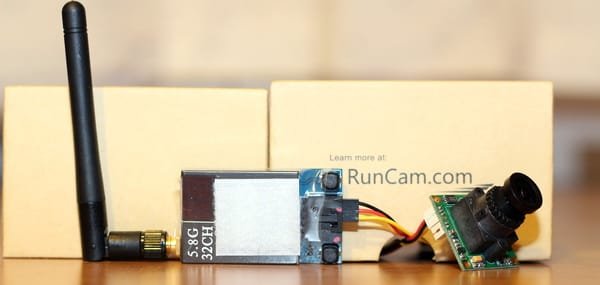 RunCam PZ0420M review – Camera specs
SONY SUPER HAD II 1/3" CCD image sensor;
2.8mm wide angle lens, optional 3.6mm;
Resolution: color 600TVL and black & white 650TVL;
Wide voltage power input, DC 5V to 17V (suitable for 2s,3s and 4s batteries);
Electronic shutter speed for PAL video standard: 1/50 to 1/100,000sec;
Low power consumption;
Digital Wide Dynamic Range (D-WDR)
Digital Noise Reduction (2DNR);
Low illumination: 0.01Lux;
Back light compensation;
Image mirroring and negative image;
White dot repair (DPC);
OSD menu;
CVBS (RCA) video output.
As I got the basic PZ0420M without a case or mounting bracket, I used some cable ties (zip ties) to secure the PZ0420M camera to my quadcotper. The installation was easy, I had to use only one cable between the camera and the TX. In order to ensure a stable live video transmission I used a powerful 32CH 600mW 5.8Ghz TX module.
Through the OSD menu can be made many settings which allows to fine tune the image quality. Don't be afraid, there is also a "reset to factory" option if you mess up something. You can download the OSD menu's user manual from here.
RunCam PZ0420M unboxing and test video
RunCam PZ0420M review – Final words
I'm not an expert so I will not talk about color reproduction, geometry or resolution tests. Anyway, in my opinion the most important factors around a first person view camera are the light sensitivity and latency of output.
Because of its small weight and small size, this PZ0420M camera can be used perfectly on small sized racer quadcopters. The camera has a good reaction on light changes, when I flew from dark to light the camera accommodated very fast with the new light condition. The D-WDR did a great job in dark condition and the 2.8mm lens captured a wide perspective without causing any disturbing distortion. Unfortunately, my Eachine LCD5802S FPV screen does not have a DVR function so I can't show up any real footages recorded by the PZ0420M FPV camera, but you can find many of them on YouTube. BTW, someone can recommend me a cheap, lightweight and eventually self powered DVR?
For those interested in this lightweight and affordable first person view camera, it can be ordered from RunCam's online shop.
RunCam PZ0420M review – Photo gallery