My first DJI Phantom quadcopter
After almost two years of flying with more or less toy quadcopters, I finally got my hand on a DJI Phantom 3 Advanced. I was so thrilled about it that my wife asked what is it with me. As I already had another quadcopter on my desk waiting for review I had to leave the box unopened for a whole week. OK, I will be honest I peeked inside few times to check what's wait for me :)
It's true that probably a lot of you expected me to review the newer Phantom 4, but I thought it would be more helpful to review a more affordable DJI model. Certainly, the Phantom 3 Advanced quadcopter is not versatile as its successor but at least it is a more perfected model. Not to mention that, after DJI's "10 year anniversary" price drop, the Phantom 3 family became very attractive.
Last year, when the Phantom 3 series was announced to justify the price difference between the P3 Advanced and P3 Professional, the P3A's camera was limited to 1080P video resolution. Later, P3A received 2.7K video capability and other nice features through a firmware update.
When everyone speaks about UHD 4K videos, why make compromises and accept only 2.7K or even less, like 1080p@60fps. Firstly, both of my displays (a Full HD TV and the computer's monitor) have resolution of only 1920 x 1080 pixels, so I can't even playback 4K videos on native resolution. Another drawback of the 4K format is when you're editing UHD videos, taken into consideration that you would need much more computing power compared to editing a 1080P video.
Next legitimate question would be, why to spend extra $300 for the Phantom 3 Advanced over the P3 Standard. In my opinion there three big reasons: DJI Lightbridge HD Video Downlink, GPS+GLONASS and Visual Positioning System. Of course, if you are a beginner/first-time pilot you can opt for the cheaper one.
Ok, enough with the comparison and let's go back to my DJI Phantom 3 Advanced review.
DJI Phantom 3 Advanced highlights
Vision positioning system (visual and ultrasonic sensors);
GPS+GLONASS dual positioning system;
2.7K video recording;
12MP photo resolution;
3-axis stabilization gimbal with remote control of the tilt angle (90° to +30°);
720p HD downlink (with up to 5KM range);
Auto-takeoff through DJI Pilot App;
One key return to home (RTH);
Failsafe auto return to home;
Auto flight logs;
Versatile mobile APP;
Intelligent flight modes (Follow Me, Point of Interest, Waypoints, Course Lock and Home Lock)
Smart flight battery with charging level indicator;
About 23 minutes flight autonomy.
DJI Phantom 3 Advanced review
When I saw that HobbyWOW has began selling DJI products, I contacted Maggie to see if they will have the Phantom 3 Advanced quadcopter in their European warehouse. She said "Yes" and asked me if I would be interested to review this quad-copter. Because of our good previous collaborations I accepted her offer without much hesitation. Of course, another argument was that I can't refuse a cute Asian girl like her (I hope my wife skips this part :D).
I should point out that my reviews reflect exclusively my personal opinion about the product and that I do not to accept to be influenced in any specific way by sponsors or anyone else.
DJI Phantom 3 Advanced review – First impressions
As they have it in stock in Hamburg, I received the package in 6 days. Contrary to my expectation, the box is small, smaller than the one all my other 350 mm quadcopter have. Equiped with a handle, can be reused for storage or carry the quad to/from the flying field till you purchase a proper backpack.
Inside the package, besides the Phantom 3 quad with preinstalled gimbal and 2.7K camera, I found the following:
Transmitter with mobile device holder;
16GB micro SD memory card;
2 sets of self tightening propellers;
4480 mAh flight battery;
Battery charger suitable for both, aircraft and transmitter;
USB data cable;
Propeller wrench;
1 set of spare anti-vibration damping balls;
Spare anti-drop kit;
1 set of spare landing gear pads;
4 sets of Phantom stickers (4 different colors);
Quick start guide (Chinese).
Frankly, I can't say that I was truly impressed by the minimalist design of the aircraft or the transmitter. Actually, in terms of design I can't see too much improvements in the DJI Phantom series. In my opinion, the Yuneec Q500 4k has much more interesting design than this Phantom 3 Advanced has. As I own both models I intend in the future to make a detailed side-by-side comparison of these two competitors. Although my wife doesn't agree with me as she thinks the Phantom's charm can be find in its simple design and more delicate lines compared to the rough and aggressive lines of the Yuneec.
The camera is secured from unwanted shakings during transportation with a reusable gimbal clamp. Don't forget to remove this piece of plastic prior to every flight!
Everything comes pre-installed, even the battery is loaded into the quad. Excepting the tool free installation of the self tightening propellers, there is not much to do prior to your first flight. Anyway, in order to have a safe maiden flight I recommend to read first the Phantom 3 Advanced user manual (I already print it to have it with me on the flight zone).
As I wanted to check if is everything is OK with the content of the package, I powered ON both transmitter & aircraft and I processed with the CSC arming sequence (pushing both sticks to the bottom inner or outer corners). Surprisingly, nothing happened :(. Before I start worrying about what is wrong I accessed the P3A through DJI GO mobile APP and I had another unpleasant surprise: no LIVE video. After I calmed myself a bit, I realized that it was too much interference with my 2.4/5.8Ghz WiFi router. Immediately as I powered OFF the router the live video feed appeared on my smartphone's screen. Finally I found out why I couldn't start the motors, it appears that this quad must be activated before the first flight through the DJI GO App.
I definitely need an advice from an experimented P3A owner. After I updated the firmware on the aircraft and RC, the DJI GO APP still requires to update the Phantom 3 Advanced camera's firmware too. I checked DJI's download section but I didn't find any camera firmware. Any idea where I can find it?
DJI Phantom 3 Advanced review – Transmitter
Surely, the biggest advantages of the P3A remote controller is the extremely good range and the integrated Lightbridge receiver.
While the transmitter looks robust and pretty good, I miss the presence of a FPV display or at least a small status LCD. The transmitter is equipped with a mobile device holder which allows to mount your smartphone as well as your tablet on the top of the remote controller. Additionally, there is a possibility to purchase a DJI branded dedicated sunshade for your tablet respectively smartphone.
In order to attach a FPV goggles to the transmitter, you will need a "HDMI Output Module" which can be purchased separately and it costs $99. I don't know if this is premeditated but manufacturers always seem to find a way to squeeze out some extra bucks from the customers.
The transmitter can be freely switched between mode 1 and mode 2 through the DJI GO mobile application.
The remote controller is powered by a built-in 2s 6000 mAh rechargeable battery, which is great because you won't need to complicate yourself with AA batteries.
Using the left shoulder dial button can be adjusted the tilt angle of the camera. Through the flight mode switch (located near the gimbal dial) you can select the desired flight mode:
F-mode – Intelligent orientation control (IOC);
A-mode – The aircraft uses only the barometer sensor to stabilize;
P-mode – Positioning mode (according to the GPS signal strength the Flight Controller will switches automatically between P-GPS, P-OPTI and P-ATTI modes).
On the front panel, above the status LEDs, are located the power button and the RTH (Return to Home) button.
Just forgot to mention that the P3A transmitter is the same with the one of the more expensive Phantom 3 Professional.
DJI Phantom 3 Advanced review – Camera
As previously mentioned, the camera is secured with a plastic gimbal clamp which needs to be removed prior to switching on the quad. The camera is hooked on a three-axis gimbal allowing stabilization in roll, pitch and yaw directions keeping the video looking very smooth even during sudden flight maneuvers.
The main difference between P3A's camera and its bigger brother's camera is the highest possible video resolution. While the Phantom 3 Advanced is capable to record videos with up to 2704×1520 pixels (30fps) the P3 Professional allows to record UHD videos with 4096×2160 pixels (25fps).
Both models allow to capture still images with resolution of 4000 x 3000 pixels (12MP). The images can be saved in compressed JPEG format, as well as uncompressed DNG without data loss for better overall image quality and professional post-processing.
The Phantom 3 Advanced camera features a Sony EXMOR 1/2.3" image sensor with 12.4 M effective pixels. In the DJI GO APP there are plenty of settings which allow to fine tune the image quality in order to get the best result possible.
Professionals will definitely appreciate the possibility to install optical filter (UV or ND) on the camera lens.
In order to achieve the best field of view, the tilt angle of the camera can be remotely adjusted, allowing from shooting straight ahead to straight down (ground view) whenever needed. A nice feature is that you can adjust the gimbal button's speed from 1 to 10.
As you can see on the test video bellow (upload in progress), the camera has a nice color balance and good dynamic range. The 94 degree field of view lens feature great image quality without noticeable barrel distortion.
Ten minutes of 1080p@60fps occupies about 4.3 GB on the micro SD card, so you can record approximately 35-40 minutes on the included 16 GB micro SD card.
I just read that from now on, not just YouTube but also Facebook will support live video sharing. This way you can share you flights in real time with all your friends.
If you accidentally turned OFF the quadcopter during video recording, you can recover the video file by turning ON again and wait about 30 seconds as the last footage is restored.
Phantom 3 Advanced – Test flight
Prior to your first flight with the Phantom 3 Advanced you should consider to check the followings:
Fully charge both flight and transmitter battery;
Check the firmware status of the aircraft as well of the transmitter (if required, proceed with the updates);
Enable the "beginner mode" through DJI GO app (especially if you are new in the world of drones);
Select the desired control mode (I always opt for mode2);
Be sure that the mode switch is set on "P-mode";
Compass calibration (it is required every time you are on a new flight location);
Fly only on safe and legal zones!
The compass calibration process is very simple, it has only two steps which takes about 5 minutes.
Thanks to the dual GPS system, the satellite acquisition speed is very fast so you can start flying very quickly.
My first impressions flying the Phantom 3 Advanced was "WOW", it is much more stable than any of my other 350 mm quadcotpers. Watching the 720P live video feed on my 9″ tablet was totally different from the quality offered by standard 5.8G FPV systems.
While the DJI Phantom 3 Advanced is mainly designed for aerial filming and crossing flights, today I found out during my maiden flight that it is also surprisingly fast and agile.
Flying first time with this Phantom quad, I didn't had the courage to fly more far away than 300 meters from me. The 20 minute passed like a snap. I landed on the second battery warning, set to 10%.
I tested the DJI GO (Pilot) APP on all of my Android devices (Samsung Galaxy S4, S6 and Galaxy Tab A T555) . It had been installed and worked without any problem on all three devices.
Price–performance ratio

Design and build quality

Flight characteristics

Remote controller

Camera

Flight time
DJI Phantom 3 Advanced review - Verdict
First of all, sorry if my review is not that professional as they are writing in the "big league".
Overall I was positively impressed by this Phantom 3 Advanced. Definitely the biggest advantage over its competitors is the excellent control range and the HD video down link.
In terms of design I was not impressed at all. There are other models with more professional design on the market (but this is only a matter of taste). While the package includes everything you need for your first flight, an extra battery would make it even more attractive.
The DJI GO App offers countless possibilities but if you forget at home your mobile device you will be almost like hands tied.
The P3A flies beautifully, the Vision positioning system allows to be flown even indoor. Both 1080P@60fps and 2.7k@30fps videos look great.
Considering its price and if you don't need 4K resolution the Phantom 3 Advanced is one of the best mid range quadcopter.
Those who are interested in this Phantom 3 quadcopter should know that it can be found on HobbyWOW website for $799. If you are a new pilot and don't want to make long range flights I recommend you to also take a look on the Phantom 3 Standard which is a more affordable alternative ($499).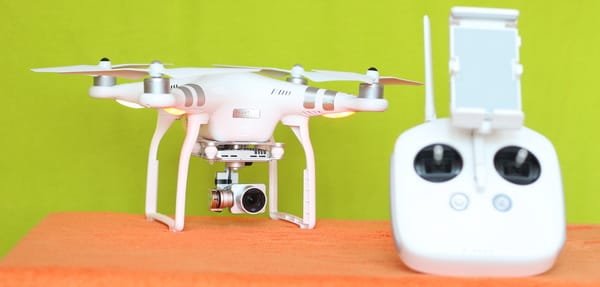 Pros
Good built quality;
Very stable and easy to fly;
HD 720P video downlink;
Excellent control and FPV range;
Decent flight time, about 20-23 minutes;
Dedicated RTH button;
Charging level indicators (on aircraft and transmitter);
Customizable remote controller;
Adjustable gimbal speed.
Cons
In order to use its full potential, it requires a mobile device (smartphone or tablet);
No dedicated arming/disarming button;
The landing skids and arms are sometimes shown in the recorded videos;
Expensive spare batteries.
Phantom 3 Advanced – Camera test video
Phantom 3 Advanced – Tips, mods and hacks
I recommend installation of propeller guards for first time pilots;
In order to have a better view on the position of the aircraft I recommend to use propellers of different colors (for front and rear);
Unlock the EU (CE) radio power limit;
Radio channel hack – I read that the standard 8CH can be extended to 32CHs;
DIY sunshade;
Adding a GPS tracker in case the aircraft is lost.
DJI Phantom 3 Advanced review – Photo gallery
Images with the P3A transmitter
Sponsored review