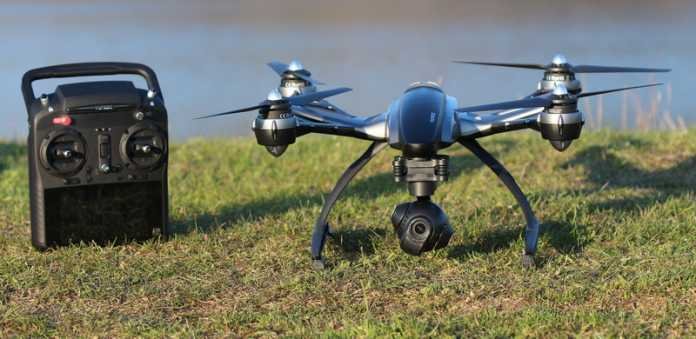 Yuneec Typhoon Q500 quadcopter with 4K camera reviewed
Yes, I know! How can it be interesting anymore to review the Yuneec Q500 4k, which is an one year old model, when the new Phantom 4 has been just revealed?
First off all, this Typhoon Q500 4k is a stable platform which was already tested by many customers and it's firmware was improved over the time. Don't mention that Yuneec has probably the best customer support among all drone manufactures.
Yuneec Electric Aviation became in just few years DJI's biggest rival, probably. In my opinion, Yuneec's latest product, the Typhoon H, equipped with the Intel RealSense module and motor redundancy must be like a "night mare" for the well-known Chinese drone manufacturer.
Currently there are two quadcopters on the marked which are adopting approximately the same hardware, this Yuneec 4k and the Chroma 4K. While they have a totally different design, both are quipped with the same CGO3 4K camera and the ST-10+ transmitter. I don't know if this platform is a results of a joint effort of the Yunnec's and Blade's engineers but they definitely have some kind of agreement because the prices are kept at the same level. Another alternative is that Yuneec is building drones for American companies like Horizon Hobbies (which actually has the "Blade" brand).
The Typhoon Q500 4k can be purchased in carton box for about $900 (in bundle with free extra battery and 64GB micro SD card) or in premium aluminum case with two batteries for $1000.
Yuneec Q500 Typhoon 4K Highlights
All-in-one 10CH transmitter with built-in 5.5″ touchscreen (Android™ OS);
Real-time image transmission;
Modular design, the 4k camera can be used with all its feature in the air as well on the ground;
Up to 25 minutes flight time (depending on flying conditions);
3 different flight modes: Smart (Follow Me or Watch Me), Angle and Return to home (RTH);
Adjustable flight speed rares (from "turtle" to "rabbit");
Geo fence: no fly zones, legal flying height and smart circle;
Accurate GPS positioning system;
Dedicated motor unlock/look button;
Ultra HD video resolution (4K@30fps);
High-speed filming at full HD (1080p@120fps);
12MP photo resolution;
CGO3 Smartphone App.
Yuneec Q500 4K quadcopter review
This product was offered by B&H Photo Video in order to make an honest review. I thank them for their credit and I will try to present my impartial impressions bellow.
I haven't mentioned to Yosef, my contact from B&H, but I'm an old customer of them. 8-9 years ago my wife visited the beautiful island Nantucket and when she came back she brought me my first DSLR photo camera that I ordered from them. I can only imagine the captures could take a Yuneec Typhoon 4K above this gorgeous island and, who knows, never say never :).
Yuneec Q500 4K review – First impression
In order to protect the quadcopter and its accessories during the overseas shipping they were packed in two boxes placed one inside another. A primary protective cardboard box and a nice color gift box with handle which can be reused to store or transport the drone to/from the flying zone.
When I peeked inside the box, my first impression was that this Typhoon is a well build flying beast. It is much bigger than any of my other multi-rotors. No surprise why Yuneec's motto for the Typhoon Q500 4k is "Open the Box and Fly", the package truly includes everything you will need for your first flight.
Included with the Yuneec 4k quadcopter
ST-10+ 10CH personal ground station;
CGO3 4K camera with 3 axis stabilization;
CGO steady grip for ground operation;
5400mAh 3S Li-Po flight battery;
Sun shade for the RC's FPV screen;
Neck strap for transmitter (mine came without it);
SC 3500-3 balance battery charger;
AC/DC power adapter with power cord;
Car adapter for charger;
Battery charging cable;
8GB micro SD card with SD adapter;
Transparent UV lens filter;
2 sets of propellers (4 x CW and 4 x CCW);
Motor holder / prop installation tool (mine came without it);
Camera/Gimbal cable;
Micro USB data cable;
USB interface / firmware programmer;
Additionally to the above mentioned accessories, if you purchase now the Typhoon 4k quad you can get for free a 64 GB micro SD card and a secondary genuine 5400 mAh flight battery.
The design of the aircraft is totally different compared to the one that the popular Phantom 3 series has. Probably the designers from Yuneec wanted to grant an unique and more professional look to this product. I must congratulate them for the colors they choose, the charcoal gray and black colors combination looks damn good.
The fact that both charger and power adapter have much more weight compared to cheap Chinese ones is a clue that we are dealing with a quality product.
Honestly, I was pleasantly surprised by the quality of overall presentations even if my package had few missing accessories (prop tool and ST-10+ neck strap).
Yuneec Q500 4K review – Transmitter – ST-10+
In order to allow an easy operation, the Typhoon 4k quad is delivered with the ST-10+ all-in-one personal ground station. Basically this combines the feature of a 10 channel transmitter and an Android tablet with 5.5″ touchscreen. Definitely is not the smallest transmitter which I held in my hand but absolutely the most high-end model. Anyway, it is strange to me that it costs about $570 when is being purchased separately…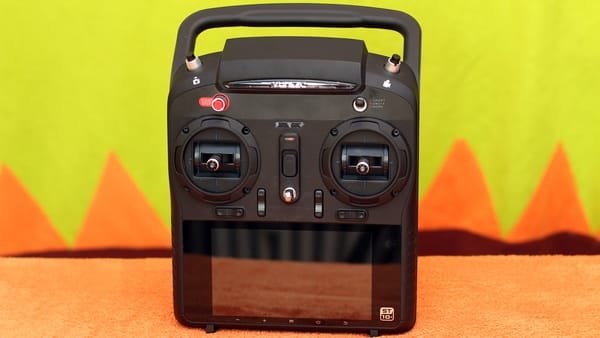 The big LCD touchscreen which allows to easily configure the camera and the quadcopter, displays real-time flight parameters (like flight speed and altitude) and also the live video feed from the aircraft's camera is located bellow the control sticks. Although the LCD is pretty bright, you will need to install the included sunshade during sunny days.
The transmitter can be easily switched between mode 1, mode 2, mode 3 and mode 4 according to the operator's habits. I always opt for mode 2 with throttle on the left stick and elevator on the right stick.
Above the left control stick there is a red button which allows to easily lock and unlock the motors without any annoying arming sequences. Just push it and hold for 3 seconds and the motors will start. Same thing for 2 secs and the motors will stops.
Via the 3-way switch located just above the right-hand control stick can be selected the desired flight mode. Maybe it looks more convenient to fly in "Smart mode" but every Typhoon's owner should learn how to fly their aircraft in "Angle mode" (also known as Pilot mode).
On top of the transmitter there are two camera dedicated buttons. By pressing the left button the camera will take still photos and by pressing the right one you can start/stop video recording.
When is enabled the "Follow-me" mode, the aircraft will actually follow the transmitter not you. How? the ST-10+ has a built-in GPS positioning system and periodically sends its position (movements) to the quadcopter.
Although the RC's battery is removable I don't know if it's worth to invest in a spare one because the high capacity 5200 mAh battery (YP-3) allows about 1 hour of working time. The battery can be recharged using the included micro USB cable via any USB plug (smartphone charger or computer).
Removing the battery I found behind a hidden micro SD slot were can be inserted an appropriate memory card in order to record the FPV flight video (unfortunately at low-resolution). The telemetry information from the flight are stored in a separate log-file.
My only disappointment regarding this transmitter is the noisy operation which is caused by the fan cooling.
Yuneec 4K review – Camera – CGO3
Although when I was looking on the CG03 camera I had the impression that is only a cheap web-cam, it offers UHD 4K@30fps video resolution and allows high speed filming (1080p@120fps) in order to make some cool slow-motion aerials.
Professionals will definitively love the full manual mode (Pro mode) where they can adjust ISO value, color balance and shutter-speed in order to get the best results. This mode allows to capture uncompressed RAW images without data loss for better overall image quality and detail levels.
As you can see on the test video bellow (I will upload it in few days), the CG03 4K has a nice color balance, good dynamic range without the disturbing fish-eye effect, typical to wide-angle lenses.
Three minutes of UltraHD video (3840 x 2160 at 30 fps) occupies about 1 GB on the micro SD card, so you can record approximately 3 hours on the included 64 GB micro SD card.
The tilt angle of the camera can be remotely adjusted through the transmitter's left slider button allowing from shooting directly ahead to straight down whenever needed.
In order to use the CG03 as handheld camera, it can be easily removed from the Typhoon quad and installed on the included SteadyGrip. I think this is a nice feature which is offered for "free" by Yuneec. My only observation regarding the camera grip is that doesn't seem a brilliant idea to be powered by 8 pieces of AA batteries. For example, it would be much nicer if it could be feed with the same Li-Po as the quad or the transmitter.
As backup solution in case something happens with camera's connection tabs, the manufacturer included in the package a camera/gimbal cable.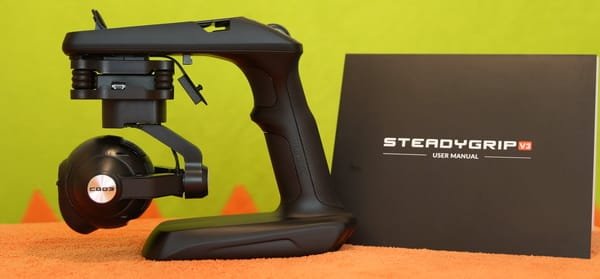 If you accidentally turned OFF the quad-copter before you stopped the video recording, you can recover the video file by turning ON again and wait about 20 seconds till the camera LED starts to glow solid green ("life saving" tip, isn't it?).
I tried to interconnect my Samsung S4 and S6 phones also my Galaxy Tab SM-T550 tablet with the CGO3 camera but without any success. I found on the Yuneec-Forum that there are two different firmware versions (US standard and EU). As my quadcopter came from US and my other devices from EU, unfortunately they can't work together :(
Typhoon Q500 4K – Calibration
Before your first flight with this quadcopter you should consider to calibrate it following the steps below. Don't take the easy way to calibrate the compass inside.
Turn ON the transmitter;
Place the quadcopter on a flat ground facing north (for this purpose I recommend to use a true magnetic compass);
Turn ON the quadcotper;
Enter on the ST10+ settings menu, select "Calibration" and choose "Compass" option;
If the above step was successful, you'll hear a confirmation beep;
The status indicator on the aircraft will flash red and green slowly (2 times/sec);
Pick up the quadcotper and hold it flat with the nose pointed to the north till status LED flashes red and green rapidly (5 times/sec);
Slowly rotate the aircraft 360° toward north until it's flat and upright in your hands again;
Rotate the quad 45 degrees to the left then slowly rotate the aircraft 360 degrees toward north until it's flat and upright in again;
Repeat the previous step twice;
Hold the quadcopter as still as possible till the status LED stops blinking;
If you hear a beep after the main status LED stops blinking rapidly you have successfully done the compass calibration.
Yuneec Q500 4K review – Maiden flight
After I read carefully the Typhoon 4k users manual, processed with the calibration steps and fully charged the flight battery I was ready to go out and test this beast.
Just returned second time from my flying zone. First time the rain didn't stop :( and today there was an endless heavy wind. I did not want to risk losing the quad at first flight so I returned home disappointed…
I'm so enthusiast, today I finally had my maiden flight with this Yuneec quad. When I landed my wife said that "at last you have a real drone". Yes, she described perfectly the difference between my other multi-rotors, which are only toys compared to this Typhoon 4k. I can't find my word to describe the pleasure of cruising this quad over the lake and around the forest. Everything from taking off till landing went incredible smooth. The weather was perfect, clear sky, a bit sunny and low wind in a perfect spring afternoon. I feel like all the waiting was worthy and all I can think about now is when I'll be able to go back and fly some more this beautiful beast.
The gentle acceleration makes it just perfect for aerial filming, the resulting videos are very smooth and steady. When I hovered over my weekend house the captured video looked like frozen, without any disturbing movement or vibration.
My only disappointment during the test flight was that I lost the video signal when the quad was about 160 meters away from me, which is not too great. Taken into consideration this fact and that the real-time video has some lags, I don't recommend to fly this bird in FPV exclusively. That's why guys you should keep your eyes on this quad and enjoy the nature in the same time!
Yuneec Q500 4K review – Final words
This Yuneec Typhoon Q500 4K certainly looks good in every way. It has a nice professional design and its package includes everything you need for your first flight (even some free extras like second flight battery and 1 set of spare propellers).
Both control and FPV range are somehow disappointing compared to its competitor but at least you can't lose sight of the aircraft.
I liked how easy it is to get started with this quadcopter, definitely will be easily flown by newbies and the learning curve will be much shorter compared to other models.
The fact that the CGo3 camera is removable and can be handheld together with the included SteadyGrip allows you to use this camera individually, not only for aerial video recording.
Those who are interested in this model should know that it can be found on B&H website here for about $900. If you already own a GoPro camera, the Typhoon G with 3-axis gimbal and MK58 digital video down-link could be a more affordable alternative ($499).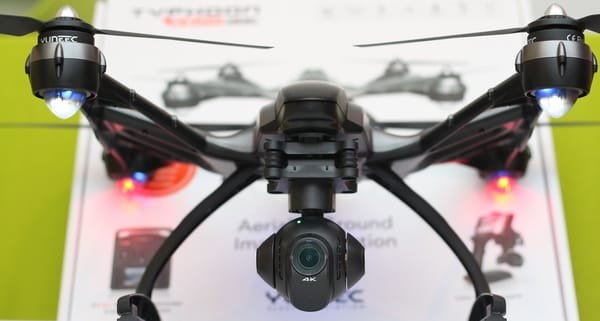 What I liked
Great built quality;
Included free stuffs (extra: battery, 1 set of propellers, 64 GB micro SD card and UV filter);
SteadyGrip which allows to use handheld the 4K camera;
Good flight time, about 20-25 minutes;
Dedicated motor lock/unlock button;
On/Off power button;
Silent brushless motors;
What I didn't liked
Noisy remote controller (fan cooling);
Proprietary TX/RX protocol;
The CGO3 (Camera & gimbal) seems very fragile;
Shorter control and FPV range compared to its competitors;
Noisy videos even if the camera is used on the SteadyGrip;
The STEADYGRIP™ is powered with AA format batteries;
Some missing parts from the accessory box (in my case).
Price–performance ratio

Build quality

Flight characteristics

Play time

Remote controller

Camera
Yunnec 4K review – Tips, mods and hacks
Meanwhile I was waiting for proper weather and finish my review, I tried to find more about how to prevent crashes and how to make some improvements to the Yuneec Q500 4K.
As I'm planning to use the SteadyGrip for filming I will replace the 8 pcs. of AA batteries with a single Li-Po battery which will allow a much longer operation time.
In order to improve the Yuneec's FPV range, I found out about the possibility to use 2 Watt signal boosters but I'm not sure whether these kind of devices are legal.
I saw some nasty crashes on YouTube caused by propeller loss when the quad was in the air and the reason was the lack of tightening so always check the props before taking off!
Images with the Yuneec Q500 4k quadcopter
Images with the Yuneec CG03 4K camera
Images with the Yuneec ST10+ personal ground station (transmitter)
Images with the Yuneec SteadyGrip