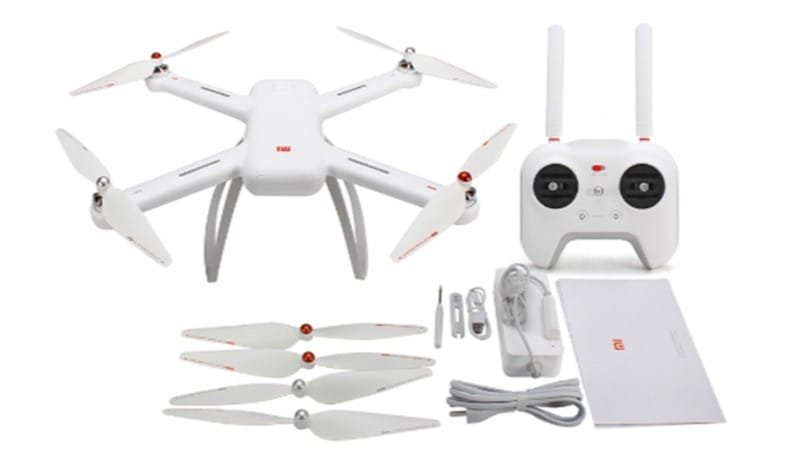 Based on my good experience with the Yi 2 camera, I decided to accept Flora's guest post about the Xiaomi Mi 4K drone to be published here on FirstQuadcopter.
In March, Xiaomi released the 4k version drone, there's a HD camera on it. And I just fly it just several days ago, and I will let you know what my feelings.
1
It's easy to fly, with beginner mode
I just got a drone, and then got it all working together, turn on it at twice times when the light of two switches both come white, that means you can fly. With a beginner mode, it`s more easy to fly this drone. And you can control all of directions or circle around something just by rocker.
You can just fly the drone with it's automatic take-off +landing function, and also you can control it manually.
3
Set route / Waypoint flight
You can just set a pinned point on the map, and then the drone will fly following the routes you set. And also it can circle around the point.
Flight time: 27minutes;
Flight height limit: 120 meter;
Diagonal axis distance: 434mm;
Control range: up to 2Km in open field;
5.2V, 5100mAh Flight battery;
Total weight: Approximately 450 g.
7
Some tips about this Xiaomi 4K drone
You need to fly it in an open area and with a good GPS signal;
When you start flying your drone, make sure that the back of your drone is face to you, not the forward. In this way, you are easy to figure out the direction of it;
When the drone is too far away or in a place that lost connection with your remote, the drone may switch to self control mode, which is very dangerous as it may drift everywhere till crashed. Therefore huge empty space is always recommended for your drone flying;
When you at a zone with less GPS signals, you need to let antenna of remote control to face the drone;
In case of emergency, press power and take off key at the same time, the drone will stop immediately and fall down in crashed.
Article submitted by Flora