Xiaomi Yi 2 4K- Best camera for aerial filming?
Yesterday, out of curiosity I searched with Google for "Xiaomi Yi 2 review". The results were pretty impressive. I found plenty of professional articles about this camera. Most of the reviews have concluded that the Yi 4K is an excellent action camera with superior image quality. Even when the Xiaomi Yi 4K was put in a side-by-side comparison with the more expensive GoPro 5 Hero, it excelled.
Yi Technology is a sub-brand of Xiaomi, which is mainly oriented on cameras. Their first successful model, the Yi action camera was launched last year. Although it was a very basic model, thanks to its friendly price quickly become a popular quadcopter camera among RC enthusiasts. Unfortunately, crashes are inevitable and putting a $400 GoPro cam on a drone it's like playing the Russian roulette.
Sponosored AD
The second generation Yi 2 camera, compared to its predecessor, comes with a generous touch screen and 4K video recording. Yes, I know, if you are using the camera exclusively for aerial filming the large screen is totally useless.
Xiaomi Yi 4K highlights
Ambarella A9SE75 imaging processor (SoC);
Built-in BCM43340 dual band WiFi module (2.4G and 5.8G);
Generous retina 2.19″ touch screen (640 x 360 );
Large capacity battery for longer operation time;
Dual microphone;
Tripod mounting hole (1/4″);
Underwater operation with dedicated case;
Mobile device APP (iOS and Android);
Electronic image stabilization;
Multiple operation modes (like: timer photo, time-lapse video, slow-motion photo and video and loop video);
High bit rate, up to 60MBps;
Ultra HD video recording with up to 30 fps;
Ultra high frame rate (240 fps at 720P);
Up to 12MP photo resolution.
Xiaomi Yi 2 camera review
From the day it was announced I wanted to review this camera. I contacted the manufacturer for this purpose, but they didn't answered me….I almost gave up when Adam from GearBest contacted me if I would like to review the Xiaomi Yi 4K camera. Of course I accepted his offer.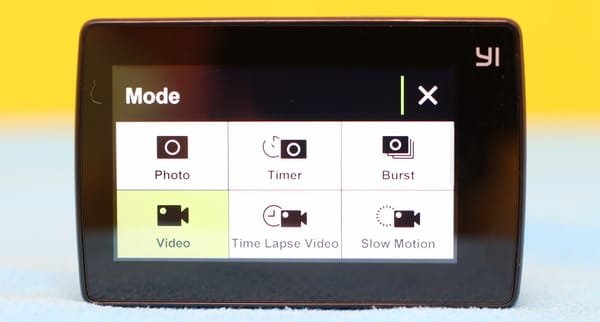 The package arrived in about 3 weeks. Inside the box, besides the camera with battery loaded, I found an USB charging/data cable and user manual.
No mounting accessories or lens cap included. Pretty shame, a rich accessories pack would make this camera a truly premium product.
Xiaomi Yi 2 Review – At a glance
My first impression on the camera was that it has a nice stylish design and very good build quality. BTW, I received a black one, but white and rose-gold are also available.
On top of the camera is located the Power/Shutter button, the speaker and the two microphones. On the left side, behind a small door, is located the micro USB Data/Charging port. Video out for first person view (FPV) can be activated through the camera's menu under the "Advanced" section. Unfortunately there is no HDMI port.
The 1400 mAh battery is loaded from the bottom of the camera. According to the manufacturer's specs, a fully charged battery allows to record about two hours of 4k@30fps video.
The manufacturer placed the micro SD slot behind the battery compartment door in order to protect it from accidental ejection of the memory card.
On the bottom part, right under the center of the 155 degree lens is located an universal tripod hole (1/4″).
Till now everything looks "conventional". The catch of this second generation Xiaomi camera is located on the rear part, a generous 2.19 " LCD touch screen with Gorilla glass. The resolution of the retina widescreen display is 640 x 360 pixels (330dpi).
YI Technology claims that the Ambarella A9SE SoC used in the Yi 2 camera has the same features and computing power as the one used in the more expensive GoPro 4 Black camera.
Xiaomi Yi 2 review – Remote APP – Yi Action
Although the touch screen allows to easily configure the camera, all the settings are also available remotely through the YI Action APP (available for Android and iOS).
In order to connect the Yi 4K camera to your mobile device (smarthone or tablet), you need to enable the WIFI conection on the camera. You can opt for 2.4 or 5.8G band. The default pass key is "1234567890".
Besides the configuration and fine-tuning the camera, the APP offers live-view remote control too. Photos can be remotely displayed (directy from the camera's memory card) but the videos need to be downloaded first.
Some kind of social media is also integrated in the APP. There you can share your videos and meet other Xiami users.
Xiaomi Yi 2 Review – First usage – Test
When I agreed to review the Xiaomi Yi 2 4k I decided to test the camera in every posibile way. Of course, as it is winter I will skip over the underwater tests.
Powering ON the Xiaomi Yi2 camera for the first-time you need to pass through a 11 page tutorial. This will help you understand the basic function of the camera and also choose a proper micro SD memory card for 4K video recording.
You can opt between 9 operation modes plus live streaming. Besides the usual photo and video modes there are also available:
Self timer;
Burst photo;
Time-lapse photo;
Time-lapse video;
Slow-motion video;
Loop recording;
Video + photo mode.
Firstly I tested the camera mounted on my ZhiYun Z1-Evolution handheld gimbal. Although the Z1-Evo was designed for GoPro cameras it fits also with the Xiaomi Yi 2. The only inconvenient is the hardly accessible power button. The videos are smooth and have excellent quality in both Full HD and Ultra HD resolutions.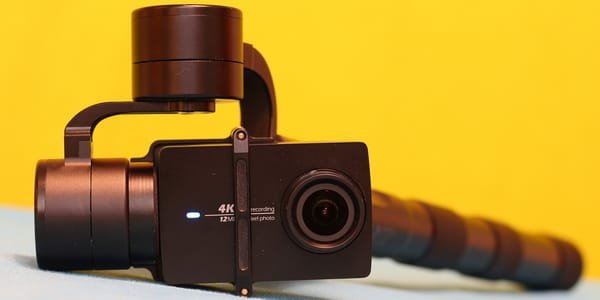 If you don't have a suitable handheld gimbal you can enable the "Electronic Image Stabilization" feature which makes a huge difference. Unfortunately this function is available only on 1080@30fps.
Images are sharp and crisp. Even in low-light condition the camera gave very good results (you can check the RAW samples bellow).
Invalid Displayed Gallery
Although facing the sun is one of the most difficult way to obtain enjoyable videos, the Yi 2 performed surprisingly well.
Five minutes of 4k@30fps video occupies about 2.2GB and 1080@90FPS (Ultra) about 3GB. For 2 hours of 4K video you will need a 64GB memory card.
This weekend I'm planning to mount the Yi 4K camera on my DIY F450 Arducopter. I'm very curious how will performs against the Yuneec 4K (which one offers better video quality).
Price/value ratio

Design and build quality

Photo quality

Video quality
Yi 2 review - Verdict
Certainly the Xiaomi Yi 2 4K camera is a nice piece of technology but unfortunately an expensive one too.
The touch screen allows easy and convenient operation.
Thanks to the high video bitrate, the recorded videos have very good quality.
Overall the Yi 2 is an excellent multipurpose camera. It can be used during day life activities as well as for sports activities too using the suitable accessories.
By enabling the AV-out, it can be used as FPV camera on quadcopters for aerial filming.
Everyone interested in buying this nice all-around action camera should know that it can be ordered for $206 with free shipping right here. Third-party Xiaomi Yi II waterproof cases are available from $15, but if you prefer genuine one you will need to pay about 40 bucks.
Plusses
True 4K video recording;
Excellent video quality;
Nice user interface;
Large live-view screen;
Tripod mounting hole;
FPV out via micro USB port.
Minuses
A bit expensive;
No mounting accessories included;
No HDMI out;
Its not waterproof without case.
Yi 2 camera review – Photo gallery
Invalid Displayed Gallery
Xiaomi Yi 2 vs GoPro Hero 5
GoPro proved over the years that they are not just some random action camera manufacturer, they are the leader of this market segment. GoPro products integrates the latest technology in order to offer the best image quality. Of course this has a price, the GoPro Hero5 Black costs almost twice as the Xiaomi Yi 4K.
Skipping over the technical mumbo-jumbo for the extra 200 bucks, the GoPro 5 has a more rugged design and native waterproof protection (don't require dedicated case). The audio quality is also much better than Xiaomi 4K has. Both came with electronic image stabilization and generous touch screen.
In favor of the Xiaomi 4k I would say that according to the specs it has longer operation time than its contender.
Xiaomi Yi2 Time-lapse video test
Xiaomi Yi2 low-light test in 1080p@60fps
Sponsored review