ZhiYun Z1-Evolution handheld 3D gimbal
I know this Zhiyun Z1-Evolution is not a 100% quadcopter related gadget, but if you want to make product reviews you will definitely need such a device. Usually, I record my maiden flights with a smartphone or with a head mounted action camera. I always wanted a professional alternative but didn't have the time to analyze the possibilities. For example, it is very hard to walk around a quadcopter which is hovering 1m above the ground and film its stability with just a handheld smartphone.
In my country there are some beautiful winding roads between mountains, ones I tried to immortalize my journey holding the camera in my hand but it was not a success. My video it would have probably been totally different if I would have used such a device.
I sow some awesome videos with a guy attaching to his motorcycle a handheld 3D gimbal together with a GoPro camera. He probably exceeded the regulation speed in that area, but the results were breathtaking. The POV was so realistic that it felt like I was there.
As functionality and construction, quadcopter gimbals and handheld gimbals are very similar. To achieve the possibility of 3D movements and stabilization on all 3-axis, these devices are equipped with 3 brushless motors, gyro and accelerometer sensors and a controller board. Being a handheld gimbal, of course this Zhiyun Z1-Evolution is self powered and has an additionally holding tube (which also serves to room the batteries) plus a 5D steeples control stick.
ZhiYun Z1-Evolution review. Best handheld gimbal for GoPro?
I came across this Zhiyun Z1-Evolution gimbal accidentally on Facebook, the manufacturer offered 50pcs across Europe for free. I could choose between the Z1-Evo, Z1-pround and Z1-TINY2 quadcoper gimbal. It was a tough decision but final I opted for the handheld version hopping next time I will receive the Z1-TinnY2 for review too :).
Few days later after I provided my shipping details I got the package, a surprisingly small one.
The Z1-Evo comes in an elegant white box which will be just perfect to store and transport the gimbal in the future. The box, besides de gimbal, includes the followings:
Extension tube (which is actually a shortening tube);
2pcs. of 18650 3.7V 2000mAh Li-Po batteries;
USB data and charging cable (for firmware upgrade);
Battery charger (suitable for 2pcs of 18650, input 5v/1600mAh);
3 wire GoPro power cable;
4 wire GoPro AV-out and power cable;
Warranty card;
Zhiyun Z1-Evolution user manual (English and Chinese).
At first sight it has a very good build quality, made from some lightweight aluminum alloy. Excepting the golden ON/OFF power button and two screws which helps to secure the camera to the gimbal everything else has black color.
The holding grip has an about 6cm extension tube that must be screwed on to the end, only then you can insert the two provided 18650 batteries. In case you want to use it without the extension tube you must purchase additionally two pieces of 18350 Li-Po batteries and a appropriate charger.
The camera frame (cage) is designed for GoPro 3 and 4 cameras but can accept mainly any action cams with maximum height of 42.7mm and width of 31mm. I test it with two of my GoPro alike cameras, the BlackView Hero 1 and the Firefly S5 and it fits perfectly for both models. The gimbal was pre-calibrated and worked perfectly right out of the box.
Unlike its predecessor, instead of 3 control buttons, this new upgraded model comes with a 5 way control stick which allows a more convenient and easier control of the gimbal.
The Z1-Evo gimbal can be turned ON by short pressing the ON/OFF button fallowed by long pressing the mini-joystick. During the startup process the status LED indicates the battery level: 4 flashes -> 75 to 100%, 3 flashes -> 50-75%, 2 flashes -> 25 to 50%, 1 flash means that you should charge the batteries. The charging time with the provided USB charger takes about 3 hours.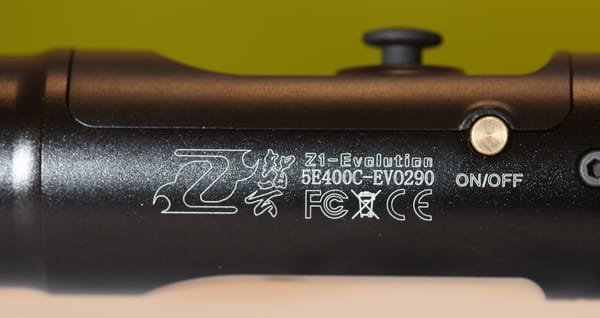 After 5 minutes of testing I found out that this is not just a selfie stick, this cool high-end gadget gives my action camera stability in almost any situation for smooth filming. Also allows to make some awesome panorama videos and other cool stuffs, practically the possibilities are limited only by the owner's imagination and creativity.
The ZhiYun Z1-Evolution has 3 connectors:
micro USB for calibration and firmware upgrade;
4 wire GoPro AV-In and battery charging;
3.5mm AV out plug.
By pressing the joystick as a button the gimbal can be switched between 3 working modes. Pushing the stick once switches between Pan Following and Locked mode. Double press quickly and you can enter in to the Pan and Pitch fallowing mode. BTW, the default working mode is the Pan mode. In my opinion it would be nice to have an additional 3-color status LED to show the current working mode.
Z1-Evolution gimbal unboxing and quick test video
Zhiyun Z1-Evolution review – Working modes
Pan fallowing mode (heading mode) – this is the default operation mode when the gimbal is powered ON. The pitch and roll are locked. Pan rotates smoothly fallowing the grip. Pushing the stick up or down can be adjusted the pitch angle. For example this way you can film higher buildings or tall trees.
Locking mode – Pan, Pitch and Roll are all locked. This is the most appropriate mode for filming static subjects. Push the joystick to right or left to adjust the pan angle in order to make some cool 360 degree panorama videos.
Pan and Pitch fallowing mode – Roll is looked and Pan and Pitch rotate smoothly following the grip. Push the joystick to right or left to adjust the roll angle.
Upside down mode – this is actually not a configuration mode. It means that you can use the gimbal reversely upside-down. It works together with all the above mentioned modes.
Before you interconnect the camera mounted on the gimbal with one of the included GoPro cables, I recommend to check the compatibility with the camera's manufacturer. Unlike the 3 wire cable which is only to charge the camera's battery the 4 wire cable also transfers the video signal to the 3.5mm video out jack.
Being an amazing piece of technology, there are probably many things to mention about it but my son is very curious to go out and make some tests with it. He likes the way the camera seems to float thanks to the precise and powerful brushless motors.
Zhiyun Z1-Evolution review – Final words
Being my first handheld GoPro gimbal please don't ask if it's the best one. There are many similar models on the market but offering it for free testing it is a clue about the manufacturer's trust regarding the quality of his product. After few tests I can say that this Zhiyun Z1-Evolution is doing its job perfectly, keeps my camera stable even when I'm running upstairs. In order to "improve" its usability I already ordered a smartphone holder (for live view via WIFI) and I'm also planning to order a monopod to increase the range.
This product was offered by Zhiyun for a honest review, thanks again for their professional attitude.
Images with the 3-axis Zhiyun Z1-Evo gimbal
Pros
Multiple operation modes;
Silent operation;
Allows up to 330 degree rotation on each axis;
AV-out for FPV display;
Up to 12h working time;
1/4″ tripod screw thread.
Cons
The package doesn't include a smartphone holder;
No wireless remote;
Ambiguous status LED (at least for me).
For those who are interested in a such a gadget, this one and other ZhiYun gimbal models can be ordered from Banggood here.
Latest Z1-Evo firmware (v1.20) comes with the following improvements:
Update to the posture algorithm;
Possibility to upgrade online without power ON the gimbal again;
Decrease of the Pan's angle dead-zone;
Acceleration of the Pan following speed.