Blackview Hero 1 2K quadcopter camera
These kind of action cameras like the Blackview Hero 1 are very useful also for every day activities as well as for outdoor sports. As they are very light weight, they can be suitable for installing on a quad copter for capturing amazing aerial videos and photos.
Everything started with GoPro cameras which were the first ones to have very good image quality and enough light weight to be lifted with quadcopters. Recently there were launched a lot of clones for these cameras that surprisingly have medium to high image quality keeping approximately the same dimensions and weight. One of these clones is the Blackview Hero1 action camera that has 2K resolution and Wi-Fi connection.
Sponosored AD

I received this model of action camera two day ago from Banggood and I plan to test it in my vacation by the Black Sea where I'm leaving tonight. As, I'm traveling by car between beautiful mountains and country landscapes, I was thinking to start the testing with mounting it behind the windshield. In all my before vacation I used to carry with me my heavy DSLR Camera together with few lenses and it was a pain in the ass. This time I decided to go light and leave my photo backpack at home and just put in my pocket this Blackview Hero 1 action camera.
I can't wait to post as soon as I can videos taken with this small camera, either when I come back home or from there, in case I find some high speed internet connection.
Blackview Hero 1 camera review
At the first glance everything on this camera is high quality, from the package to the accessories. The only negative thing that I found it was the instruction manual that was very summary. After using it for 10 minutes I realized that I do not need a user manual for the Blackview Hero1 because is extremely easy to use it with suggestive menu system.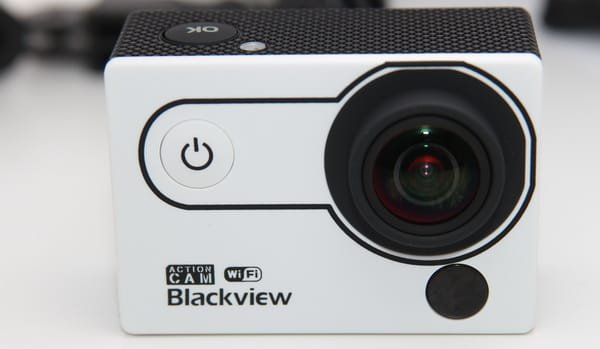 The camera has only 4 buttons, a power ON/OFF button on the front – near the lens, two buttons (up/down) on the opposite side of the connectors and a shutter button on the top of the camera.
To prevent accidentally turning ON the WI-FI connection, which will drain even faster the camera's battery, first you have to put it in a Wi-Fi pre-state mode and only then you can truly enable the Wi-Fi connection.
Before you can pair your smartphone with the camera, you must download the "LinkInEyes" app according your OS type (Android or iOS).
The pairing process has few easy steps:
long pressing of the "shutter" button until the Wi-Fi icon with a red cross will be displayed on the LCD screen;
long pressing of the "up" button until the Wi-Fi icon is shown normal green the LCD;
enabling the wifi connection on the smartphone and look for the "amba_boss" network;
when you are asked for the pre shared key, enter "0123456789";
your are done with the pairng process, now you can start the previously installed "LinkInEyes" app and access your action camera.
The camera has 3 working modes: video, photo and playback, switch between these modes can be made by long pressing the "up" button. The default mode of the camera is video mode at 1080p/60fps, but you can switch any time the resolution between: 2304*1296, 1920*1080 or 1280*720p. Higher resolution means better image quality and much bigger file size, for example 1 minute of 1080p/60fps video has around 120MBytes.
I'm planning to use this camera not just during sports activities but also I want to install it on the Syma X8W quadcopter that I order it last week. Hopefully the quadcopter will have enough lifting power to carry the 71g camera and allow me to make some aerial videos.
I had the chance to choose between the Blackview Hero 1 and Hero 2 but I preferred the Hero1 because is using a better Ambarella imaging unit and a Sony CMOS image sensor. The only advantage of the Hero2 is the wireless bracelet with a small LCD screen that serves as remote controller.
After I return from my trip, as I promised, I will add some sample videos and photos made with the Blackview Hero 1 camera.
Blackview Hero 1 features and specs
Ambarella A7LS75 700 MHz ARM SoC;
Internal 2GB memory;
micro SD slot for up to 64GB memory cards, recommended Class 10 or above;
2″ high definition color LCD display with 960 x 240 pixels;
Image sensor: 16MP Sony CMOS;
Lens specs: 7G 170degree ultra wide-angle, high resolution, FNo=2.4, TTL=23mm;
Image resolutions: up to 16MP (4608 x 3456) with JPEG image compression;
Video resolutions: 2K 2304*1296/30fps, Full HD 1920*1080/60fps or 30fps and HD 1280*720p 60fps or 30fps;
Video code: H264 – MPEG-4 ACC (part 10) (avc1);
Auto white balance and sensitive mode;
Micro HDMI video out;
AV-out via micro USB port for FPV flights;
Built-in microphone and buzzer speaker;
Connectivity: wireless Wi-Fi and USB;
Up to 30m waterproofing case;
3.7V 1,050mAh Li-ion Battery;
Size: 6 x 4 x 3 cm;
Weight: 71g with battery and without waterproof case;
Blackview Hero 1 review – final words
This camera has a very good build quality and more than decent image quality, much better the other Chinese quadcopter cameras that I tested. With extremely generous accessory pack and 2k video resolution, this camera can be used during any sport activities (including scuba diving). The AV-out, lightweight design and high frame rate (up to 60 at 1080P) makes the Hero1 the perfect quadcopter camera for aerial filming and first person view flights.
The Blackview Hero1 is now in a good promotion, with 27% off, and can be ordered for only $116.99 on BG's website from here. Usually when I order a new product, I always search for the spare parts that I might need in the feature for it. For the Blackview Hero1 I (aka DV800A) I found it very useful to order also: one spare battery, lens cap and USB AV-out cable that is required to connect the camera to the quadcopter's FPV system.
Blackview Hero1 package includes:
2K sports action camera with 30m waterproof case
Genuine BlackView 1050mAh battery;
2000mAh 5v battery charger;
USB data and charging cable;
2pcs of 3M adhesive tape;
Cleaning wipe;
4pcs of ribbon;
Wire rope;
5pcs of camera mounting accessories;
2pcs of helmet base;
2pcs of Velcro tapes;
Camera belt mount adapter;
Bicycle mount;
Fixed camera base;
Camera tripod adapter;
Blackview Hero1 instruction manual.
Blackview Hero 1 sample images, click for full resolution (all images are unattached!)
Updates 08.02.2015
After almost a month of usage I found some minor bugs that hopefully will solved with the latest Blackview Hero 1 firmware. I just download it from here and I will try to install it later, hopefully will work 🙂