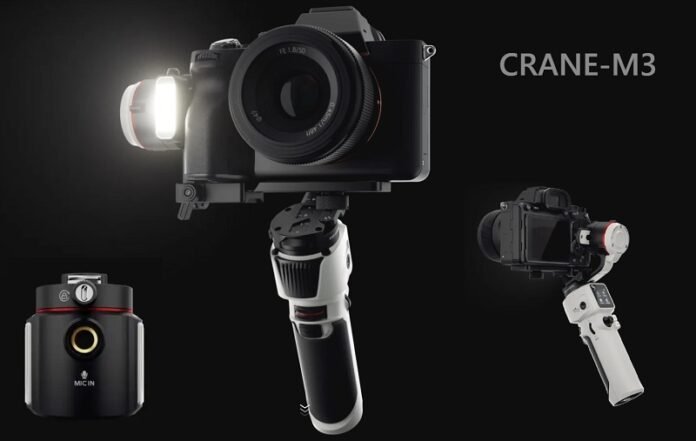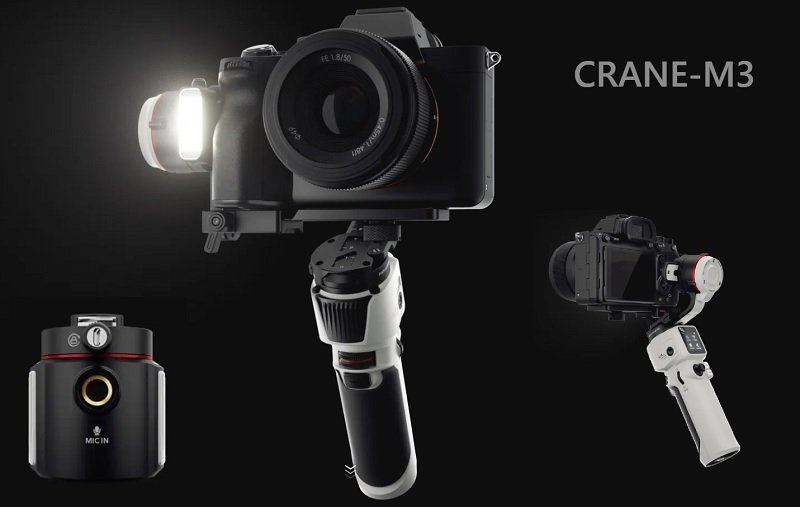 ZHIYUN, the world's leading gimbal manufacturer for all kinds of cameras introduces the CRANE M3, the latest in the highly-regarded one-handed stabilizer series. Proving it's more than just an upgrade of the Crane M2, the M3 now comes with unique features such as a built-in dual colour temperature fill LED light.
Like its predecessor, the new Crane M3 also support full-frame mirrorless, mobile phones and action cameras equally well making it one of the most versatile video stabilizers on the market. The gimbal's upgraded quick-release system enables rapid interchange between different types of cameras. Furthermore, the M3 features innovative locks and latches for storage. Gimbal can be adjusted to half-storage/full-storage mode. No axis arm adjustments are required when switching to half-storage mode with a mounted camera, and no rebalances are needed when expanded.
New to the ZHIYUN CRANE series is the added feature of an interactive 1.22", full-colour HD interactive touchscreen enabling parameter adjustments to a range of gimbal mode settings (portrait, vortex mode and go-mode) as well as follow speed. The intuitive display panel also indicates camera operational status, connection to the stabilizer and battery levels.
ZHIYUN CRANE-M3 highlights
All-New Sleek Design (weighs just 735 grams);
Compatible with a wide range of video gears (mirrorless cameras, smartphones, action cameras);
One-handed operation and ergonomic control with a 1.22" touch screen;
Upgraded quick release system for easier balancing, assembly and disassembly;
Built-in Dual Color Temperature Fill Light (3000-5400K, brightness: warm light 650-750, white light 850-950, CRI (Colour Rendering Index) 90+);
Multi-functional expansion base + Side and bottom tripod mounts;
Wireless connectivity and APP remote control;
Seamless Camera Control (with

compatible models)

;
Up to 8 hours battery life (Supports PD Fast Charge protocol).
Thanks to its pioneering in-built 800-lumens LED fill light, the gimbal offers an intense natural lighting solution with full step-less dimming control and temperature settings via a control wheel. The light adopts high-level cooling technology to quickly dissipate the heat while providing great brightness. Additionally available are magnetic light filter accessories for the LED light, in four different colours. At peak power 6W, the M3s lighting reads are as follows: colour temperature levels: 3000-5400K, brightness: warm light 650-750, white light 850-950, CRI (Colour Rendering Index) 90+.
As gimbals allow vloggers to carry their entire video rig with one hand, Zhiyun has added two tripod mounts (bottom and side) and an expansion base that enables the connection to a professional microphone.