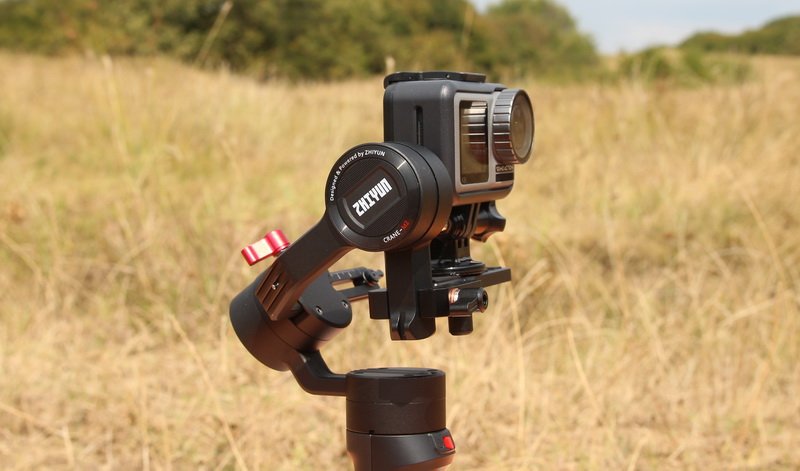 Older guys like me probably still remember the movie named "Universal Soldier", it was about enhanced super troopers good for all the jobs. When I saw the first rumors about the ZHIYUN CRANE M2 gimbal, that movie came in to my mind. It is compatible with a versatile range of photo/video equipment. You can use it with smartphones, action cameras, compact cameras, even with lightweight mirorrless cameras. Furthermore, it has 7 working modes which allow to capture truly creative footage.
In the last few years, I had luck to review three other Zhiyun-Tech gimbals. Actually, I still use their Smooth Q for quadcopter reviews, but after receiving the CRANE-M2, I think it is time for a retirement. While the Crane M2 weights only 100 grams more than my existing gimbal, it accepts almost four times heavier payloads (720g vs 200g). With this amount of power, you can even think to install two action cameras for a side-by-side performance test or create super smooth 3D movies.
ZHIYUN CRANE-M2 highlights
Small body and high payload (up to 720 grams);
Compatible with wide range of video gears (smartphones, action cams, compact and mirrorless cameras);
6 creative modes + Selfie mode;
Continuous 360 degree rotation on PAN axis;
Easy balancing with memory lock on the scales;
Quick release plate;
OLED status display;
Wireless connectivity and APP remote control;
Seamless Camera Control (with compatible models);
Up to 7 hours battery life.
ZHIYUN CRANE M2 gimbal in-depth review
Disclosure: I received this gimbal as part of a product review collaboration with ZHIYUN. Product specs and quality may vary according to the manufacturer's reliability, so I cannot guarantee that you will get a unit that performs exactly the same as seen in my review.
Like in case of all my product reviews, I promise to be as impartial as possible regardless that the camera stabilizer was offered for free.
At a glance – Unboxing – Physical design
The Zhiyun-Tech Crane M2 comes in a reusable foam case. To be honest, for such a versatile product I would expected a more deluxe carrying case. Besides the gimbal are included the following accessories: compact mini tripod, hand strap, 1/4″ camera mount screw, phone holder, quick release plate USB Type-C cable and user guide.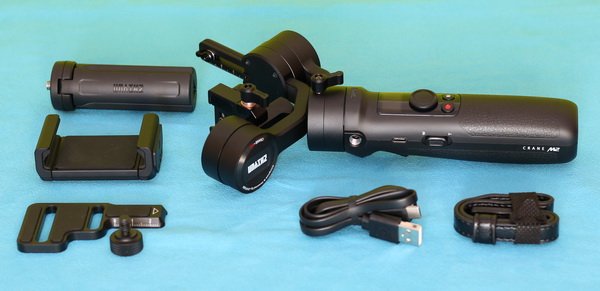 Contrary to my expectation, this gimbal is very compact. The grip (body) measures only 16 x 3.7 cm. The handler has a nice leather-like anti-slip coating. Out of the box, the Crane-M2's head is locked by a tiny red switch on the back side. No chaotic movements like in case of other gimbals. In order to be compatible with many type of cameras, it has lots of adjusting clams and scales. Frankly, this fact scared me a bit at the begging. After you get used with the adjustments, you can be ready to shoot in just few minutes – the brand new quick release mount and memory lockers help a lot for this purpose.
Thanks to the included mini tripod it can be placed on your table to allow comfortably camera installation and balancing process. The tripod is foldable extending the length of the grip with about 9cm if need it.
In addition to the bottom tripod mount, it has a second 1/4″ threaded hole on the left side which allows to attach things like a second camera, live-view display or microphone.
Current working mode, battery level, settings menu and other useful info are displayed on the OLED screen.
On the "Tilt" axis motor there is a micro USB socket which allows to charge your camera with an appropriate cable (not included!).
Controlling the stabilizer
Right bellow the status screen there is a decent sized 4-way joystick, record and mode buttons. Power switch is on the right of the grip. It is a "soft" one – in order to turn on/off, you need to push-it up an hold it for few seconds. Menu button is also on the right side and allows to access the following screens: Motor torque, WiFi, WiFi history, Joystick and About.
On the back side, right under the gimbal head locker, there is a big trigger switch which has the following functions:
Single press to enter Full Following mode; Single press again to back to the previous mode;
Long hold (more than 2 seconds) the trigger to enter Full Following mode – Release to back to the previous mode;
Double press to reset the motor to the starting point of the current mode;
Triple press to rotate the pan axis motor 180° (selfie mode).
Mode button allows to toggle between working modes. Press once to toggle between PF, L and POV or press twice to switch to GO or V. The W-T zooming button lets you zoom in/out with compatible cameras and phones.
Gimbal modes
Zhiyun-Tech advertises their Crane M2 with 6 modes (Pan, Follow, Lock, POV, GO and Vortex), but actually if we count the selfie mode it has 7. As there are plenty of YouTube videos about what it does and how to use each mode, I will skip over to explain them in details.
My favorite mode is the "VORTEX". When it is activated, the camera will align with the central axis of the gimbal (Tilt axis turns upward 90° automatically) and rotates around the PAN axis endlessly in any direction you want (clockwise or anticlockwise).
The "Go" mode essentially makes the gimbal more responsive to movements by increasing the motor speed. It's nice when you want to capture moving subjects like your playful dog.
Zy Play APP
Using the APP will unlock variety of features such as remote control or auto-panorama. Firstly, I test it with an Android phone. Despite that my Samsung S7 phone is capable for 4K resolution, via the ZyPlay APP I managed to record only Full HD videos. Also, there was a frame rate limitation. Next, I installed it on an iPhone 7. It looks that it has better compatibility with iOS devices. I had same resolution options like in case of the stock camera utility.
The Zy Play APP has two type of interfaces (camera and phone) and 8 main functions (Check stabilizer mode, zoom control, stabilizer settings, calibration, photo/video taking, object tracking, timelapse and panorama).
It does what it promises?
First of all, according to the installed camera type, you need to set the motor torques (valid payload is between 130-720 g). You have 3 rates:
Low for GoPro and alike action cameras;
Medium (default) for smartphones and compact cameras;
High for Mirorless cameras with interchangeable lenses.
Note: Inappropriate motor torque level may result in shakiness of the stabilizer and affect its performance.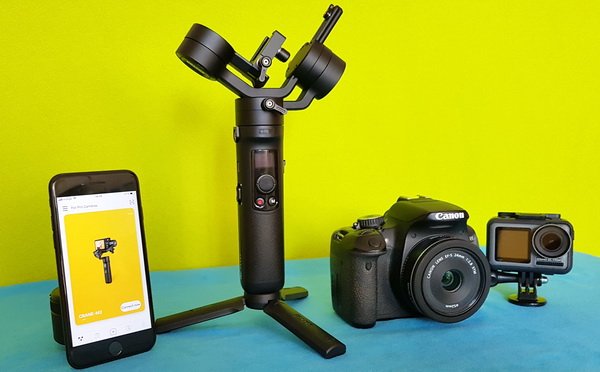 Firstly, I test it with an Osmo Action camera (160 grams including mount). Next, with iPhone 7 and Samsung S7 smartphones. It all worked without any effort. After that, I wanted to test Crane M2's limits installing a Canon DSRL camera with 24mm lens (total weight of 696 grams). Even if the camera body is quite large, I was able to mount it on the gimbal (of course with some movement limitations). After several times of re-balancing, the ZY CRANE M2 was unable to stabilize – it failed after few seconds or on the first faster movement. Than I remembered about the motor power settings and toggled from medium to high. After this everything went smooth and my 6 year old camera became stabilized for the first time :). Don't laugh with MagicLantern, it is still capable of miracles. BTW, any suggestion for a good vlogging 4K camera is welcomed.
Maybe it takes few minutes to mount and balance different type/size/weight of cameras, but at the end it handled all without problem. For lighter action cameras, like the Xiaomi YI 4K, you will need to add some extra weight in order to make it work.
If you hear some weird noises from the motors or any axis over-turns occasionally, mostly means that you're out of weight limits or balancing was not performed properly.
You can download from here the full Crane M2 camera compatibility list.
Battery life
According to the manufacturer's labor tests, the 1100mAh battery allows about 7 hours of working time with Minolta X-700 camera and a 45mm F2 lens (520g + 125g). These values can vary much according on how well is balanced, camera weight, how much you move it or how much the gimbal head rotates.
After my 3 hours of tests, there was still about 25% power left (1 of 4 line). Unfortunately, the battery is built-in and cannot be swapped, so if you want to film all day long your only option is to use an external power-bank.
Note: overall battery run-time it is also shorten by charging your camera/phone via the gimbal. Also, do not charge the stabilizer via the motor USB socket!
Pricing and Availability
Zhiyun's latest CRANE-M2 gimbal is available for purchase today at retail price of $269. You can find it on Zhiyun official store and at major photo retailers in US and worldwide, including Amazon.
Editor's ratings
Price/performance ratio

Design and build quality

Video Stabilization

Battery life

Camera compatiblity

App Features
Conclusions
After one week of testing I can say that ZHIYUN CRANE M2 is a brilliant compact gimbal. It is perfect for anyone who wants to travel or work professionally.
It can stabilize wide range of cameras. With a compatible cameras you have all the controls (zoom and start/stop record) in your hand. Furthermore you have creative modes like auto-panorama and Vortex.
Being a "universal soldier" it takes some time to adapt from one job to another. While installing a camera on a dedicated phone gimbal takes few seconds, on Crane M2 it takes at least few minutes. Anyway, the quick release plate helps a lot. Maybe they could include more than one for professionals with multiple photo equipment.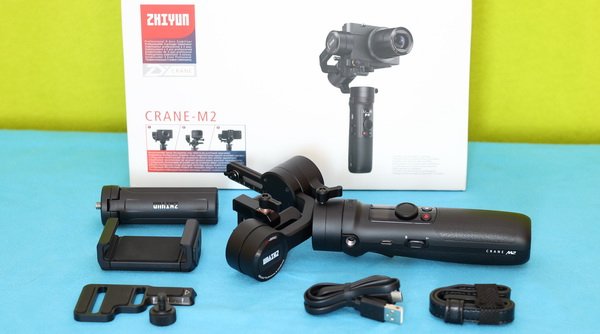 What I liked
It fits to my all photo/video gears;
Super compact;
Good image stabilization;
Quiet motors.
What I didn't liked
Built-in battery;
For newbies, it takes some time to install their camera;
Not fully compatible with Osmo Action.
ZHIYUN CRANE-M2 alternatives
Let's be fair, when you're about to spend almost 300 bucks for such a gear it worth to look for cheaper alternatives. If you need a smartphone gimbal, the market is full of excellent gimbals around $100. In this price tag you will find also some decent action camera stabilizers as well. But, if you need a super small travel friendly universal gimbal, the market is quite limited.
Close to CranM2's price tag you can also find the ultra compact Osmo Pocket 4K camera gimbal. Personally, I liked its all-in-one approach, but I have to admit that it has some limitations too.
If your are looking for a gimbal which can handle larger/heavier DSRL cameras you should check the professional grade Crane 3 Lab. This monster is capable to handle a maximum capacity load of 4500 grams.
Sample videos