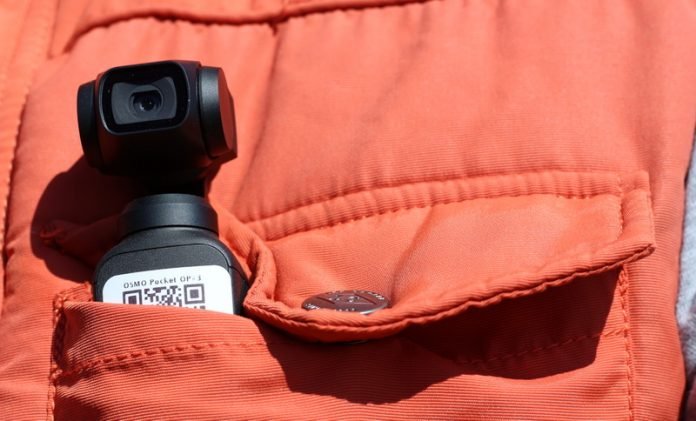 The DJI Osmo Pocket was announced at the end of last year and from the first rumors we wanted to get one and test it here on FirstQuadcopter. The plan was to offer a real user experience based review. I spent the last couple of days with the Osmo Pocket 4K, trying to test it in different situations. From my son's basketball match, kayaking, jumping on trampoline to cycling in the woods. I even imagined to mount it on one of my drones to lift it to the sky where it belonged from the beginning.
Back in 2015, DJI – leader in drones technology – began putting their motorized image-stabilization technology into hand-held camera gimbals. The first, called the Osmo, was well-received by vloggers as well as by selfie enthusiasts. For the first time "home" users were able to capture truly steady cinematic videos without robbing a bank.
Compared to the first generation Osmo, the Pocket is not just much smaller, but also has better battery life and couple of extra features like integrated touch screen. Same as most consumer DJI drones, the OP is also able to capture 12-megapixel still images and 4K videos at up to 60 frames per second.
DJI Osmo Pocket core features
Incredibly Small and lightweight;
Easy to use, single handed design;
3-axis motorized stabilization;
Built-in microphone;
Integrated 1″ touch screen with live-view;
Universal hot-shoe connection port;
1/2.3" CMOS image sensor with 12Mp effective pixels;
4K video recording with 60 frames per seconds;
Up to 100 Mbps bit rate;
JPEG / JPEG+DNG image formats;
MP4 / MOV (MPEG-4 AVC / H.264) video compression;
Intelligent shooting modes like: ActiveTrack, Motionlapse, and 3×3 Panorama;
Powerful mobile APP (DJI Mimo);
Up to 256GB micro SD slot.
Osmo Pocket review & ratings
Disclosure: I received this 4K gimbal as part of a product review collaboration with DJI. Product specs and quality may vary according to the manufacturer's reliability, so I cannot guarantee that you will get a product that performs exactly the same as seen in my article.
For April, DJI selected 10 lucky reviewers to get the OP for one month of testing. Yes, unfortunately we have to send it back. BTW, stay tuned because in May they have another batch of Osmo Pocket to offer for review.
After I signed the loaning agreement, they immediately sent the package. My OsmoPocket was shipped from Germany and delivered in Romania to my door in less than 24 hours.
Inside the small card-board box, besides the gimbal, I found the following accessories: Type-C USB charging cable, Lightning connector, Type-C connector, hand-strap and protective case. As I received an open-box product, the actual package content may vary.
At a glance
WOW, the Osmo pocket is damn small! It measures only 121.9×36.9×28.6 mm and weights just 116 grams (same weight as the GoPro 7 black has!). It fits perfectly into your shirt's pocket :). By compassion, my Smooth Q gimbal measures 285 x 118 x 105 cm and weighs about half of kilo with installed phone.
In one Osmo Pocket review, from the many I've read, it was compared to a toothbrush. I bet the author never saw a Mavic 2 before. The OP literally looks like a drone camera which has been sticked into a tiny handle. Build quality is excellent and, despite its small size, it feels very solid in my hand. The grip has non-slip, sweat-proof finish. Instead of a tripod mount, there's a USB-C charging/data port on the bottom of the gimbal. Micro SD slot is on the right side of the handle. As the memory card can be removed hardly, you will need a hot-shoe cap or another card in order to succeed.
Between the 1″ LCD screen and control buttons there is an extension interface. Using the included smartphone adapters you can attach Apple (lightning) or Android (USB-C) phones. Through the interface you can also attach accessories like controller wheel.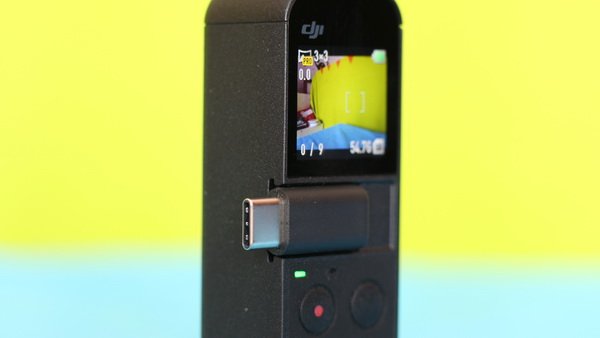 After power-off, the gimbal's head aligns in order to fit the included protective case. Some magnetic field still remains, which keeps the head in its position fore few seconds. Simple, but great feature.
Controls and user interface
DJI wanted to offer an easy to use, one handed gimbal and they did it! In addition to the tiny touch screen, there are only two control buttons. While the right one is for powering on/off and toggling through certain functions (2 presses centers the gimbal, for example), the left one is for recording and taking photos.
Many consider the 1″ screen too small, but it does a great job. Besides the live-view, it allows to easily control the gimbal (of course, in case you don't have shovels instead of fingers :D). You can swipe the screen from the right-to-left for shooting modes (Photo, Video, Slo-Mo, Time-Lapse or Pano). Second right swipe allows you to configure the selected shooting mode.
Gimbal menu can be accessed by sliding your finger from bottom to top of the screen. There you can toggle between 3 gimbal operation modes: Follow, Tilt Locked and FPV. Here you can find a detailed description of each mode and how to use them according to your shooting scenario.
Main settings menu can be activated by waving your finger from top to bottom. Enabling "Pro" mode will offer more setting options. Here, you also have info about battery level, remaining storage, firmware version and other system parameters.
And finally, the playback menu which allows to review the captures right on the field can be accessed by sliding your finger from left-to-right.
First week of testing the DJI Osmo Pocket
Before I attached my phone to the OP I wanted to test how it works as standalone stabilized camera. You know, you can have the smallest gimbal if you need to use it with a huge phablet. Except live-streaming and zooming, you can mainly do anything with the DJI OP as with any phone attached to a mobile gimbal.
For everyday usage, I find useful connecting it with a phone only, in case you need a larger live-view screen. Panorama mode requires MIMO APP only to stitch the photos together. Also, here I should mention that the square-shaped LCD shows a cropped frame, so it doesn't cover everything you're capturing.
Switching from first person view (FPV) to selfie mode can be done by pressing 3-times the power button. Due to the narrow field of view (FOV), you will need an extension rod in order to capture more than your head.
I like to test my gears with latest firmware, they provide better stability and sometimes also new features. As soon as I get a new gadget, I immediately look for software updates. Upgrading the Osmo Pocket was super easy. When you start the DJI MIMO APP, notifies you when new firmware is available and automatically flashes it after your approval.
Image and video quality
In good day light, videos are sharp, with accurate colors. Auto white balance is just perfect for most situations. Picture mode is quite usable and you have even raw (uncompressed) format for post-processing. You have two panorama modes, 1×3 or 3×3.
Shooting in low light or indoor conditions makes the results a bit noisy. Also it is getting out of focus more often, resulting blurry videos and photos.
The mechanical stabilization does an excellent job compared to optical image stabilization (OIS) and Electronic Image Stabilization (EIS), which are mainly used by top-end smartphones.
I compared it against the Samsung Note 9 phone and Xiaomi Yi 2 4K action camera. Handheld, both failed versus the DJI OP, the videos were shaky, especially when I was moving fast. Instead, on gimbal I felt that the Note 9 offered sharper videos. Due to the wide angle lens, the Yi provided much larger field of view, which sometimes is very useful.  I noticed disturbing lens glare facing the sun with all cameras.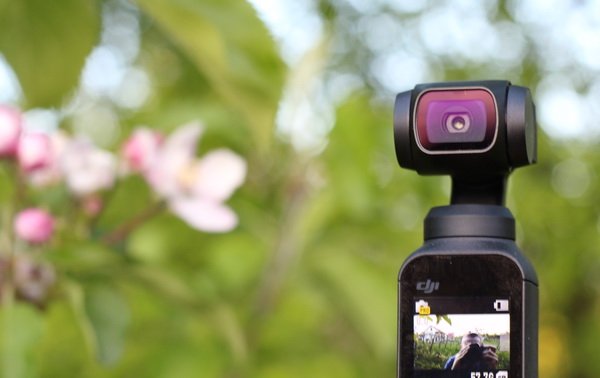 What about the Osmo Pocket battery life?
As I previously mentioned, the Osmo Pocket is powered by a built-in 875 mAh battery. According to the manufacturer's specs, the 2cell LiPo pack allows about 140 minutes working time while you record 1080p@30 fps videos. As you increase the resolution and frame rate, this time is reduced. Also, working time is reduced by how much the motors need to work in order to keep the camera steady. During my tests, I got around 100 minutes of recording time at highest resolution (4k@60fps). In case you need longer continuous work you can use an external power-bank.
Charging the battery can be done using the included USB-C cable and takes about 70 minutes. During this time, the OP is fully functional and you can continue to use it.
IMHO, biggest drawback of the built-in battery is that can't be removed in case of emergency. For example, if you accidentally drop-it in water, removing the battery in the first few seconds is critical, without it, not even tons of rice will save your gadget. OK, I know that Osmo Shield (DJI paid warranty insurance) covers water damage as well.
Micro SD you need for the Pocket Osmo
Personally, I tested the Osmo Pocket gimbal with 3 type of micro SD cards. 16 GB and 64 GB Sandisk cards and a 32 GB Mixza card. All were class 10 rated and worked perfectly with it. Although lately large capacity cards have become quite affordable, I'm afraid to use them. Based on my experience, memory cards can stop working suddenly or you can lose them easily.
DJI specs says that Osmo Pocket can be loaded with up to 256GB micro SD cards, which means about 6 hours of precious footage. Think about losing them all at once. IMHO, 128GB cards are an excellent compromise, they are quite affordable and allows you to record more than 2 hours, which corresponds to the battery life. While you charge the battery, you can also backup the content of the memory card. For best results I suggest to use "4K" rated cards from reputable brands.
Price & Availability
Starting with 2018, December 15, the OP can be ordered worldwide. You can purchase it directly from DJI online store, Amazon or many reputable online retails. While US customers need to pay US$349 for it, EU customers have to pay a bit more, around 359 Euros. The Osmo Pocket Expansion Kit is advertised for $109 and includes Controller Wheel, Wireless Module, Accessory Mount, and a 32GB Samsung micro SD card.
What's next?
As I'm planning to visit Egypt next month, I will request to extend the testing period. Till then I will continue to upload more Osmo Pocket sample videos to our YouTube channel. I'm also panning to compare it against other smartphones and action cameras.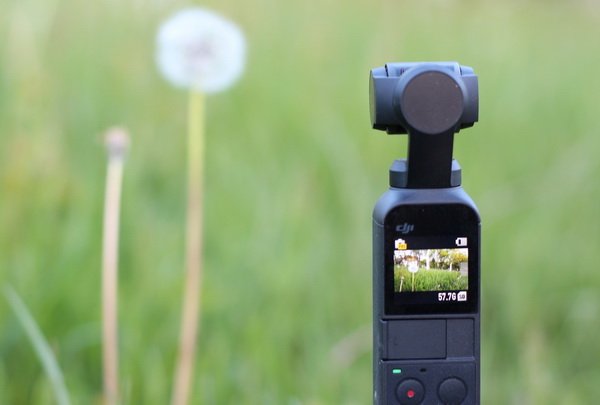 Editor's ratings
Price/performance ratio

Design and build quality

Image quality

Video Stabilization

Battery life

App Features
Verdict
The DJI Osmo Pocket gimbal is a must have travel camera for vloggers and social media activists, but, in order to explore its full potential, they will need to invest couple of extra bucks in accessories.
It is super small and it has excellent battery life. User interface and controls are very intuitive, you can learn to use it in just few minutes. Furthermore, does not necessary requires a smartphone.
IMHO, if DJI will release a second generation Pocket gimbal with optical Zoom will have no real contender in its market segment.
What I liked
Super small and versatile;
All-in-one solution, does not necessary require a smartphone;
One handed operation, easy to use controls;
Integrated live-view screen;
4K video recording with up to 60fps;
Time-lapse, Slow-motion and panoramic modes;
Excellent battery life;
Wide range of accessories, including waterproof case (not yet sold).
What I didn't liked
No micro USB connector included;
Lack of native wireless connectivity;
Need to wait a bit after power-on to be focused;
Auto-focus is occasionally sluggish;
Poor performance in low-light conditions;
Battery is built-in.
Common questions about the DJI Osmo Pocket
Can DJI Osmo Pocket zoom? No, the optics are not capable for such feature. However, digital zoom could be easily added in a future firmware release;
Does it features selfie mode? Yes, it has. By pressing 3 times the power button, the camera will face you and Face Track will be activated;
Is Osmo Pocket waterproof? Nativity no, but it is possible to be used underwater (up to 60 meters) with dedicated case (not on the market, yet);
Does the DJI Osmo Pocket record sound? Yes, it has a built-in microphone. Via USB-C you can also add an external mic;
How do I connect my Osmo Pocket to my phone? You have two options, wired via included USB-C or Lightning connectors or wirelessly via Bluetooth adapter (separately sold);
Can be used DJI Pocket Osmo with micro USB phones? Unfortunately, no official micro USB connector available at this time. However, at your own risk you can try a third-party USB-C to Micro USB or Lightning to Micro USB adapter.
How can I transfer the files from Osmo Pocket to my computer? You have two options: using the included USB-C cable (you need to remove any phone adapter from hot-shoe) or extract the card and copying the files using a card reader;
Is the battery removable? No, the 875 mAh battery is in-built and can be replaced by authorized service centers only;
It features 60fps at 4K? Yes, the highest video resolution is 3840 x 2160 at 60 frames/second;
Does it has a tripod mount? Unfortunately, no. But there are wide range of mounting solutions on the market including ¼ tripod mounts and GoPro compatible mounts.
Useful resources for Osmo Pocket owners
More OP sample videos: