While the Blade Scimitar 110 seems to be an upgraded successor of the Torrent 110, it still features only F3 flight controller, not F4 one. In order to make it more aerodynamic, the large Whoop style blade protectors are trimmed. Like in case of its predecessor, all the electric parts are well protected by an injection molded plastic canopy.
Out of the box, the F3 flight controller comes with BetaFlight firmware and professionally tuned. Through the BetaFlight configurator you can personalize the factory settings, of course. Using this tool you can also configure the programmable status LED array.
The lifting power is generated by 4 pieces of 1106-6000Kv brush-less motors equipped with 2.5″ propellers. The motors are driven by a 4-in-1 10A ESC.
Blade Scimitar 110 (BLH04150) features & specs
Durable 110mm sized carbon fiber frame in new stretched X configuration;
Injection molded protective plastic pod;
Fully assembled and Professionally Tuned (Ready to fly right out of the box);
F3 Flight Controller w/ Betaflight OSD;
1106-6000Kv brushless motors;
10A 4-in-1 ESCs (pre-flashed DShot 600 firmware);
2.5″ 3-leaf propellers;
600 TVL FPV camera with 120° field of view;
5.8G FPV with variable power (25-150mW) and MMCX antenna connector;
VTX telemetry (remote channel & power adjustment);
Circular polarized 5.8G antenna;
Spektrum Serial radio receiver;
Programmable status LED strip (2×3 configuration);
2s & 3s LIPO compatible.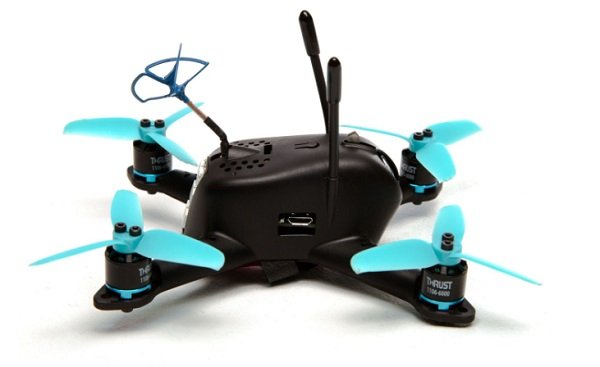 In front of the Blade Scimitar 110 quadcopter there is a 600TVL FPV camera with 120 degree wide angle lens. The angle of the camera can be adjusted between 0 and 30 degrees. The transmission power of the VTX can be adjusted manually, as well as remotely, through your Spektrum G2 transmitter. The Betaflight OSD provides flight data such as flight time, battery voltage, video frequency and much more.
Needed to Complete (Scimitar 110 BNF Basic package):
DSM2/DSMX compatible remote controller;
2S 800mAh or 3S 450mAh LiPo Battery;
Compatible LiPo battery charger;
FPV Headset or Monitor for FPV flights.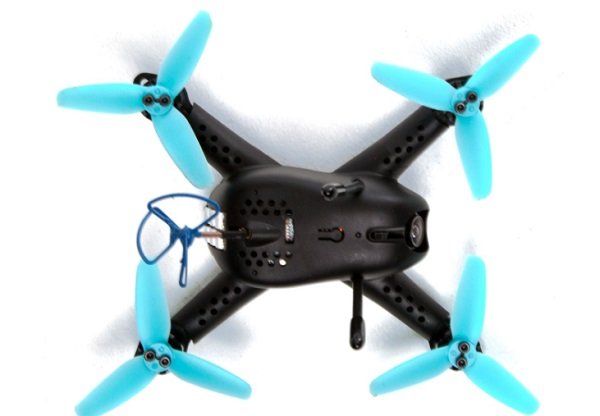 Photo credit to Horizon Hobby