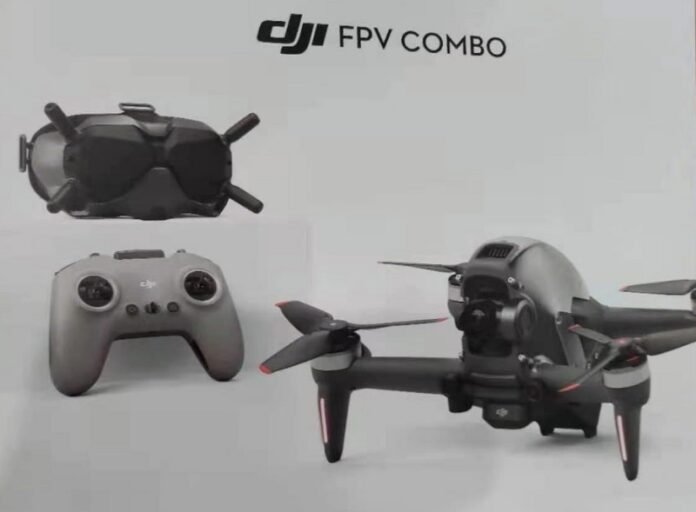 I'm sure that everyone has already seen these leaked photos of the upcoming DJI FPV drone. The images show DJI's first FPV drone sold in combo with a new redesigned DJI FPV remote controller and possibly an upgraded DJI FPV Goggles V2. The source of the images is OsitaLV, the trustful and reputable DJI leaker.
2020 was quite an active year for DJI, they released two new drones (MINI 2 and Mavic Air 2) and three gimbals (Pocket 2, Osmo Mobile 3, and Ronin S 2). For sure, their FPV drone will be the cherry on the cake for many RC enthusiasts.
DJI's first FPV drone has a cool spaceship style design with some frosted plastic canopy. Most likely it will feature GPS positioning and other smart functions. The battery seems to be loaded from the tail of the drone. As you see in the image below, there is a heat sink on top of the drone's which could be the upgraded DJI Air Unit with an integrated flight controller.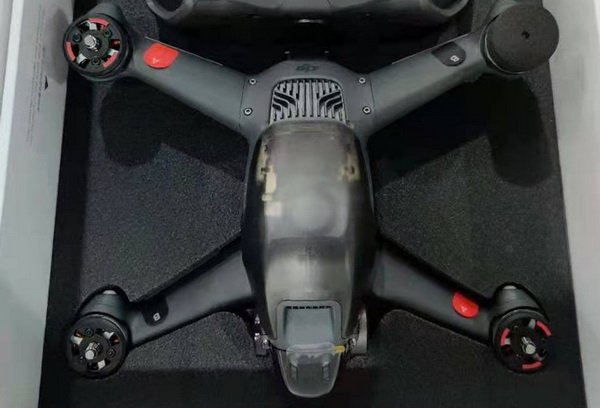 I already planned to make de switch from analog FPV to digital FPV in 2021, and I made some savings for this purpose. To be honest this leak stopped me from pulling the trigger. I found quite limiting that the actual DJI FPV goggles not have an HDMI input to connect a game console or other digital inputs. Hope that the V2 will have such features for the same price, of course.
Update:
DJI FPV drone video reviews
What we expect from the DJI FPV drone (desired features)
Robust carbon fiber frame with 4-5″ propellers;
To be lightweight (under 250 grams);
4K@60fps on-board recording;
Mechanical gimbal stabilization and remote camera angle adjustment;
4-6S battery compatibility;
3 flight modes (Angle, Horizon, and Acro);
Top speed of 150~200kph;
GPS for fail-safe return to home;
Remote ID (

UAS Remote Identification

);
Lastly, to be affordable :).
DJI FPV Goggles V2 specs
Weight: Approx. 420 g (headband and antennas included);
Dimensions: 202×126×110 mm (antennas included), 184×122×110 mm (antennas excluded);
Screen Size: 2-inch × 2;
Screen Resolution (Single Screen): 1440 × 810;
Screen Renew Rate: 144 Hz;
Communication Frequency: 2.400 – 2.4835 GHz*; 5.725-5.850 GHz;
Only supports 5.8Ghz when used with DJI FPV Air Unit;
Transmitter Power (EIRP):

2.400 – 2.4835 GHz FCC/MIC: ≤28.5 dBm; CE: ≤20 dBm; SRRC: ≤20 dBm; MIC: ≤20 dBm;
5.725-5.850 GHz FCC/MIC: ≤31.5 dBm; CE: ≤14 dBm; SRRC: ≤19 dBm;

Live View Mode: Low-Latency Mode (810p 120fps); High-Quality Mode (810p 60fps)
Video Format: MP4 (Video format: H.264);
Supported Video Play Format: MP4, MOV, MKV (Video format: H.264; Audio format: AAC-LC, AAC-HE, AC-3, MP3)
FOV: Adjustable from 30° to 54°. Adjustable image size from 50%-100%;
Interpupillar Distance Range: 58 -70 mm;
Supported Storage Card: microSD cards with storage capacities of up to 256GB;
DJI FPV Goggles Battery:

Capacity: 1800 mAh
Voltage: 9 V (Max.)
Type: LiPo 2S
Energy: 18 Wh
Max Charging Power: 10 W
Battery Life: Approx. 110 minutes (measured in an environment of 25°C at maximum brightness level)
Last updated on January 11, 2021