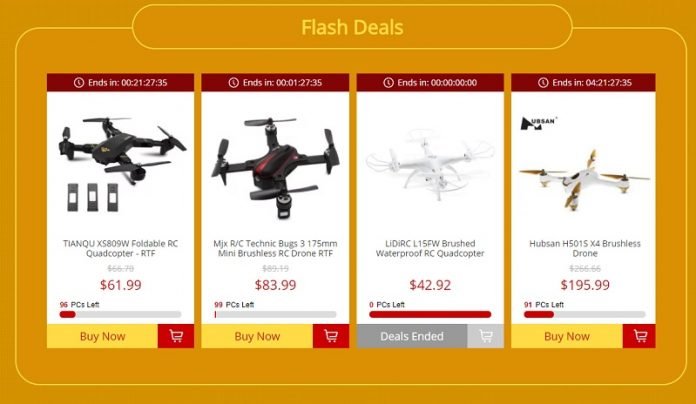 There are some truly amazing drone & quadcopter deals at the moment but nowhere more than on GearBest – many's favorite online retailers.
GB's mega deals have been going all summer long. We're seeing nice discounts on DJI Mavic Pro Platinum, Xiaomi Mi 4K, Hubsan H501S X4, and Helifar X140, just to name a few. They also have some great deals on FPV goggles and drone remote controllers.
Hottest drone deals for June 2018
For June 2018 I chose to share with you 4 different types of drones. From a mini racing drone to a versatile GPS-enabled cruising drone. Of course, a cheap selfie drone is also included on the list, as they are becoming more and more popular. So whether you're gearing up for Drone Racing World Cup or looking to start your drone filming business, there is bound to be something for you.
VISUO XS809W with 3 batteries for only $61.99
The Siluroid XS809HW, as you can see right at the first glance, it is a copy of Mavic Pro from the market leader DJI. It features a similar attractive design with foldable arms.
Siluroid XS809W is available with two types of cameras, a basic 0.3MP camera and a more versatile 2MP HD camera. Both versions support WiFi real-time image transmission (FPV).
According to the manufacturer's specs, the 900mAh LiPo allows about 10 minutes of flying time. With 3 batteries you can achieve up to 30 minutes of playtime. In order to let the motors cool down, my suggestion is to rest a few minutes between flights.
Xiaomi MITU Mini WiFi FPV drone with 24% off
Measuring only 91 x 91 x 38 millimeters, it can be easily transported in your pocket. Of course, due to its small size, can't have the high-end features of its bigger brother, the Xiaomi Mi 4K.
The Xiaomi MiTu is equipped with a front camera that can shoot HD videos (720p) and take photos with a resolution of 1600 x 1200 pixels. Also, MiTu drone comes with WiFi first-person view (FPV).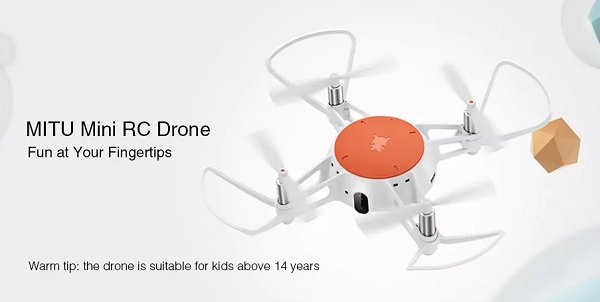 While many like the idea to control their drone simply by phone, it has the disadvantage of limited control range. According to the specs, the maximum height that Mitu can reach is 25 meters and the range it can fly away from the pilot is only 50 meters.
Helifar X140 PRO Micro FPV racing quadcopter for only $158.99
From the many available FPV drone promotions, I opted to share the Helifar X140 PRO because I personally ordered it so that I can review it. Its top-notch hardware is paired with a robust carbon fiber frame.
The best part about the HeliFar X140 is that can be configured with multiple flight modes. Angle mode ensures that even a complete newbie will be able to use it.
Its powerful 1408 3800KW brushless motors are paired with 4-leaf propellers. The FPV system is achieved by using a 600TVL camera and a 5.8G VTX with switchable transmission power (25mW / 100mW / 200mW).
DJI Mavic Pro Platinum deals
Currently, DJI Mavic Pro Platinum is the best small drone you can buy. Its innovative folding design allows to stow it easily in a camera or shoulder bag, and it has a dedicated remote which allows up 7KM flight range. Note: the range may vary according to your geographical location.
Compared to its predecessor, the "Platinum" edition has a longer flight time and 60% quieter propellers which makes it more suitable for wildlife filming.
I suggest you act quickly if any of the above aroused your interest, as supply – and savings – can always run out!