The VISUO XS809HW quadcopter, as you can see right at first glance, is a copy of the Mavic Pro from the market leader DJI. It features similar design with foldable arms.
To be honest, not everyone wants to pay 100 or even 1000 of dollars for drones with fancy features that they can't explore. Don't mention that newbies usually destroy couple of drone till they master some flight skills. Cheap drones like the VISUO XS809HW (aka TIANQU XS809HW) are excellent for practicing flights.
The XS809HW drone was announced with two type of cameras, a basic 0.3MP camera and a more versatile 2MP HD camera. The price difference between the two variants is about $3.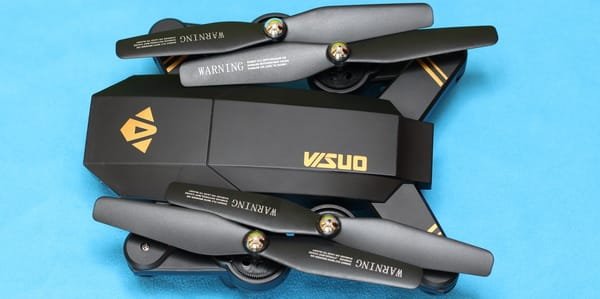 VISUO XS809HW quadcopter highlights
Mavic alike design with foldable arms;
Altitude-hold with barometric air-pressure sensor;
Dedicated buttons for Landing and Take off;
Emergency stop button;
Headless flight mode;
Multiple control modes (Physical remote control, Virtual sticks, Smartphone Gyro);
2MP, 720P, HD camera for aerial filming;
Wi-Fi real-time image transmission;
Multiple flight-speed rates;
Up to 10 minutes of play time.
SILUROID VISUO XS809HW in-depth review
Disclosure: I received this VISUO XS809HW quadcopter as part of a product review collaboration with Banggood. Although the product was a gift, all opinions in this review remain my own and I was in no way influenced by the sponsor.
I received this new drone just in time, as my son recently crashed his favorite toy. He became very sad so I promised him this Mavic clone.
Inside the box I found besides the aircraft and its transmitter a complete set of spare propellers, 1 set of blade protectors, flight battery, USB charging cable, screwdriver and user manual.
VISUO XS809HW  – First impression / Design and build quality
As I previously mentioned, the aircraft has similar design lines to those of the DJI Mavic Pro. Arms are foldable but not the propellers.
The build quality is nice. It uses only plastic, but you need that to keep it light, to make it airborne. The included propeller protectors are highly recommended to be used by first-time pilots.
During night flights you will be guided by 4 LED lights. Green LEDs in the front and red ones on the rear (one under each motor). Two additional red LEDs in front will help you track the orientation of the aircraft.
The 900 mAh battery is loaded from the bottom of the quad. According to the manufacturer's specs, with a fully charged battery you can have up to 10 minutes of fun time. The drone is equipped  with a "classical" ON/OFF power switch, so you won't need to unplug the battery when you store the drone for longer period. BTW, the battery has micro USB port and can be charged with almost any phone charger.
VISUO XS809HW review – Camera
The 720P camera is located in front of the drone and it comes with wide angle lens (120 degree FOV). Slight angle adjustment is possible.
After I carefully look on the bottom of the drone I found a micro SD slot near the power switch. Pleasant surprise, because you are able to record the journey of your flight without a smartphone. "On-board" recording has also better image quality than capturing from the live-video feed.
Eight minutes of recorded video (1280×720@20fps) occupies about 270MB on the camera's micro SD card.
The Wi-Fi FPV range is about 40 meters and has low frame rate. I think that I will replace the stock camera with a 5.8G AIO camera (the Eachine DVR03 with integrated DVR will be just perfect for the job).
VISUO XS809HW review – Remote controller
The XS809HW drone features multiple control modes. It can be controlled with the included transmitter (RTF package) or through your smartphone – using virtual sticks or gravity sensor.
The nice game-pad style transmitter comes with a foldable phone holder. Adopting alt-hold feature, both sticks are centered. The RC is powered by 3 pierces of AA batteries.
While the left shoulder button allows to toggle between speed rates (30%, 60% and 100%), the right one allows to enable the 360 degree flip mode.
On the left side of the remote controller are two dedicated buttons (Take-off and Land) which allow to conveniently start and end your flights. On the right side, besides the Power button, there are 4 additional buttons: Photo, Video, Headless Mode and One key return to home.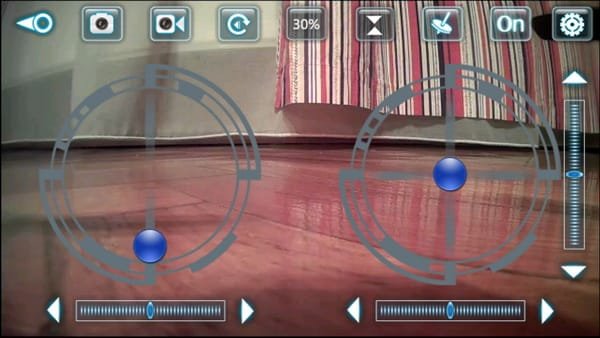 Although in my opinion is not the easiest and accurate way to control the aircraft through the XSW UFO APP, kids will love to pilot this way. It is similar to playing with a car simulator. Anyway, the APP is also necessary to display the camera's live-video feed on your smartphone.
VISUO XS809HW review – Test flight
Last weekend had the perfect spring days for test flights. Not too hot and not too windy.
Starting your flight is very easy, you just need to push the "Take-off" button near the throttle stick and the XS809HW will rise one meter above the ground and start to hover.
Even at 60% speed rate is surprisingly fast but not as fast as a racing quad is. The altitude hold performs very well. Although at full speed, takes very well low wind gusts, I would not recommend to fly on strong wind.
If you fly out of control range, the drone will land automatically after few seconds. Nice feature, especially if you love to fly at big heights.
The advertised flight time is realistic, my first flight ended after about 8 minutes.
If something wrong happens, you can always instantly halt all the motors using the "Stop" button.
Price/performance ratio

Design and build quality

Transmitter

Camera / WiFi FPV
VISUO XS809HW review - Summary
Surely, the excellent flight time and well tuned speed rates makes the VISUO XS809HW an excellent learn to fly drone. The altitude hold performed very well.
While the wide angle lens help a lot to practice FPV, due to the WiFi latency and low frame rate, it is a risky game.
For those who are in lack of summer gift ideas, this VISUO XS809HW can be found on BG website here at $52.99 with free shipping. Note: there is also a cheaper version of this drone called XS809W but without altitude-hold feature.
Pros
Foldable arms;
Multiple control modes;
Decent flight performance;
Altitude hold is very accurate;
Excellent flight time;
On/Off power switch.
Cons
Proprietary battery;
Lack of spare parts.