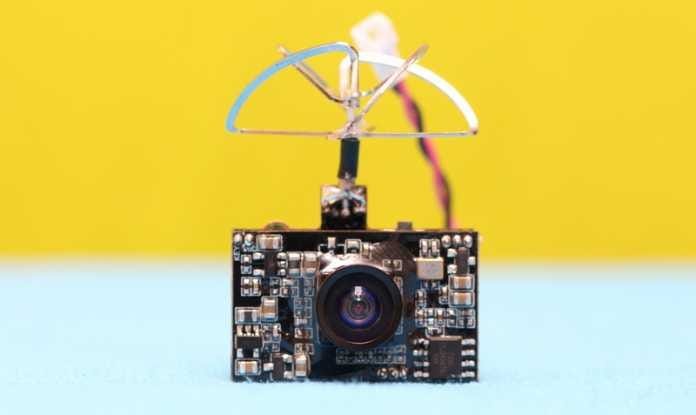 Eachine DVR03 FPV camera with integrated DVR (video recorder)
At first impression, adding video recording feature to a FPV camera sounds very good. Using the Eachine DVR03 camera you will not need any additional device to capture the journey of your flight. Yes, this is great, but think about you crash on a river and your videos are gone.
Over the last year I reviewed and tested many FPV cameras from Eachine. Although they didn't offered the best image quality I concluded they have one of the best price/value ratio on the market.
For sure, under $30 you will not find any camera with so many functionalities like this Eachine DVR-03.
Eachine DVR 03 camera features
First 4 in 1 FPV camera (DVR, VTX, Antenna and 520TVL camera);
Lightweight and super mini size;
Low input voltage (suitable for 1s batteries);
7 segment status LCD;
72CH 5.8G VTX with adjustable broadcast power;
1280×720 @ 30fps video recording;
Video playback.
last update on 20th of April, 2017
Eachine DTX03 with switchable broadcast power (25mW, 50mW and 200mW)
Eachine announced a upgraded version of this camera called DTX03. Biggest difference of this new DVR VTX camera compared to its predecessor is the adjustable TX power. The broadcast power of Eachine DTX03 can be toggled between 25mW, 50mW and 200mW.
On highest power (200mW), the DTX03 camera is suitable for long range flights.
Eachine DVR03 review with pros and cons
Before I get into details, I should thank Banggood for offering this camera. Although over the last years they sent me many products for testing, they never requested to write my reviews in a favorable way from them.
The usual delivery time from China to my country is about 20-30 days but this time China Post broke the record. I received the camera after 62 days.
Opening the package, firstly I noticed that the Eachine DVR03 is slightly bigger than other Eachine FPV cameras I reviewed.
Besides the camera, I found inside the box only a power adapter cable, lens cap and DVR03 user manual. Unfortunately there aren't included any mounting accessories and you have to improvise something by yourself.
Eachine DVR03 review – At a glance
The Eachine DCR03 VTX camera weights about 7 grams and measures 30.3 x 18.4 x 11mm without antenna. The nickel-plated 4 leaf antenna is directly soldered on the top of the camera's main board.
On back of the camera is located a nice 7 segment LED display, microphone and 3 micro push buttons. While short pressing the "CS2" button you can toggle between start/stop video recording, by long pressing you can enter into the settings menu. The "CS1" key enables the video playback mode.
The micro push button on top of the camera allows to configure the VTX module. While short pressing this button you can switch between TX channels and longer pressing (2 seconds) you can cycle between TX bands (A, b, E. F, r, L, 1 0, L H). By long pressing (5 seconds) the same button you can switch between 0, 25mW, 50mW and 200mW broadcast power.
Unfortunately, the integrated microphone allows only to record audio but doesn't work in FPV mode.
The micro SD slot is located on the right side of the camera (behind the CS1-CS3 buttons). According to the manufacturer's specs, the DVR03 is compatible with up to 32GB memory cards and class 10 is recommended.
Eachine DVR03 review – Test
Firstly my plan was to mount the DVR03 camera on my Syma X8SW but, being enthusiast to test it, finally I decided to go in the nearest park an do the test holding the camera in my hand.
I powered the camera with a 600mA battery (1s – 3.7volt). Setting up the DVR03 is very simple, in just 2 minutes I got clear image on my Eachine LCD5802S FPV display.
If a micro SD card is loaded into the camera, recording will start automatically on power ON. An OSD timer will be shown on your FPV display. When you are done, press "CS2 – middle button" to stop recording.
In daylight condition the image quality is quite good but the 1lux sensitivity is just not enough for night flights.
Unfortunately there is a noticeable delay between what the camera sees and what shows the FPV screen. Experienced FPV pilots know that lag kills any fun.
The transmission range is excellent for park flying even at 25mW.
Two minutes of recorded video (1280×736 at 30fps with mono audio) occupies on the micro SD card about 210MB. By default, the recorded videos are splitted in 3 minutes sequences.
Thanks to the playback feature, you care review your flights right on the field.
After few minutes of usage the camera became very hot, so I ended my test. BTW, is it healthy to keep for longer period such a device in your hand?
Price/value ratio

Design and build quality

Performance and image quality
Eachine DVR03 review - Verdict
Certainly if you don't want to invest too much in your FPV system, this DVR03 camera is a great option. In case you need a fast FPV camera (almost 0 latency) with superior light sensitivity you should look for another model.
In my opinion, the DVR03 is a great concept and hopefully Eachine will continue to develop it.
Those who are interested to test the DVR03 can order it from here for $39.99 including free shipping.
The good
Affordable all-in-one camera;
Compact size;
Very easy installation;
Adjustable output power;
Recording directly from the source (no RF noise).
The bad
Poor performance on low light;
Light handling is very bad when transitioning from light to dark;
Audio works only during recording;
No recording indicator LED.
The ugly
Huge latency, not suitable for FPV goggles;
Lower frame rate during recording.