After the FIMI X8 SE coupon code, we are back with another Xiaomi drone deal. As we're expecting the announcement of the much versatile X8, this brings the price dropping of the FiMI A3, good news for frugal shoppers since it means you can now score an A8 at its lowest prices to date back.
Not everyone needs a super powerful drone, especially if you just want something for the basics, like flying around the house, experiencing FPV flights. In case you don't feel like wanting to spend $1000 on a DJI drone for that, you can get something for far less.
Sponosored AD
Xiaomi FiMI A3 coupon deal
Now, this quadcopter is listed for $299.99, which would already be a solid deal. You can apply the d5b1b8 code at checkout in order to take 15% off the price ($45). That leaves you at $254.99, which is cheaper than FiMI's official price. With the savings you can purchase a dedicated backpack for the FiMI A3 or a spare battery. Note: the code is valid till 2019-03-31 and it is limited to 300 pieces.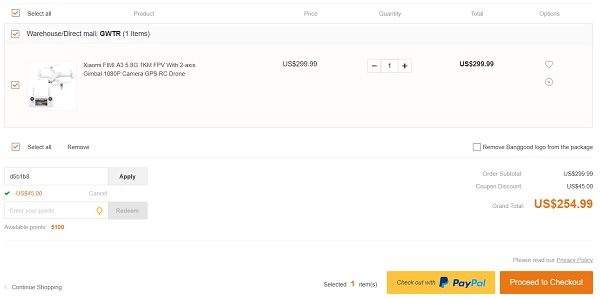 last update on 18 March 2019