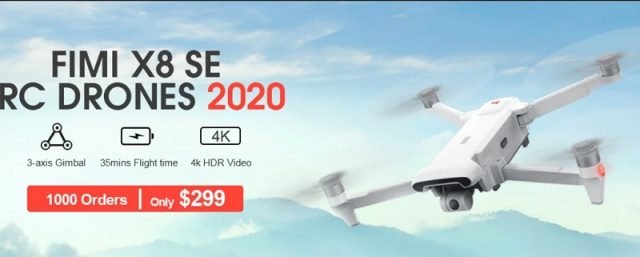 Xiaomi's latest GPS enabled 4K drone, the FIMI X8 SE 2020 is now offered with a huge discount, if you are lucky. During BG pre-order lucky draw you can win the $299. Featuring stabilized 4K camera, up to 8K range and 35 minutes flight time is the best bargain ever!
The first lucky 1000 orders can have the Xiaomi X8 SE 2020 for only $299, which is even less than its predecessor sold right now. I think this massive price drop is related to DJI's new release which will be revealed on April 27th, 2020. Drone enthusiasts expect that behind the "Up Your Game" slogan is the upgraded Mavic Air 2. Frankly, drone brands like FiMI and Hubsan can compete with DJI – Leader of drone technology only by price, as features and product reliability, are far behind the king.
FIMI X8 SE 2021 coupon code
Now, during Banggood "Epic Coupon Code Festival" you get the FIMI X8 SE for only $389 using this 'BGFIMIWE' coupon code. This is a limited time, price drop offer!
Update: Now using this "BGFIMIX8SE20" coupon code you can have it for $479.00 instead of $599.00. Note: Currently, the X8SE2020 is out-of-stock at most retailers.
According to BG's lottery rules, this amazing price is valid between April 16 and April 30, after this period the price will be again $499 (without discount coupons). In case you want to take advantage of this deal you should consider that there are already 312 pre-orders and the promotion is valid only for 1000 purchases. Note: Expected processing time on April 29th, 2020.
BG's Lucky draw rules
Order FIMI X8SE 2020 from April 1 to April 30th.
Lottery rules:
save your order ID, BG will generate a drawing link on May 3rd for everyone who participated;
BG will randomly select 1000 lucky customers who will get the FIMI for just $299, the difference will be returned to customers account;
lucky draws will be announced in real-time!
FIMI X8 SE 2020 highlights
Compact size with foldable arms;
Triple satellite navigation system (GPS+GLONASS+BEIDUO);
Optical flow positioning with a range of up to 30 meters;
Good wind resistance (≤50 kph);
On-board 4K camera with long-range FPV (TMDA HD);
HDR video and photo;
Excellent night shot capabilities;
3-axis mechanical gimbal;
Up to 8 KM flight range;
Impressive of 35 minutes of flight autonomy.