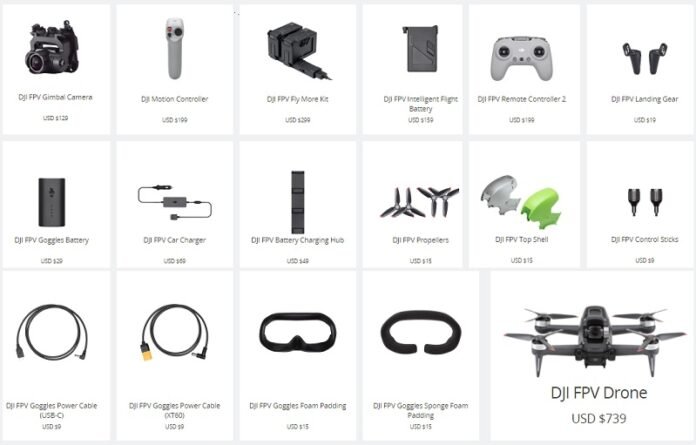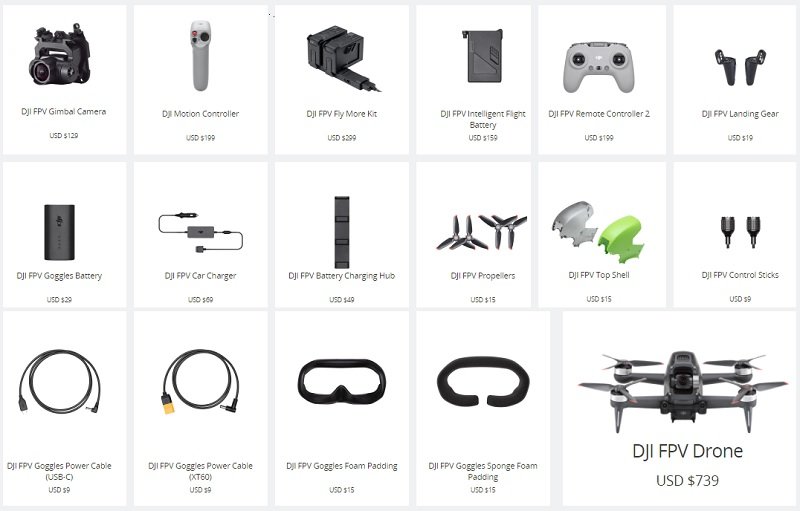 If you ever own an FPV drone before, you probably already know that they do not last forever. During a risky maneuver, you can hit a tree or a building which can produce serious damage to your aircraft. These situations are covered by a paid DJI FPV drone Care Refresh premium service, but only 2 times for a 1-year plan and 3 times for a 2-year plan. What happens if you crash it more times? Or if the repair process (spare part) will cost you less than the replacing unit fee?
During crashes, most likely will suffer one or more propellers and the camera gimbal. Set of spare propellers are available for $15, and the DJI FPV Gimbal Camera for $129. A detailed tutorial about how to replace the gimbal by yourself is available on the manufacture's website. Spare arms and motors will be soon available, as they can break easily during collisions. In case of total damage, you can purchase a brand new DJI FPV drone with one battery for $739.
The DJI FPV Combo pack includes Goggles, Transmitter, and one flight battery. In case you want a longer flight time, there is an option for one or more spare batteries. DJI sells FPV drone batteries for $159. They also have Fly More Kit with two batteries and included a charger hub for $299. Between the available optional accessories is the brand new motion controller which allows one-handed operation.


Where to find genuine and third-party DJI FPV drone parts?
Disclaimer: This article includes affiliate links!
Last updated on 25 June, 2021