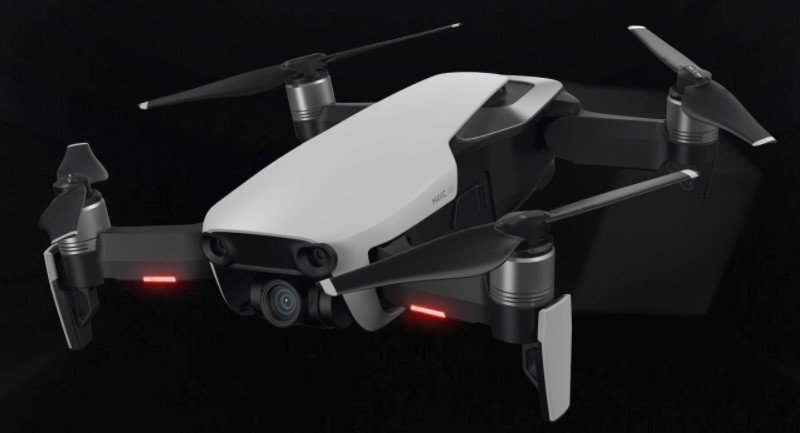 It looks like the rumors were true, finally DJI officially revealed their Air drone. At first look it is a mix of advantages and disadvantages, a kind of compromise between Mavic Pro and the little Spark. The additional portability coming from the smaller size brings unwanted shorter flight time.
The lightweight Mavic Air features a camera with a 1/2.3″ CMOS sensor, a 24mm, f/2.8 wide-angle lens (85° FOV) and a 3-axis mechanical gimbal. AIR's camera can capture 12 Mp still photos and up to 4K footage at 30 frames per second. Slow-Motion videos (1080@120fps) are also possible using the Mavic Air.
Folded, the drone is very compact (168×83×49 cm) and super easy to transport. BTW, it seems that takes up less space than the Spark!
DJI MAVIC AIR key features and specs
Compact size with foldable arms;
Intelligent positioning system (GPS and GLONASS);
Dual control mode (Phone APP and RC);
Upgraded ventilation system prevents overheating;
7-camera obstacle avoidance system;
Intelligent flight modes (Active track, Quick-shots, Smart Capture and Tap to fly);
Increased signal coverage with new omnidirectional antenna;
8GB internal storage;
Three-axis stabilized camera;
4K video resolution (4096×2160 @ 30fps – 100 Mbps);
Amazing 1080p@120fps slow-motion videos;
24mm F2.8 lens and 85° FOV;
Up to 21 minutes flight time;
About 4 km flight range;
Up to 80 meters control range with phone;
Reaches speeds up to 68.4 kph;
Up to 21 minutes flight time;
168×83×49 mm folded and 168×184×64 mm unfolded size.
Remote controller
Like the Spark and Mavic Pro, the AIR also comes with a nice ergonomic remote controller. Front panel is very minimalist, no status screen, only 4 control buttons. Detachable control sticks are stored inside the remote transmitter in order to pack the drone more comfortably on the go.
Additional to the included transmitter, the Mavic Air drone can be also controlled through the smartphone DJI GO 4 APP. Unfortunately, the control range is much shorter compared to physical remote control.
Battery life
According to DJI, the 3s, 2375 mAh LiPo battery allows up to 21 minutes of flight time, about 9 minute shorter than its bigger brother, the Mavic Pro Platinum. Additional Mavic Air intelligent flight batteries can be purchased for $79.
Flight modes
Mavic AIR features many software based inteligent flight modes. Bellow are described each of them by DJI.
ActiveTrack
ActiveTrack can sense up to 16 selectable subjects simultaneously, 2 letting you choose the right tracking subject. With higher tracking precision and broader scenario applications, ActiveTrack follows targets even when they're running, jumping, or cycling.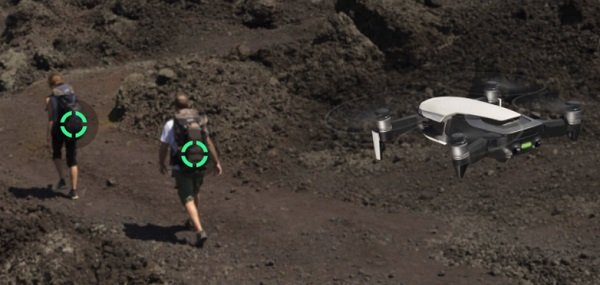 QuickShots (Asteroid and Boomerang)
Choose from six different QuickShots — Rocket, Dronie, Circle, Helix, Asteroid, and Boomerang. All are just a tap away and will get you those epic selfie drone videos without needing to think about composing your shot. Share your new creations to social media through the DJI GO 4 app instantly.
Smart Capture
Fun, simple, and intuitive, SmartCapture offers a new and interactive way of controlling the Mavic Air by hand. Launch and control the drone with hand gestures, then take photos or videos however you like.
TapFly
If you want to focus on just your shot, select TapFly in DJI GO 4, which lets you fly wherever you tap on your mobile device screen. TapFly works in Forward, Backward, Free, and Coordinate modes, and you can adjust flight speed to suit all your aerial needs.
There are also special photo modes that let you capture 32 Mp spherical panorama photos (by shooting and stitching 25 photos), horizontal and vertical panoramas are available as well.
Price
The Mavic Air quadcopter costs $799, compared to the $999 retail price of the original Mavic Pro. You can also get a "Fly More" bundle kit that comes with 3 Extra batteries, battery charging hub, 2 sets of propellers, a caring case, a travel bag and other extras for $999.