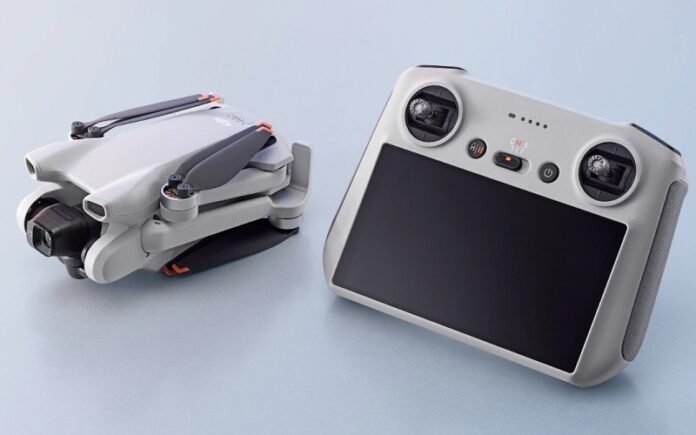 In 2022 the drone market started to shrink mainly due to higher prices and stricter regulations. Higher production costs, Remote ID, 250 grams weight limit, No-fly zones, and other things made us think twice before pulling the trigger for a new drone. DJI's new Mini 3 drone targets those who are not want to invest a fortune in a drone and fly legally for non-commercial recreational purposes without having to register with the FAA.
When the DJI Mini 3 Pro arrived in May this year, it disappointed those who were used to the attractive price of the MINI series. The new MINI 3 non-Pro is $200 cheaper ($669 vs. $469) in drone only package. The price cut comes with losing the ability to avoid obstacles. Without the Forward and Backward obstacle sensing sensors, the DJI removed the Active tracking and APAS 4.0 features from their new budget drone.
The Mini 3's design is almost identical to that of the Mini 3 Pro. The 3-axis gimbal and 4K camera are practically the same. They can rotate to capture TikTok-friendly vertical videos as well. It also supports Quick Shots (Dronie, Helix, Rocket, Circle, and Boomerang), which provides cinema-grade results and gives you a break from manual control. Unfortunately, the Mini 3 'Classic' can record 4K videos only at 30fps, not 60fps like its Pro-brother.
DJI Mini 3: Range and controller options
Featuring DJI O2 digital video transmission system, the advertised range of the MINI 3 Standard is up to 10KM in FCC mode and 6KM in CE mode. The Mini 3 is compatible with DJI's RC remote controller with a built-in FPV screen and the entry-level RC-N1 as well.
DJI MINI 3: Battery options and flight time
The DJI MINI 3 was announced with two battery options. While the standard 2s 2453 mAh pack provides up to 38 minutes, and the 2s 3850 mAh Pro up to 51 minutes. Of course, if you're fighting against wind or flying in high-speed Sport mode, you'll cut into battery life. You should consider that when the MINI 3 is powered by a higher-capacity battery, the take-off weight is about 290 grams.
DJI Mini 3: Key features
Budget-friendly 4K camera drone under 249grams;
True vertical shots and 4K HDR Video;
3-axis gimbal stabilization;
Creative QuickShots (Dronie, Circle, Helix, Rocket, and Boomerang);
Wide angle, 180° and Sphere panorama modes;
DJI O2 digital video transmission system with a range of up to 10km;
Two controller options (DJI RC and RC-N1);
Level-5 wind resistance;
Up to 51 minutes of extended battery life.
Technical specifications
Takeoff Weight
Standard battery: 248 grams
Plus battery: 290 grams
Dimensions
Folded: 148×90×62 mm
Unfolded: 251×362×72 mm
Camera
4K@30fps or 2.7K@60fps
Image sensor
1/1.3-inch CMOS
Effective Pixels: 12 MP
Max Video Bitrate
100 Mbps
True vertical shot
Yes
FPV
720p/30fps
Communication
OcuSync 2.0
Max FPV Distance
FCC: 10 km \ CE: 6 km \ SRRC: 6 km \ MIC: 6 km
Wind level
10.7 m/s (Level 5)
Intelligent flight modes
Dronie, Helix, Rocket, Circle, and Boomerang
Active tracking
No
Obstacle sensing
Downward vision system
Remote controller
DJI RC-N1 and DJI RC
Flight battery
Intelligent Flight Battery: 2453 mAh
Intelligent Flight Battery Plus: 3850 mAh
Battery life
38 minutes (with Intelligent Flight Battery)
51 minutes (with Intelligent Flight Battery Plus)
Release date
9 December 2022
Price
Standard: $469 (PNP), $559 (DJI RC-N1), $699 (DJI RC)
Fly more combo: $718 (DJI RC-N1), $858 (DJI RC)
DJI Mini 3 In-Depth Review: Everything You Need to Know by DC Rainmaker