The rumors say that DJI is planning to release their MINI 3 in April of this year, but till then what are the best Drones Under 250 grams (0.55lbs) right now? Let's find out from this in-depth comparison guide.
First of all, why is this weight limit is so important? In most countries including the US, recreational pilots, those flying just for fun and not for the furtherance of a business, do not have to register their drone if the flying weight is below 250grams (55 pounds). However, they still need to follow some general safety guidelines.
Back in 2019, DJI realized that most drones under the FAA's 250grams weight limit were just cheap toys with no advanced features, and they saw an opportunity to extend their product range by introducing the highly capable Mavic MINI that become an instant hit. For more than one year they ruled this new market segment. The success story continued with introducing the MINI 2 which now had a 4K camera and improved battery life. Of course, its biggest rivals Autel, FiMI, and Hubsan also wanted their market share.
After DJI, FIMI was the first brand that introduced a GPS-enabled smart drone that weighs less than 250g and has a 4K camera. The FIMI X8 MINI is still on the market and is probably the best budget 250grams drone.
In 2022, we want not just medium but high-end features from sub 250g drones. This is why our Top 3 list includes only quadcopters with an advanced obstacle avoidance system (OAS).
Best drones Under 250 grams with OAS
Last year we tested most of the important releases in this weight segment. In the table below we compared the most important specs of the Autel EVO Nano Plus, Hubsuan Zino MINI Pro, and the upcoming DJI MINI 3. When you are purchasing a new drone, regardless of the weight class, you should consider besides budget things like Range, Battery life, Camera performance, Stability, Wind resistance, Smart and Safety features.
| | | | |
| --- | --- | --- | --- |
| | DJI MINI 3 Pro | Autel EVO Nano+ | Hubsan Zino MINI Pro |
| Size | 145×90×62 mm | 142×94×55mm | 137x88x61.6mm |
| Weight | 249 grams | 249 grams | 249 grams |
| Camera | 4K@60fps | 4K@30fps | 4K@30fps |
| Image sensor | 1/1.3″ CMOS | 1/1.28″ CMOS | 1/1.3″ CMOS |
| Photo resolution | 48MP | 50MP | 48MP |
| Zoom | 4X digital | 4X digital | 4X digital |
| Gimbal | 3-axis | 3-axis | 3-axis |
| True vertical mode | Yes | No | No |
| Smart flight modes | Circle, Dronie, Helix, and Rocket | Rocket, Fade Away, Orbit, Flick | Orbit, Line fly, |
| Active tracking | Yes | Yes (on paper) | Yes |
| Flight time | 34/47 minutes | 28 minutes | 40 minutes |
| Battery capacity | Standard and Plus | 2s/2250mAh | 2s/3000mAh |
| Range | 12Km | 10Km | 10Km |
| Communication | OcuSync 3.0 | SkyLink | Syncleas 3.0 |
| FPV resolution | 1080P | 1080P/2.7K | 1080P |
| Internal memory | NO | None | 64GB/128GB |
| Obstacle avoidance | Yes 3D | 3 Direction (Front/Back/Down) | 3 Direction (Front/Back/Down) |
| Smart FPV controller | Optional | NO | NO |
| Price | $759 | $949.00 | $699.99 |
1. Hubsan Zino MINI Pro – Best flight time under 250grams
Weight: 249g | Camera: 4K/48MP | FPV: Syncleas 3.0 | Flight time: Up to 40 minutes | Features: GPS, RTH, Follow me, Precision landing, OAS | Range: 10KM | Package: RTF
Hubsan was the first manufacturer that released a drone under 250grams with an advanced obstacle avoidance system (OAS). Initially, the Zino MINI Pro was a great success but soon as was released on the market, crash reports started to come. Many pilots complained that they received a USB disconnection warning midflight which often ended badly.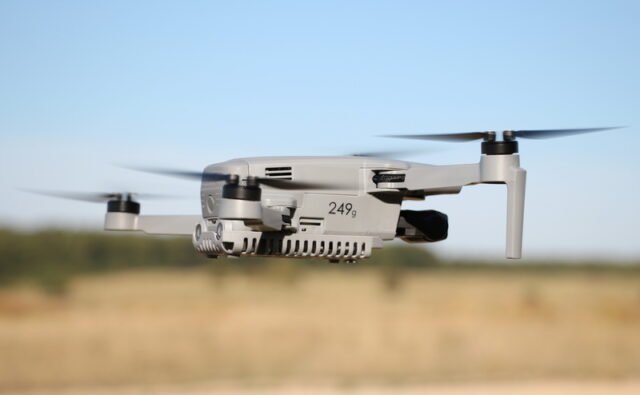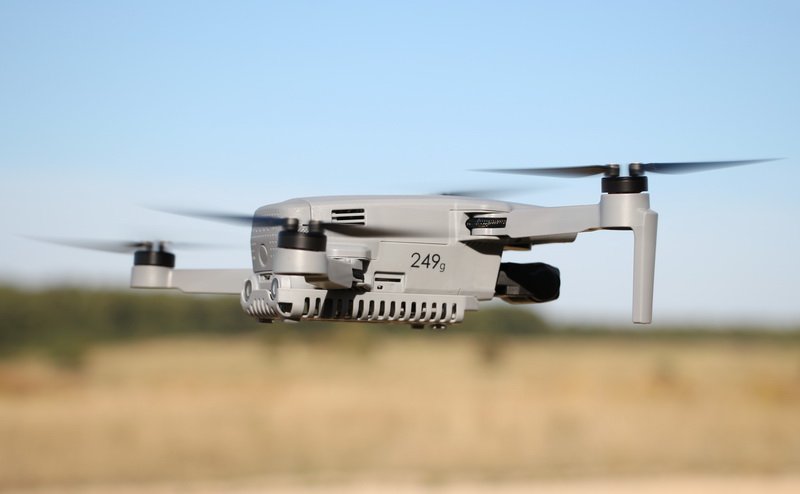 The Hubsan Zino MINI Pro has the best flight time among all drones under 250grams. Being powered by a 2s/3000mAh battery pack, promise up to 40 minutes of flight time. By comparison, its contender the Autel Nano Plus has only 28 minutes. In terms of flight range, both are advertised with up to 10KM control distance.
Like all actual sub-250g drones, the Zino MINI Pro also is equipped with a 4K@30fps camera installed on a 3-axis gimbal. The camera is capable of taking 48MP photos. A unique feature of the ZMP is its built-in memory (64/125GB).
2. Autel EVO Nano Plus – Best all-rounder drone under 250g
Weight: 249g | Camera: 4K/50MP | FPV: SkyLink | Flight time: Up to 40 minutes | Features: GPS, RTH, Digital ZOON, OAS | Range: 10KM | Package: RTF
The Autel EVO Nano+ was the second drone that come with an OA system and weight less than 250 grams. Autel did a much better job than Hubsan, their anti-collision sensors work out of the box without the need for computer-assisted calibration.
Autel advertises their EVO Nano Series with 'Master Subject Tracking' that should allow you to follow any person, animal, or vehicle autonomously so you can focus on your activities while your drone handles the cinematic side. Unfortunately, this feature is still not enabled even after several firmware upgrades.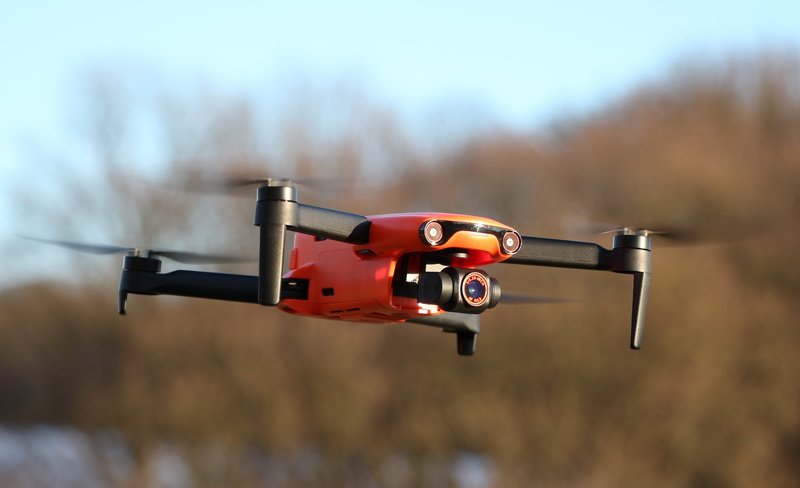 Its 4k@30fps camera is equipped with a large 1/1.28″ CMOS that provides outstanding video quality and up to 50MP photo resolution. The large aperture of f/1.9 offers superior noise reduction capabilities and the power to effortlessly produce quality images in low-light conditions.
From all 250g-class drones I reviewed, the Autel has the best FPV quality. It is the only ultra-light drone that has a 2.7K wireless video transmission.
The obvious downside of the Nano+ is the price which is by far the highest on this list.
3. DJI Mini 3 – Best sub-250g upcoming drone
Weight: 249g | Camera: 4K | FPV: OcuSync 3.0 | Flight time: 34/47 minutes | Features: QuickShoots | Range: 12KM | Package: RTF
This section will be updated after the official release. We expect that the MINI 3 has 3D direction obstacle avoidance sensors, a 4K camera, and more than 30 minutes of flight time. The leaks say that the MINI 3 Pro will be released with a new DJI Smart controller that should provide a 10-12KM range or even more.
Bottom line
We will be regularly updating this list till the end of the year so that our readers don't miss out on buying the best drones under 250 grams.