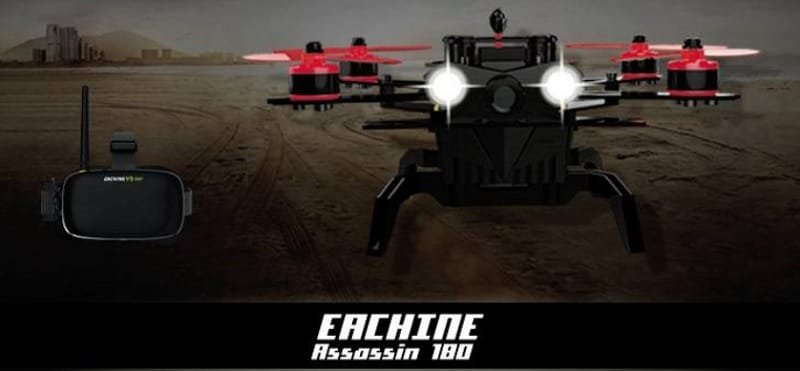 Eachine Assassin 180 racing quadcopter with GPS and FPV goggles
Although the Eachine Assassin 180 is a small size racing quadcopter, it comes with all the features of the big ones including a GPS positioning system.
This new Eachine racing quadcopter has a nice design but not a KILLER one that would deserve the "Assassin" code name :)
In the front of the aircraft there is a 520TVL camera which is dedicated for first person flights, without any recording function. Those who want to use this mini racer for aerial filming can install a secondary RunCam2 alike camera on the top of the aircraft.
At first sight, my only disappointment regarding this Eachine Assassin is around the flight autonomy. Being powered with a 3s 1000 mAh Li-Po battery, it has only about 7-9 minutes of flight time. The battery is a "smart" one, with charge level indicator LEDs.
The package also includes a FPV goggles which allows to display real-time images from the quadcopter camera and flight parameters like: altitude, flight speed and battery voltage.
BTW, this small racing quadcopter is build around the tiny Naze32 flight controller which is based on the STM32 32bit MCU.
Eachine Assassin 180 highlights
Compact design (180mm);
GPS positioning system;
Built-in OSD (telemetry) to display flight parameters like: altitude, flight speed and battery voltage;
Intelligent light control;
Naza32 flight controller;
6A ESC;
1806 2300KV brushless motors;
4″ propellers;
Onboard 520TVL camera for FPV flights;
600mW 5.8GHz real time image transmission;
Vibration damper plate for secondary camera;
Up to 9 minutes of flight time.
Included with Eachine Assassin 180
2.4G Eachine I6 transmitter;
Eachine VR-007 FPV goggles;
520TVL camera;
600mW 5.8GHz real time image transmission module (TX);
3s 11.1V 1000MAH smart battery for the aircraft;
2pcs of 7.4V 800mah Li-Po batteries for the FPV goggles;
4pcs of NIMH AA 2400mAh 1.2V batteries for the RC;
Charging dock and power adapter;
Eachine Assassin 180 user manual.