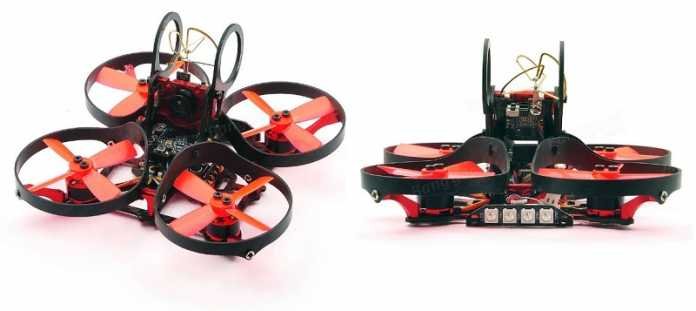 Eachine Aurora 90 brushless Tiny Whoop clone
Following the success of the Tiny QX95, Eachine comes up with a similar sized brushless quadcopter called Aurora 90.
The Eachine Aurora 90 adopts the same ducted fan design as the popular TW. Also, in the rear part of the quad there is a nice status bar.
According to your existing transmitter you can opt to order it with Frsky, DSMX or Flysky AFHDS2 radio receiver.
In order to obtain the best field of view, the angle of the 600 TVL camera is manually adjustable. The real-time video transmission is achieved using a 25 mW/48CH VTX.
Being powered by a 2s 450mAh Li-Po battery, the advertised flight time of the Eachine Aurora 90 drone is about 3 – 4 minutes.
Eachine Aurora 90 highlights
Small sized brushless quadcopter (90mm);
Ducted fan design;
Adjustable camera angle;
5.8G real-time image transmission;
CleanFlight/BetaFlight support;
Multiple flight modes (Acro, Air and Angle);
Built-in OSD;
Radio Stick to control PID Tunes;
BLHELI_S pass-through ready;
Telemetry RSSI Output ready;
Status LED bar.
Eachine Aurora 90 main parts and package content
90mm frame kit;
7.4V 450mah 80C flight battery;
B3PRO 2S balance battery charger;
Betaflight F3 6DOF flight controller with build-in OSD;
4 pieces of Eachine 1104 7500KV brushless motors;
4 in 1 Minicube 10A BLHELI_S 16.5 1-2S ESC Dshot600;
2 sets of 50mm 4-blades propellers;
1/4″ CMOS 600TVL camera
5.8g 25MW 48CH VTX
Status LED bar;
Optional TX (Frsky, DSMX or Flysky AFHDS2).