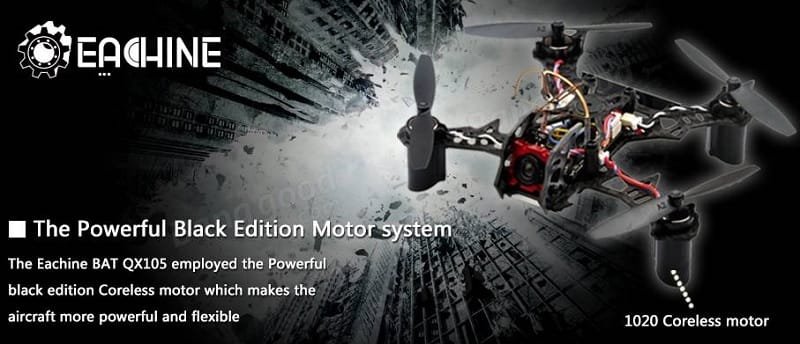 Eachine BAT QX105 all-in-one mini racer drone
Before I start introducing this new Eachine BAT QX105 quadcopter, I want to wish a Merry Christmas and Happy Winter Holidays to all of my readers.
Like most of the Eachine FPV drones, this new QX105 also comes in two variants (BNF and RTF). According to your existing transmitter you can opt between DSM2/DSMX, FlySky or FrSky receivers. For extra 40 bucks you can purchase the QX105 quadcopter in bundle with the Eachine i6 transmitter (FlySky FS-i6 clone).
Contrary to the childish look of the Fatbee FB90, this new Eachine model has a more professional design. Excepting the red FPV camera, most of the other parts are black.
The heart of the Eachine BAT QX105 is the F3 AIO flight controller which comes with pre-installed Betaflight 3.0.1 firmware.
Powered by a 600 mAh Li-o battery, the advertised play time is about 5 minutes.
The 1020 coreless motors come with connectors which are helpful when you need to replace them.
Eachine QX105 features and specs
Carbon fiber frame;
Newest F3 AIO (STM32 F303 MCU/ MPU6000);

BetaFlight

firmware;
Multiple flight modes (Airmode, Angle and Acro);
Optional RX type (DSM2/DSMX, FlySky and FrSky);
1020 corals motors;
600TVL camera with angle adjustment;
5.8G wireless image transmission with OSD;
Status LED bar;
Onboard buzzer.
Like the Eachine QX95 package, the QX105's package also includes two batteries and two spare motors.
Included with the QX105 drone in the RTF package
Eachine i6 Radio controller;
2 pieces of flight batteries (3.7V / 600mAh);
USB charging adapter;
2 pieces of 1020 spare motors (1CW and 1CCW);
1 set of spare propellers;
Propeller removing tool;
Status LED bar.