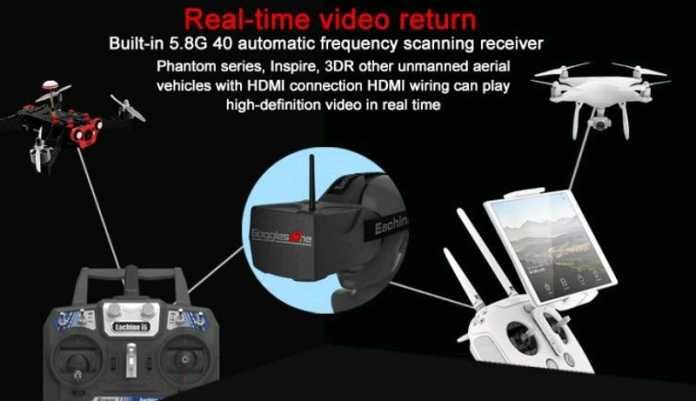 Eachine Goggles One – Cheap HD FPV glasses
Compared to its predecessor, this new Eachine Goggles Ones glasses is a more versatile FPV model. With built-in 5.8G 40CH receiver it can be paired easily with many racing quadcopters.
Unlike the Eachine VR-007 goggles which had a low resolution display, this new model comes with a quality display. Frankly, the only thing that stopped me from ordering that older model was the poor quality of the screen. As this new model features such a performance display I will definitely obtain one for review.
Although we know that this FPV goggle is powered by a high capacity 2s 1600 mAh "smart" battery there is nothing mentioned in the specs about the operation time.
Thanks to the HDMI input and headphone output this Eachine Goggles One goes beyond the world of racer quadcopters.
In my opinion, this FPV glasses, for the price of $150 will be a bargain compared to other more expensive models. My only concern around these kind of gadgets is related to how healthy they are for the human eye.
Eachine Goggles One highlights
Built-in 5.8GHz 40CH receiver (with raceband);
5 inch with up to 1080p playback;
Compatible with wide range of racing quadcopters;
Perspective: 78 degrees;
Wide range power input: 7-13V;
High capacity 1600mAh smart battery;
Audio output for connecting headphones;
HDMI input for virtual realty;
Brightness and contrast adjustment.
Included with the Eachine Goggles One
Rubber duck antenna;
HDMI cable;
Head strap;
1600mAh 7.2V battery;
USB battery charger cable;
Eachine Goggles One user manual.
Image source: Banggood