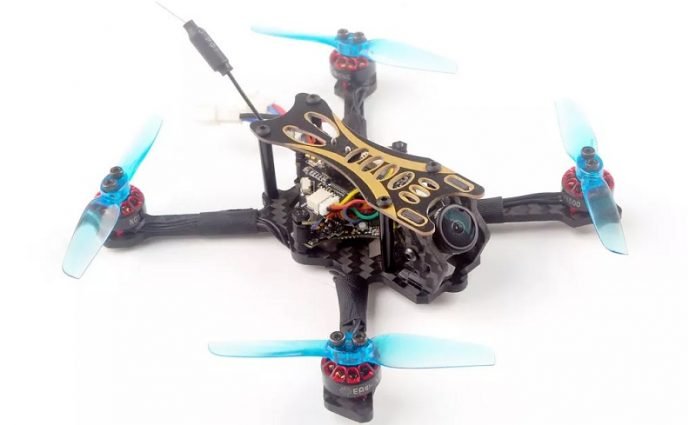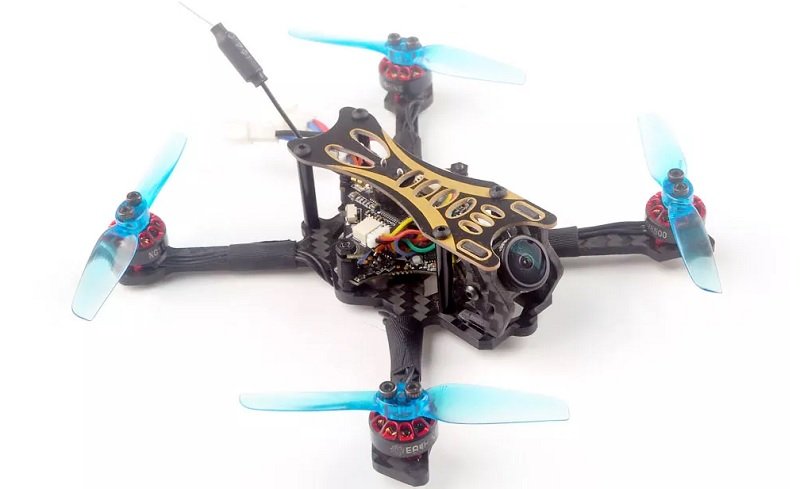 Similar to the Novice-I, the Eachine Novice-II is also ready to fly out of the box. While the first generation Novice-Whoop comes with VR005 goggles, the second generation is equiped with VR009 headset. Both versions are packed with same type of WT8 remote controller.
The Eachine Novice-II drone measures 100 x 100 x 40mm and has a wheelbase (motor to opposite motor distance) of 120mm. The take-off weight of the aircraft (without battery is just 50 grams). In order to allow easy maintenance, the KV8500 motors are equipped with connectors.
Eachine Novice-II highlights
Ready to fly out of the box (included RC & FPV goggles);
120mm wheelbase;
Nano X F4 pro flight controller (built-in buzzer & LED strip ready);
On-board 4in1 5A ESC (S_H_50_REV16_7 firmware);
1103 type KV8500 brushless motors;
Caddx EOS2 v2 FPV camera;
5.8G/40CH video transmitter (25/200mW VTX power);
2s LIPO compatible.
Price & package options
Just like it predecessor, the Novice-II is also available in two package options. While the standard version with two batteries, WT8 remote controller and VR009 FPV goggles is advertised for $155, the 'fly more combo' pack with 10 batteries is sold for $175. Both versions come with same type of 6-way LIPO/LIHV battery charger and handbag.
Eachine Novice-II parts details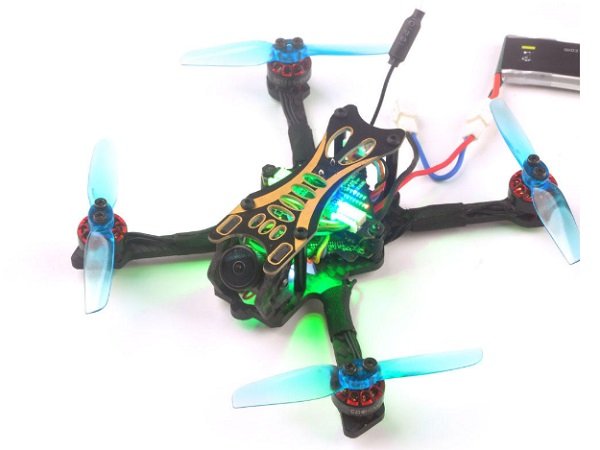 Nano X F4 Pro flight controller specs
MCU:STM32F411CEU6 (100MHZ, 512K FLASH);
Sensor: MPU-6000(SPI connection);
Power supply: 1-2S battery input (DC 3.5-8.7V);
Integrated 5A(each) Blheli_S 4in1 ESC Dshot600 ready;
Built-in Frsky D8 SPI receiver;
BetaFlight OSD (SPI Control);
Built-in Current meter Max 28A;
Current meter scale set to 1175;
Built-in 5V 1A BEC and Voltage detection;
Board size: 28.5 x 28.5 mm.
ESC board specifications
MCU upgraded to EFM8BB21;
Power supply: 2-4S LiPo/LiPo HV (7v/17v);
Current: 5A continuous peak 6A (5 seconds);
Support BLHeliSuite programmable;
Factory firmware: S_H_50_REV16_7.HEX;
Default protocol: DSHOT600.
EX1103 Motor specs
KV options: KV8500;
Configu-ration: 9N12P;
Stator Diamter: 11mm;
Stator Length: 3mm;
Shaft Diameter: Φ1.5mm;
Motor Dimension: Φ13.5mm*16mm (Dia.*Len);
Weight: 3.8 grams.
WT8 remote controller specs
Frequency:2.4Ghz;
Frequency Hopping: Latest FHSS(64 points,3.6ms);
Channels: 6 channels;
Resolution: 4096;
Transmission: ≤100mw (20dbm);
Distance: >1000m (depends on actual situation);
Working Voltage:4.2-6v(AAA1.5v*4);
Working current: 100-150mA;
Size:162*110*62mm.