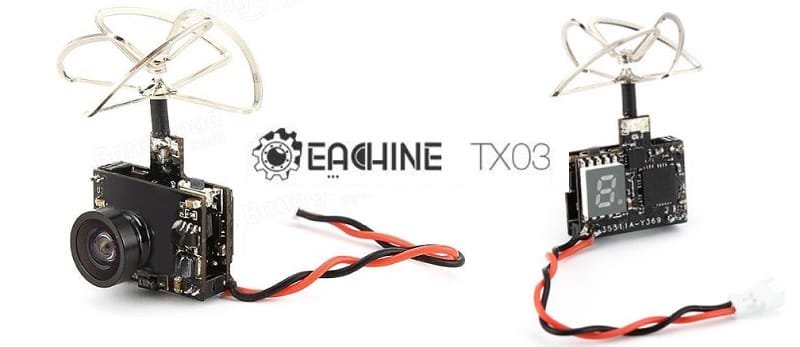 Eachine TX03 camera with built-in 70CH VTX
Following the success of the TX01 and TX02, Eachine announced a new micro VTX camera called TX03. The biggest advantage of the new Eachine TX03 camera is the adjustable output power. According your needs and local RF regulations, you can freely switch the TX power between 25mW, 50mW and 200mW.
In order to allow full compatibility with FPV displays/goggles, the VTX module has 9 bands and total of 72 transmission channels (including raceband).
Like its predecessors, the Eachine TX03 is also designed for low voltage systems (drones powered with 1s Li-Po batteries). According to the specs, the operating voltage is between 2.5V ~ 5.5V.
Eachine TX03 camera features and specs
All-in-one concept;
Super mini size (20.66mm x 14.06mm x 6mm);
Very lightweight (6g);
Suitable for 1s Li-Po battery;
Resolution of 600 TVL;
M7 10mm lens;
150 degree field of view;
1/3″ CMOS sensor;
Adjustable TX power (0/25mW/50mW/200mW);
Nickel plated four leaf antenna;
9 bands, 72 channels.
In the rear part of the TX03 VTX camera is located a 7 segment display.
On top of the camera is located the setting button. By pressing it for 1 second you can adjust the TX channel, by pressing it for 2 seconds you can change the frequency. By long pressing the same button (for 3 seconds) you can adjust the output power of the TX module.