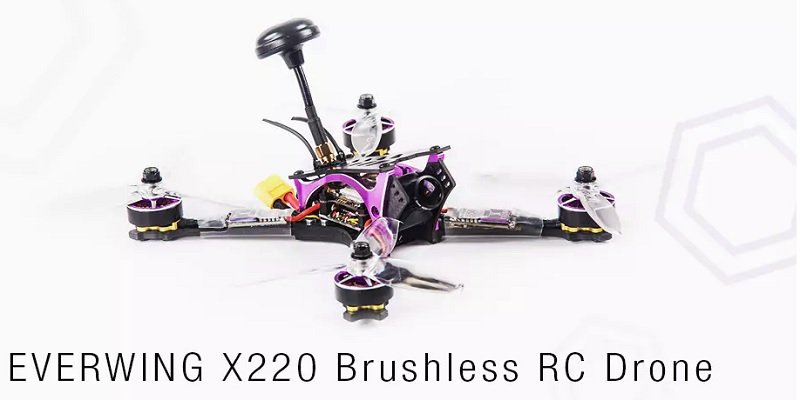 The EVERWING X220 is a pre-built racing drone requiring minimal setup to get up in the air. It comes with top-notch hardware and attractive design. It is available with or without a FrSky receiver, no other bundle radio options.
All the 3-leaf propellers are transparent. Maybe they look cool, but I would rather prefer some vibrant colors. Unfortunately blades are not self tightening and you can easily loose those prop nuts when you mount the propellers.
EVERWING chose to fit the X220 with 2306 1800KV brushless motors. The 50A ESCs are rated for 3~6S, which is the exact information published in the manufacturer's spec list.
EVERWING X220 features and specs
Robust, 220 mm sized carbon fiber frame;
Latest generation F4 flight controller with BetaFlight OSD;
Configurable with multiple flight modes;
2306 1800KV brushless motors;
Cross BLHeli-32 50A ESCs (3-6s rated);
5.8G, 48CH VTX with adjustable broadcast power (25, 200 and 600 mW);
600TVL camera with SUPER HAD II 1/3 inches CCD sensor.
Like the HOLYBRO KOPIS 1, the EVERWING X220 is also equipped with a 48CH VTX with adjustable broadcast power. According to your needs and local RF regulation, you can switch between 25, 200 and 600 mW. Being designed for racing competitions, I suppose that VTX telemetry (like SmartAudio) is supported by the 5.8G video transmitter, which allows you to change the transmission channels remotely through your RC.