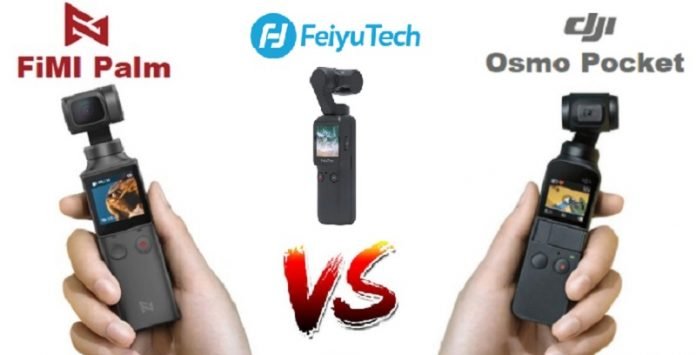 Priced for only $249, the just rumored Feiyu Pocket could be a good alternative for the expensive Osmo Pocket. In addition to the much friendly price tag, it features a higher bit rate at 4K@60fps recording, a larger LCD display, and built-WiFi connectivity. Furthermore, Feiyu Pocket has a wider gimbal range (movement freedom) than its DJI contender. Feiyu-Tech's handheld gimbal provides 360° POV all-follow mode and two basic follow modes, all at a max follow the speed of 180°/s.
Feiyu Pocket: Price and availability
While the Feiyu Pocket gimbal was announced about two months ago, only now become available at most retailers. Now, you can order it from Banggood for $US 145.90 (51% off).
Feiyu Pocket vs DJI Osmo Pocket vs FiMI Palm: In-Depth Comparison Guide
In the table below I will try to compare the most important specs of each pocket gimbal. I highlighted with red were the Feiyu Pocket excels, with green were the Osmo Pocket shines, and with blue the FiMI Palm's absolute pros.
Feiyu Pocket
Osmo Pocket
Fimi Palm
Dimensions
124.5 x 40.5 x 30 mm
4.9 x 1.6 x 1.2″
122 x 37 x 29 mm
4.8 x 1.5 x 1.1″
127 x 31 x 23 mm
5 x 1.2 x 0.9″
Weight

115g / 4.06oz

116 g / 4.09 oz
120 g / 4.23 oz
Stabilization
3-axis mechanical
3-axis mechanical
3-axis mechanical
Gimbal range

Pan: -254°–+60°




Tilt: -140°–+140°




Roll: -90°–+90°

Pan: -230° – +50°
Tilt: -95° – +50°
Roll: -45° – +45°

Pan: -245° – +65°




Tilt: -105° – +105°




Roll: -90° – +90°

Gimbal modes
360° POV all-follow mode
Two basic follow modes
Follow, Tilt Locked and FPV
Follow, Pitch Lock, FPV and All Locked
Controls
Mode + Shutter buttons
Mode + Shutter buttons
5-way joystick + Shutter button
Display

1.3″ Touchscreen

1.08″ Touchscreen
1.22″ Touchscreen
Sensor size
1/2.5″ CMOS

1/2.3″ CMOS

1/2.3″ CMOS

Resolution
8.5MP

12MP

12MP

LENS FOV
120°
80°

128°

Max video resolution

4K@60fps

4K@60fps

4K@30fps
Max bit-rate

120 Mbps

100 Mbps
100 Mbps
Built-in mic
Yes
Yes
Yes
Wireless connectivity

Yes

No (optional WiFi module)

Yes

USB port
Type-C
Type-C
Type-C
Tripod mount

Yes

No

Yes

Battery
Not revealed yet!
875 mAh
1000 mAh
Run time
270 minutes
140 minutes
240 minutes
Price
$199
$369 – Order from DJI
$199.99 – Order from GearBest
Bottom line
I hope I managed to give you a bit of an overview of what's similar and what's different between these 3 handheld 4K gimbals. Unfortunately, for the moment I had the chance to review only the Osmo Pocket, but the FIMI Palm is already on its way to me and I also contacted Feiyu-Tech regarding the possibility to test and evaluate their Feiyu Pocket gimbal.