In order to begin my review honestly, we must admit that the FiMI Palm is not an innovative game-changer product. DJI released such pocket gimbal with even better specs one year earlier before Xiaomi. At a glance, the only pros of the FiMI Palm over the Osmo Pocket is its much-friendly price tag. But, if you dive deeper into its features, you will find lots of more advantages of this gimbal.
With 3-axis mechanical stabilization, 1/2.6″ image sensor that can capture 4k video up to 30fps at 100Mbps, and 12-megapixel stills in either JPEG or JPG+DNG formats, this little thing is an amazing travel companion that has about the size of an electric toothbrush.
Featuring SmartTracking, it can automatically keep the subject's head in the center of the frame. This function is perfect for vloggers who like to walk around with a camera pointed on themselves. Furthermore, FIMI Palm features lots of creative modes like 8X slow motion, time-lapse, and panorama. Super HDR and Long Exposure functions will allow you to take the perfect shots even in low light conditions.
Xiaomi FIMI Palm 4K gimbal review, ratings, and samples
Disclosure: I received this pocket gimbal as part of a product review collaboration with GearBest. Product specs and quality may vary according to the manufacturer's reliability, so I cannot guarantee that you will get a product that performs exactly the same as seen in my article.
Lately, everything was slowed down because of the coronavirus outbreak. While I accepted to test and review the FiMI Palm in November 2019, I received it only 6 months later. I think, in the first phase of the epidemic, they had issues with mass production due to supply chain shortages and now there is a big problem with worldwide delivery.
First Impressions
The FIMI Palm comes in a small white box with a minimal set of accessories. In terms of design and size, it is very similar to the DJI Osmo Pocket, but it has a visible bigger LCD screen, which is a nice extra. At a glance, another difference is the built-in tripod mount which allows us to use extension rods or to attach a phone holder in case you need an even larger live-view screen.
Measuring only 1.2 x 0.89 x 5 inches and weighing 4.23 ounces will fit into your pocket comfortably. The 4K camera itself sits at the top, mounted on a 3 motor mechanism. As gimbals are a little fragile by nature, FIMI includes a plastic protector with their Palm.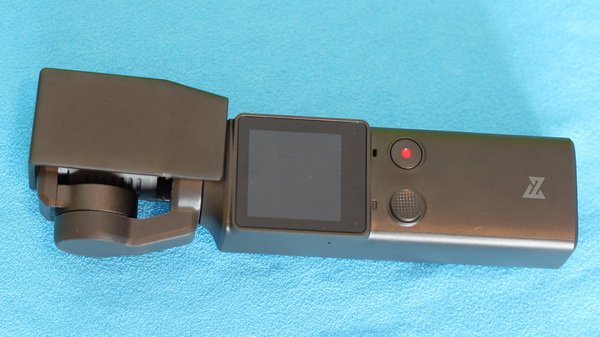 Xiaomi skipped adding an internal memory. Instead of it, the developer put a micro SD slot on the side which accepts cards with up to 256 GB capacity. I tested it with two types of memory cards. While the no-name 32GB class 10 card showed "slow speed", the SanDisk Extreme 64GB worked perfectly.
There's a USB-C port on the bottom for charging and media transfer to a computer. The rubber padding adds a good grip when it is placed to stay vertically by its self.
The 1000 mAh built-in battery supplies the Palm with about 240 minutes of power.
Frankly, I'm not a huge fan of making unboxing videos, talking for minutes about what's included in the box, what looks like the product. This job fits more for professional vloggers instead of technical guys like me. For your delight, I will share with you Naomi 'SexyCyborg' Wu's unwrapping video.
Price and availability
At the time it was announced, there were some pretty nice pre-order deals on GearBest. By paying a deposit of just $10, you could get the FIMI Palm for only $99. Later, the offer changed to $144 and now you can have it at a final price of $199 from most retailers. At GB there is also a wide range of accessories that you can buy together with the FP. I think it is useful to invest from the beginning in a case and a couple of mounting accessories. Now, using this 'GB720SALE004' Fimi Palm coupon code you can have it for only $159.89. Note: promotion period ends on August 30th.
FiMI Palm review: Operation
On the front panel, in addition to the 1.22″ touchscreen LCD, there is only a button and a tiny 5-way joystick. FiMI Palm turns on/off by long-pressing the multi-functional control button. While double-clicking can recenter the gimbal's head, by pressing the button 3 times the camera turns 180° – selfie mode.
The Xiaomi FIMI Palm features 3x digital zoom which can be activated by double-pressing the joystick. You can zoom in/out even while you are recording.
Touchscreen controls allow you to select different shooting modes (swipe left/right), enter in settings mode (swipe down), or access the media library (swipe up). By double-tapping the screen you enable FaceTracking.
Status LED above the joystick indicates when you are recording (green flash), low battery warning (solid red), system malfunction (red flashing), and firmware flushing (red + green alternative blinking).
Working modes
In addition to the photo and video modes, you have Slo-mo (4x or 8x), Time-Lapse, and Panorama (1×4, 4×1 or 3×3). For all modes, you are able to manually set ISO value (100-3200) and White balance (2000-10000K). For photos, you are also able to set shutter speed from 1/8000 to 30″.
FiMI Palm offers four gimbal modes: Follow, FPV, Pitch Lock, and Gimbal Lock. Each has its virtues and all four deliver the kind of stabilization your action camera can only dream of. Personally, I use most of the "Follow" mode which supports stabilization in all three directions. The camera moves consistently with the handle in order to ensure stable and smooth footage.
Resolutions and frame rates
The biggest drawback of the Xiaomi FiMI Palm is the lack of shooting stabilized 4K video footage at 60 fps – other pocket gimbals do this job. At 4K (3840×2160) you can set 30 or 24 frame rates. Recording with 60fps is possible at 2.7K and 1080P. Picture quality can be toggled between Fine and Superfine. H264 and HEVC compression modes are available.
Mobile APP: Fimi Play
In order to use this pocket gimbal with a mobile device, you need to enable "WiFi" connection from the main screen. You have an option for 2.4G or 5G, by default WIFI passkey is "123456789". I was a bit disappointed to find out during my tests that WiFi range is only about a few meters.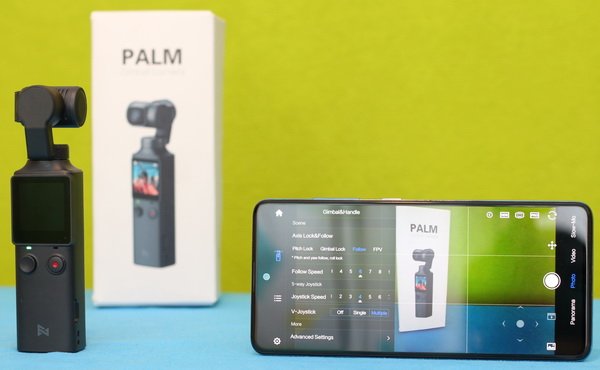 The FIMI PLAY APP gives you more control over manual settings (ISO, White Balance, and Shutter Speed) as well as being able to frame the shoot and control the gimbal movements remotely from your phone. The APP is easy to use and navigate, similar to standard phone camera interfaces. Maybe I just didn't find it, but there was no digital zoom option.
Panorama shots can be stitched together also via the APP. Without any additional settings, panoramas are ready to be downloaded into your phone in a few minutes.
Rated with 2.6 stars (from 5) it is clear that APP is only in early stage of development with lots of issues. Hope that all the reported problems will be fixed soon by Xiaomi. Personally, I got no freezes or crashes.
Can you use it as an action camera?
The FiMI Palm isn't an action camera, but it will certainly be compared with it. It's a small, handheld video camera with integrated mechanical stabilization which provides much smoother footage compared to the electronic image stabilization that you can find in most GoPro-style action cams and smartphones. It's not ruggedized or protected from weather, so it's better gear for vloggers than for action sports enthusiasts. Moreover, those tiny motors are very sensitive and they can break from slight socks, don't mention if you accidentally drop it from 2 meters height.
Is the FiMI Palm good for vlogging and traveling?
The tiny size of the FiMI Palm makes it downright fun to shoot videos. It's zero-hassle, which makes it perfect for documenting your travels. It is perfect for discreet shooting in locations where you either don't want to draw attention to yourself or simply don't have much space to do the job. Unfortunately, for sea adventures which include snorkeling, you will need a waterproof action cam.

It is also definitely a great tool for vloggers and influencers. One of my friends use for vlogging a mirrorless camera mounted on a ZHIYUN CRANE M2 gimbal with a total weight of more than 30 ounces (~800 grams) – is not the rig that you can hold comfortably in your hand for too long. Since the FIMI Palm weighs only about 4 ounces, you can easily record videos for ages without getting your arm weary.
FIMI Palm YTXJ03FM features and specs
Compact size (30.5 x 22.7 x 127 mm);
3-axis mechanical stabilization;
Ultra-wide angle lens (128°);
4K video recording with up to 100 Mbps;
Easy operation through the 5-way Joystick;
Integrated color 1.22″ live-view LED touchscreen (240 x 240 pixels);
Wireless connectivity (WiFi + Bluetooth);
4 Shooting Modes and multiple creative modes including smart tracking;
Long battery life (240 minutes working time at 1080@30 fps).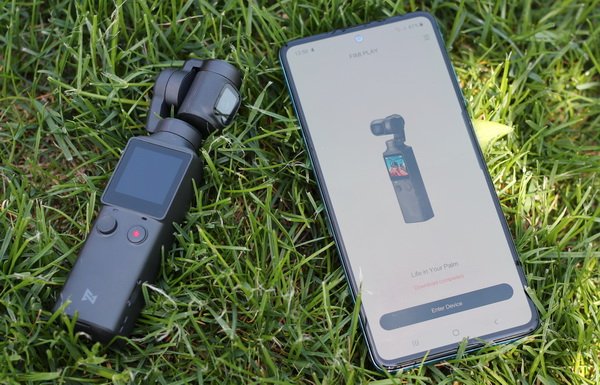 Editor's ratings
Price/performance ratio

Design and build quality

Image quality

Video Stabilization

Battery life

App Features
Summary
With only 30fps at 4K, FiMI Pals isn't designed for professional shooters. Is more likely suitable for vloggers and influencers which like to surprise their audience with super smooth stabilized POV videos.
Its simple operation won't intimidate newbies just getting into YouTube content creation or even kids who have shown an interest in video production. Travelers will also appreciate the size of this camera. Moving from a large phone gimbal, it makes a huge difference!
Compared to its DJI contender, the FIMI Palm features a bigger screen, wider field of view, better battery life, and built-in wireless connectivity, all for a lot less money!
What I liked
Friendly price tag;
Super small and easy to use;
Built-in WiFi connectivity;
Digital zooming;
Wide range of creative modes.
What we'd like to see improved in FiMI Palm 2
4K@60fps or even 4k@120fps;
Optical zoom;
Better WiFi range;
Tripod mount at the bottom.
FiMI palm review: Sample footage
4k@30fps
1080@60fps
Stabilization test from moving car
Slow-motion and close-up test
FIMI Palm on drone
Stabilization test on the bike