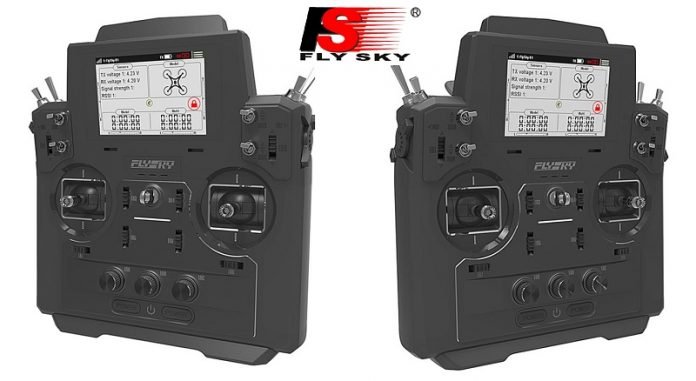 2019 comes with a new FlySky transmitter called FS-FT18 Paladin. As its name says it, will feature up to 18 channels. But why so many channels? Does anybody use them? Let's be fair, drone pilots will never need more than 6~8 or max 10 channels. The Flysky FS-FT18 was announced in mode 1 and mode 2 variants.
On top of the remote controller is located a 3.5″ TFT Color Touch Screen monitor, which is quite small compared to the one the WFLY T18 comes with. The monitor allows displaying timers, battery level, signal strength, and other useful flight info.
Besides the usual control sticks, on the front panel, you can find 8 trimming switches (TR1-TR8), 3 dial knobs (VRA, VRB, and VRC), and 4 switches (two on each side of the RC). It has not one, but two power buttons (we do not know yet what purpose has the second one).
On each side of the FS-FT18 Flysky Paladin transmitter, there are two shoulder switches and a dial knob.
Flysky FS-FT18 Paladin features & specs
Cool old-school design;
FlySky OS & Low latency;
Up to 18 channels (depending on receiver module);
Built-in 3.5″ TFT Color Touch Screen (320 x 480 pixels);
Bearing half gimbals;
FRM301 high-frequency TX Module;
Internal AFHDS 3 for 2.4GHz Protocol;
Spectrum analyzer;
Bluetooth & GPS functions;
OSD telemetry;
Wireless charging base;
Micro USB Port for simulator mode;
RF module extension (Support for other companies RF modules);
Mode 1 and Mode 2 versions.
Price & Availability
While the FS-FT18 Paladin is not even listed on FlySky's website, few online stores already started to accept pre-orders for it. Now, you can find it at Banggood in a bundle with FS-FTR10 Receiver for US$286.