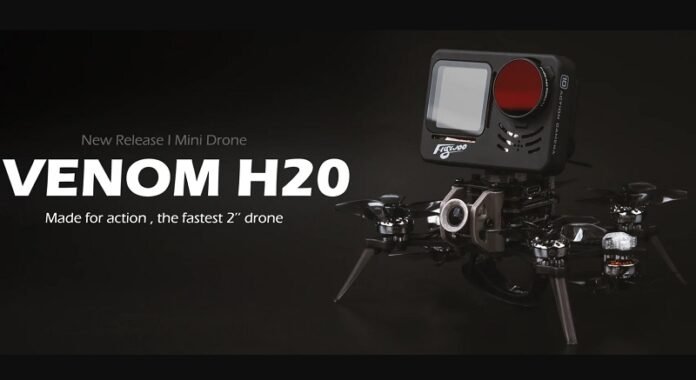 Flywoo's new Venom H20 drone claims to be the smallest Hexa-copter that can carry a GoPro Bones or similar action camera. Furthermore, featuring a top speed of 140km/h can win any race.
The Flywoo Venom H20 adopts a unique design with high landing skids and inverted middle motors. This ingenious approach allows small form factor motors to minimize the overall size of the attract. The six NIN V2 1203PRO 48500KV motors are equipped with Gemfan D51-5 5-blade propellers.
Venom H20 is offered with two FPV options. While the analog version comes with Caddx Ratel Baby2 camera and Goku VTX625 V2 450mW VTX, the HD digital edition with Caddx Polar Nano camera and Naked Vista. In order to make it as lightweight as possible, they removed the heatsink from the digital FPV transmitter.
It comes with an XT30 battery plug and it is intended to be powered with 4S LIPO packs. According to FlyWoo you can have about 6.30 min of flight time with a 4S HV 450mAh battery and 8.40min with a 4S HV 750mAh pack. With an action cam on top, these flight times are probably much less.
Main parts
GOKU HEX F745 16×16 Flight stack
Venom DJI HD Frame kit
Nin V2 1203 Pro 4850KV brushless motors
Gemfan D51-5 5-blade propellers
Caddx Polar Nano Naked Vista kit (HD digital) or Ratel Baby2 + Goku VTX625 V2 camera (5.8G Analog)
Optional ELRS< FrSKy XM+ or TBS Crossfire Nano RX radio receiver